The One Supplement You Should Add To Your Routine This Fall
Ever heard of postbiotics? We asked a registered dietitian to give us the lowdown.
If you're someone who is very tuned into your gut health, chances are you're a probiotic pro. Fermented foods like sauerkraut and kefir are probably on regular rotation at your table, and you could give a master class on the microbiome. You know which foods have probiotics and which don't, and you know how important these beneficial bacteria and microorganisms are for your health. But what about postbiotics and their impact? Well, that's a topic we could all use an intro course on. 
Research has shown that postbiotics (which we'll define in a minute) can support both gut health and immunity. How to get the most out of them can be confusing, though, as most people don't know what postbiotics are. Can you get enough of them from food? Do you have to take them at a specific time? We asked a registered dietitian to give us the 411 on postbiotics—including why, with fall around the corner, you may want to consider adding them to your wellness routine ASAP. 
Postbiotics are an important immune system supporter 
OK, let's get the biggest question out of the way first: What exactly are postbiotics? "Postbiotics are non-living metabolites that are created through a fermentation process," says Keri Gans, R.D., a registered dietitian. These metabolites, when consumed, have a beneficial impact on your health. "Research has shown that they may help to maintain our immune health and our digestive health," Gans explains. 
To understand how the process works, let's take a closer look at prebiotics and probiotics, and the role they play in your body. Prebiotics, which you can get from dietary fiber in foods like bananas and leafy greens, help feed the good bacteria in your gut. Probiotics, live bacteria that can be found in foods (e.g. kefir or miso) and also in supplement form, ferment this fiber and create metabolites. Postbiotics, then, are the byproduct of the industrious pre- and postbiotics—and they are proven to be major immune system supporters. Like probiotics, postbiotic can also be found in fermented foods.
The evidence behind postbiotics
Now that you understand how postbiotics are created, you might be wondering if there's evidence that demonstrates the aforementioned benefits. Take EpiCor postbiotics, for instance, which is one of the most well-studied postbiotic out there. This whole food fermentate is found in lots of dietary supplements—including Healthy Origins EpiCor and Country Life Gut Connection® Immune Balance™—and 15 published trials found that EpiCor postbiotics can both help support the immune system and maintain gut health, as well as reduce nasal congestion. You can see the studies for yourself here, if you're curious, but rest assured, these postbiotics are safe and healthy.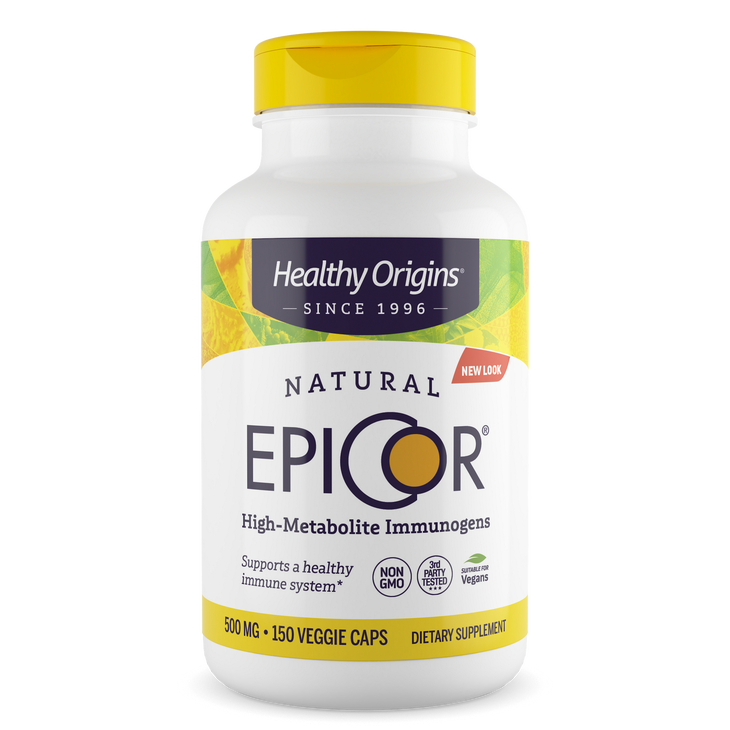 A supplement is your best bet to reap the full benefits 
According to Gans, while getting postbiotics through food is ideal (she always recommends food before supplements), she acknowledges that most people don't eat enough fermented foods to reap the benefits. "As a registered dietitian, I always recommend getting postbiotics through food first, in particular fermented foods like sauerkraut, miso, and kefir," says Gans. "But realistically, most of us are not consuming enough of those, so that is where a supplement comes into play."
Studies show that you need about 500 milligrams of postbiotics a day to secure the good-for-you benefits. Taking a supplement, especially one made with EpiCor, means you don't have to worry about how or where you get that 500 milligrams from. EpiCor meets that criteria, so it eliminates any guesswork. Gans still recommends adding fermented foods to your diet, but she says, "you probably also need a supplement."
Postbiotics can be taken any time of day
Adding anything new to your routine can take some time to get used to, especially when you're shifting your mindset and schedule from summer to fall. But the good news is that EpiCor postbiotics can be taken at any time of day: morning, afternoon, or night. "When people ask me when is the best time to take it, I say the best time is when you'll remember to take it," notes Gans. For her part, she takes EpiCor postbiotics in the morning, with her breakfast—though this supplement can be taken with or without food and doesn't need to be refrigerated, either. 
Perhaps the best news is that postbiotics are beneficial for kids, so you can add it to their routine, too. The dosage is slightly different—125 mg for every 40 pounds of weight for children—but postbiotics are safe for kids ages four and older. By taking postbiotic supplements like Country Life Gut Connection® Kids Immune Balance™, your kids can reap the same health benefits you are, including boosted immunity and improved gut health. 
Think of postbiotics as a safety net  
Overall, Gans likens postbiotics to a safety net: Taking them every day gives you the peace of mind that you're doing all you can to support your wellbeing (especially in the fall, when colds and flus are more common). "There's no telling what will happen or how you'll feel during certain times of the year, but having that little safety net helps. You know you're doing something everyday to support your immune system and digestive health."