Joe Cross Tackles Childhood Obesity in The Kids Menu
In his third film, Joe Cross focuses on nutrition education, searching for accessible ways for kids to learn about health foods and transform their diets.
Heading out the door? Read this article on the new Outside+ app available now on iOS devices for members! Download the app.
Joe Cross, an Australian filmmaker and the face behind the juicing craze, has released his third documentary, The Kids Menu. This film differs from his first two, Fat, Sick and Nearly Dead 1 & 2, in that it doesn't rank juicing above all other nutrition techniques.
Instead, Cross explores ways to improve the wellness of younger generations on a much larger scale.
"Juicing is only going to go so far," Cross said in a phone interview before his Los Angeles premier. "We need to get kids connected to the food source….When they plant [a garden], when they nurture, when they help grow and water, and when they harvest, and when they chop, and sautéand blend, they're much more invested."
Combatting Kids' Aversion to Veggies
If you're concerned that Cross has written off juicing, don't worry, he hasn't. In fact, when I spoke with him on the phone about the documentary, he had just ordered a juice from a local juice bar in L.A.
See also5 Easy and Energizing Smoothie Recipes. 
However, in this film, Cross is looking to inform kids and their parents about several fun ways to improve their diet.
An example of this comes up when he visits Rachael Ray, and speaks with her about her involvement with kids and health foods through her organization, Yum-o. If your child is squeamish around green foods, Ray recommends combining one or two ingredients rich in micronutrients (e.g., kale and spinach), with one of their favorite foods (e.g., cheese pizza).
"Some might go, 'Oh my god, how can you give cheese to a kid?' and we do have this issue of extremism. We're not about that. I'm not about that. I'm all about trying to come up with fun, interesting ways for the masses of people out there," Cross said.
The Power of School Gardens
Another positive trend which Cross revisits several times in the film is incorporating gardens into health food education programs. Cross prides these programs for getting kids genuinely excited about nutrition education – both by showing them firsthand how fruits and vegetables are grown and by giving them full access to play with worms.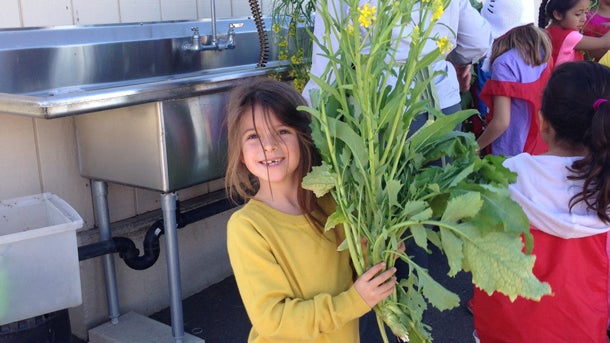 "When you have kids that are invested in that program right from the very beginning, from the planting, and the watering, and the growing, and the harvesting, that's gold. That really is gold. Also, what comes with plants? Bugs. And what kid doesn't love bugs," Cross said.
Cross visits two garden education programs in the film, the Chicago Botanic Garden in Illinois and Ocean Knoll Elementary School in Encinitas, California. Both are effective at steering kids away from processed foods, and introducing them to foods rich in micronutrients. Some of the children Cross speaks with are even able to convince a parent to change their diet after teaching them about the benefits of eating right.
"I think today, it's sort of looking at their moms and dads, and going, 'You know what, I actually don't want to end up like mom and dad. I don't want to end up on medication, I don't want to be 50 pounds heavier, I don't want to be sick, I don't want to be unhappy, I don't want to have bad skin, I don't want to have all of these problems,'" Cross said.
Let Food Be Thy Medicine
As anyone who has seen Cross's first film Fat Sick & Nearly Dead can attest, Cross understands what it feels like to be unhappy, overweight and suffering from a myriad of health issues due to obesity.
The relief Cross experienced from his symptoms after completing an extreme 60-day juice cleanse is likely what led him to search for ways kids suffering from diet-related health problems can do the same.
One of the most powerful interviews in the documentary is with three-time James Beard award winning chef Michel Nischan, the founder of the Fruit and Vegetable Prescription Program (FVR). FVR is an initiative in New York and a handful of other states that makes it possible for doctors to prescribe fruits and vegetables to patients free of cost. Eighty-five percent of program participants are children.
Dr. Sundari Periasamy, the director of the pediatrics residency program at Harlem Hospital Center, has been nicknamed "The Harlem Fruit Lady" for prescribing the program so regularly. Her patients often shop at Nischan's own Harlem farmers' market.
See alsoWhy You Should Eat More Plants.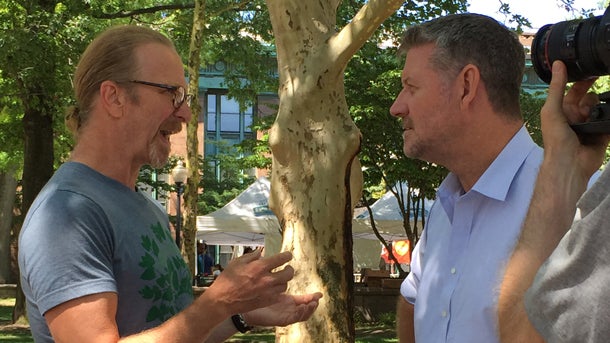 Cross believes that programs like it will increase in popularity, particularly after viewers learn what dynamic organizations like FVR are able to accomplish, all over the country.
"Part of what I wanted to do in this film is to show people what is going on and what amazing things are happening in the world of nutrition," he said. "When it comes to this country, my hope, and wish and dream would be that people see this and go, 'Wow! how do I get involved in this?'"
For The Kids Menu screening tour dates, see the schedule here.