Make Your Own Kombucha
Kombucha is a fermented, naturally effervescent tea beverage that is exploding in popularity. Rich in probiotics, kombucha boasts many health benefits along with a hefty price tag of $3 - $6 a bottle. Here's how to brew your own.
Heading out the door? Read this article on the new Outside+ app available now on iOS devices for members! Download the app.
Kombucha, a fermented tea, is a nutritionally alive beverage brimming with health promoting nutrients. Known as the "elixir of life," many say drinking this sweet tea promotes a healthy gut, cleanses the body, boosts immunity and vital energy, and encourages overall well being. Science has yet to prove these health claims; be sure to do your own research before incorporating this into your diet.
The secret to the benefits of kombucha comes from the symbiotic culture of bacteria and yeast, commonly known as SCOBY. According to Kombucha Revolution: 75 Recipes For Homemade Brews, Fixers, Elixirs, And Mixers, by Stephen Lee and Kevin Koopman, "kombucha is alive, teeming with beneficial microorganisms and active bacterial cultures." These probiotic properties encourage a balance of beneficial bacteria for the gut, making this more than your run-of-the-mill cup of tea. The fermentation process creates a slightly effervescent, sour and sweet tea full amino acids, B vitamins, Vitamin C, and enzymes to help equalize and nourish the body.
Readily available at health food and specialty grocery stores, Kombucha can run anywhere from $3 to $6 dollars a bottle, while you can brew your own at home for a fraction of the price. There is a risk of contamination with home-brewing, so be sure to take care when preparing, using clean utensils and creating a clean and controlled environment.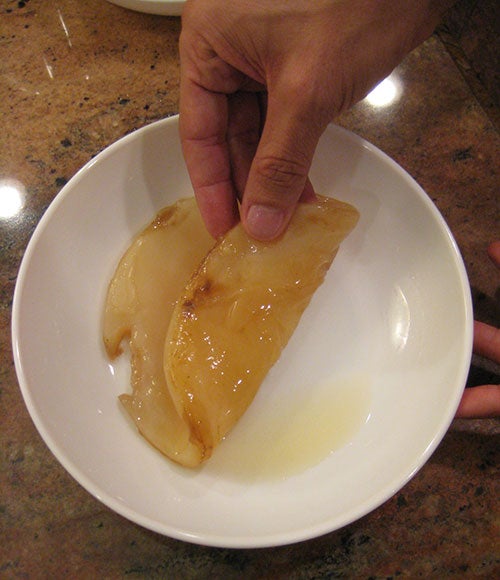 To brew your own, all you need are three ingredients: brewed black or green tea, sugar, and a SCOBY. You can purchase your Kombucha Tea Starter Culture to create your own SCOBY (often referred to as the mother) or receive a mother from a friend. With each brew, the SCOBY mother will create a new SCOBY, or baby, that can be passed on to a friend, used for a new batch, or composted.
Here is a simple recipe to create your own kombucha. You can drink your kombucha straight up, or experiment with mixing in to different juices, or for a twist, try a Kombucha Yogi Cocktail.
Kombucha Tea Recipe
(Recipe for a 2L vessel – scale up or down as necessary)
Supplies
tea kettle or pot
large glass jar
cloth or paper towel
rubber band
metal sieve
Ingredients
4 cups filtered water
1 cup evaporated cane sugar
4-6 bags tea OR 4-6 tsp loose leaf
Kombucha Starter Culture (SCOBY)
1 cup starter liquid (Kombucha)
additional purified/bottled water
Instructions:
Boil 4 cups of water. Steep tea for 5-7 minutes then remove.
Add sugar and stir to dissolve.
Top up jar with room temperature to cold purified water, leaving enough room for starter tea, SCOBY, and breathing room. Ensure tea is room temperature before continuing.
Add starter liquid to jar and place SCOBY in the jar with the rough side facing downward (usually the side with the stringy yeast strands hanging from it), and the smooth side facing upward. Your SCOBY may sink to the bottom or turns sideways – do not be alarmed! SCOBY is alive and has a mind of it's own.

Cover jar with cloth or paper towel and secure with a rubber band

Place hands on jar and say a prayer/set an intention for your kombucha brew (it is a living organism and will benefit from the positive vibes – this is optional)
Set in a warm location out of direct sunlight
Let SCOBY brew undisturbed for 7 days. At this time, use a straw or turkey baster to draw out some liquid to taste. For a sweeter tea, shorten your brew period. For a more tart taste, brew longer. Continue checking daily until you reach your desired taste.
When desired taste is achieved, remove your SCOBY from mixture and strain liquid through a sieve. You will notice a new layer of SCOBY on top of your original; gently separate and set both aside for your next batch. You will also want to set aside 1 cup of Kombucha per SCOBY for your next brew. Alternatively, you can keep both SCOBY together and use both for your next brew.

Place the rest of your Kombucha into bottle/smaller jars with a lid and place into refrigerator. Your Kombucha is now ready to enjoy
Repeat all the steps to prepare your next batch. You can make two separate batches (now that you have two SCOBY) or you can give one to a friend. Share this blog post with them when sharing your SCOBY!
Paul Galloro is like a hug in human form. Through his many talents, he has dedicated his life to assisting people on the joyful journey of discovering their highest self. Paul leads Yoga Teacher Trainings and workshops across North America and has a Divine Wellness Coaching practice based out of Richmond Hill, ON in Canada.