5 Combos for the Ultimate Power Breakfast
These five combinations will ensure that your first and most important meal of the day serves up high-functioning nutrition.
Heading out the door? Read this article on the new Outside+ app available now on iOS devices for members! Download the app.
Breakfast is my favorite meal. If I wake up and I'm not completely starving, then I know that either a) I'm coming down with something or b) I've seriously overdone it the night before.
Breakfast really is the most important meal of the day. It sets your metabolism, gets your brain functions started and delivers all-important nutrients. These dynamite clean combinations are nutritional powerhouses and so tasty, you'll be racing out of bed to tuck into breakfast. Plus, these healthy morning meals are quick and easy. Many of these options take five minutes or less to prepare.
1. Egg + Avocado = Brain Booster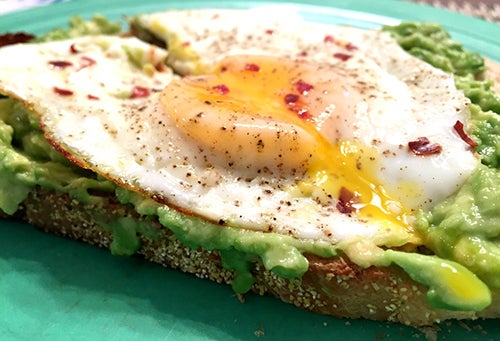 If you follow me on Instagram, you know I'm a devout lover of #yolkporn. But there's more to a runny yolk than just sex appeal. Eggs, especially the yolk, are an excellent source of folate and vitamin B12, both of which are key nutrients in brain function. Pair eggs with avocado, whose high levels monounsaturated fats help promote healthy blood flow and in turn cognitive function, and you'll be sharp as a tack for that 9 a.m. meeting. One of my favorite combinations ever is a slice of whole grain toast topped with mashed avocado, red pepper flakes and a sunny side up egg, but you can also experiment with frittatas, omelets, scrambled eggs topped with avocado salsa and hot sauce…be creative!
2. Chia Seeds + Greek Yogurt = Protein Powerhouse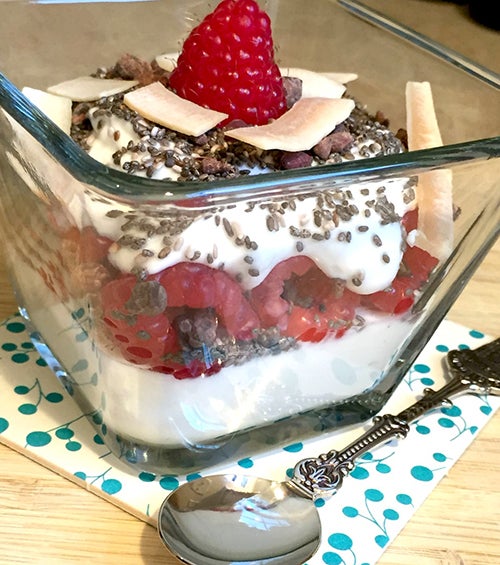 Chia seeds – yes, those seeds that sprout chia pets – are in fact food. One tablespoon provides essential nutrients and about 4 grams of plant-based protein, so they are worth incorporating into your diet. You may know about chia seed pudding, but I know the texture of the plumped up seeds can be off-putting for some palates. Instead, try sprinkling them on top of creamy Greek yogurt for a crunchy snap or blending them into a smoothie so you don't even know they're there. The combination of protein-dense yogurt and Chia seeds helps to build muscle and keep you full longer. Make a breakfast parfait and add fruit and other crunchy toppings, like coconut or cocoa nibs, to add color, texture and vitamins to the equation.
See more chia seed recipes here.
3. Tahini + Banana = Potassium Player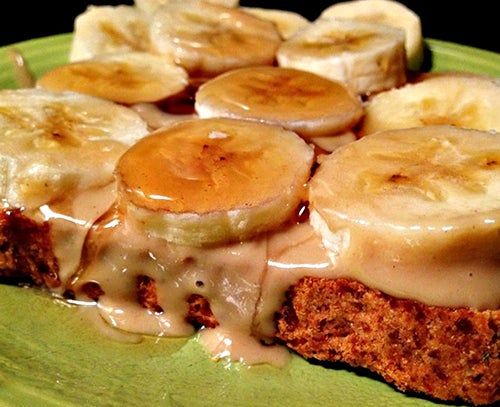 Potassium is an electrolyte and critical mineral that contributes to the overall functioning of your body's cells, tissues and organs. It's why a banana makes a perfect post-workout snack – it helps replenish lost electrolytes and prevents muscle cramping. Getting enough potassium also helps the heart. By balancing out sodium levels, potassium helps regulate blood pressure and in turn helps support a healthy heart. Tahini, a sesame paste found throughout Middle Eastern cuisine (and a key ingredient in hummus) is rich in minerals and potassium. When tahini teams up with bananas, this sweet-savory duo make a great topping for your morning bowl of oatmeal or granola, add a creamy sweetness when blended into smoothies and upstage your tired peanut butter and banana toast combo.
4. Raspberries + Steel Cut Oats = Fiber Fix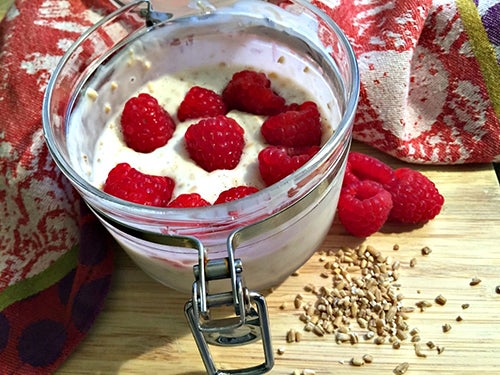 Raspberries are the jewels of the fruit world. Not only do they impart a gorgeous blush hue to your smoothie or add a smattering of color to your cereal, but they also rank tops in the fiber department. Oatmeal has long been regarded as a source of soluble fiber, the kind that helps reduce bad cholesterol, but steel cut oats are less processed than their rolled oats brethren. As a result, they have lower glycemic index which means you'll have steadier blood sugar levels and be less likely to have a mid-morning crash. For a quick and mighty breakfast, make overnight oats and top with raspberries in the morning.
5. Almonds + Strawberries = Vital Vitamins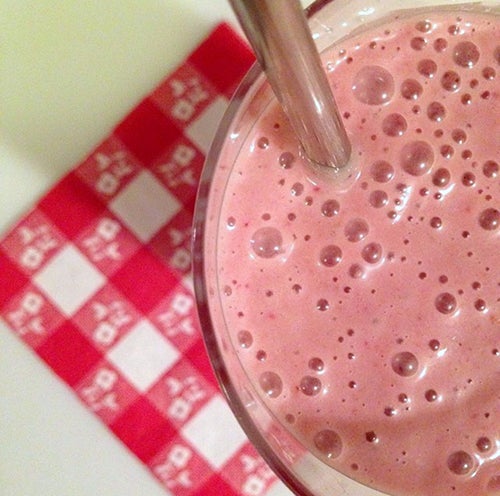 You probably knew that strawberries are a good source of vitamin C, but did you know that they also contain vitamin B6, copper and magnesium? B vitamins and copper are vital for healthy skin, hair and eyes, while magnesium keeps bones strong, regulates blood pressure and promotes a steady heart rhythm. Almonds are a rich source of a multitude of nutrients; as far as vitamins go, they too are a great source of vitamin B6 as well as vitamin E, which is essential for healthy skin and a powerful ally for protecting skin from sun damage and helping prevent aging. As a bonus, both almonds and strawberries are a good source of dietary fiber. I like a double dose of almonds in my morning smoothie – almond butter and milk – plus frozen strawberries for an extra frothy shake.