Smoked Salmon Omelette with Goat Cheese & Beet Relish
Curtis Stone shares his omelette recipe in honor of his beloved mom, Lozza, for Mother's Day.
Heading out the door? Read this article on the new Outside+ app available now on iOS devices for members! Download the app.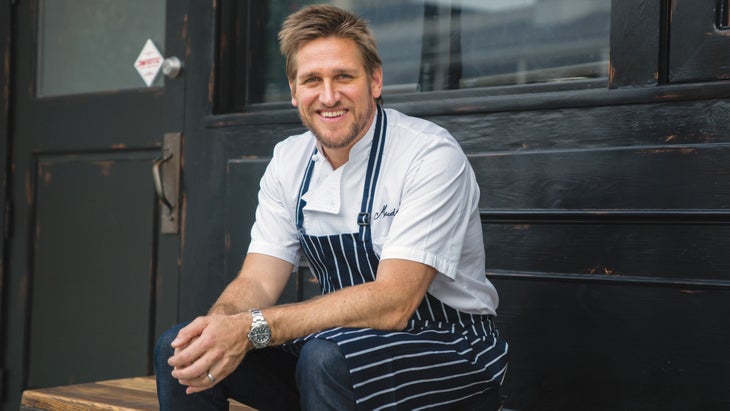 This Aussie chef needs no introduction. Best known for his hit show, Take Home Chef, Curtis has worked in high-end professional kitchens in Melbourne, London and Los Angeles – but despite his extensive professional experience, he still credits his mum and granny for teaching him everything he knows about cooking. His philosophy is similar to Clean Eating's: Keep it simple and cook with naturally produced ingredients just as Mother Nature intended. This easy omelette recipe does just that with smoked salmon and goat cheese – and we promise, it won't disappoint. (Curtis told us that he made this recipe for Mother's Day for his wife, Lindsay, and it put him in her good books for days!) We used a hot smoked salmon, but a lox would work here just as well. The brilliant beet relish adds a tart, earthy flavor that we just love – you'll want to make extra to have on hand for topping salads, smearing on sandwiches or dolloping onto lettuce wraps.
For Curtis Stone, food is a family affair. Our fave Aussie chef dishes about his mom's affinity for eating clean and the best food advice she's passed onto him.
Clean Eating: What gives this recipe special meaning for you?
Curtis Stone: There are just so many elements in this Smoked Salmon Omelette recipe that appeal to my mum, Lozza. She is a big fan of fish and seafood and lives close to the water back in Australia. Also, Lozza has her own chickens, so eggs seem like a given for a Mother's Day breakie in bed or brunch. And while beetroot isn't seen much in the States, we use it in Oz often. That piece-of-home accompaniment is just scrumptious.
CE: Has the recipe been adapted or made healthier than the original?
CS: Not particularly. I make every attempt to cook healthy, and Lozza is a stickler for clean eating. She makes her own yogurt and abhors processed food even more than I do.
CE: What's the best cooking tip your mother passed on to you?
CS: Always use the best ingredients you can get your hands on.
CE: If you weren't cooking, where would you and your mom be eating out?
CS: When she is in California, we love visiting Malibu Cafe. We make it a family affair – my wife, Lindsay, and the kids as well as my brother, Luke, who owns and operates my restaurant, Gwen – with me and his family.
CE: Do you share a favorite food show that you watch together?
CS: The finale of Top Chef Junior just aired. Those young contestants were just brilliant and so talented. I think it reminded Lozza of my antics in the kitchen early on.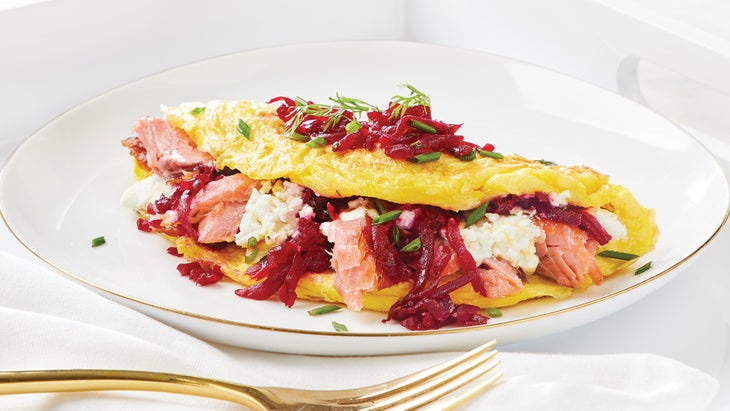 Smoked Salmon Omelette with Goat Cheese & Beet Relish

Serves 4.
Hands-on Time: 15 Minutes. Total Time: 25 Minutes.

1 red beet, peeled
1 1/2 tbsp balsamic vinegar
1 tbsp olive oil
1 tbsp + 2 tsp finely chopped fresh chives, divided
1 tbsp finely chopped fresh dill, divided
1/2 tsp organic evaporated cane juice (aka organic cane sugar)
kosher salt and ground black pepper, to taste
8 large eggs
1/4 cup whole milk
2 tbsp organic unsalted
butter, divided
6 oz smoked salmon
4 oz fresh goat cheese
1. Make beet relish: Using a box grater, coarsely grate beet into a medium bowl. Stir in vinegar, oil, 2 tsp each chives and dill and cane juice. Season to taste with salt and pepper. Set aside.
2. Make omelettes: In a large bowl, whisk eggs and milk together to blend. Season with salt.
3. Heat a medium nonstick skillet over medium-low. Add ½ tbsp butter and swirl to coat. Pour in one- quarter of egg mixture, swirling the pan to coat the bottom evenly, and cook, lifting edges with a silicone spatula and allowing the uncooked eggs to run onto the pan, for about 2 minutes, or until most of the egg is set but omelette is still runny on top. Arrange one-quarter of salmon over the omelette, top with dollops of one-quarter of cheese and scatter about 1½ tbsp beet relish over top. Fold omelette and transfer to a plate. If desired, keep omelette warm in a 200°F oven while you cook remaining omelettes. Repeat to make 3 more omelettes.
4. Sprinkle omelettes with remaining 1 tbsp chives and 1 tsp dill and serve with the remaining beet relish.
MAKE-AHEAD: The beet relish can be made up to 3 days ahead, covered and refrigerated.
PER SERVING (1 omelette): Calories: 381, Total Fat: 27 g, Sat. Fat: 12 g, Monounsaturated Fat: 10 g, Polyunsaturated Fat: 3 g, Carbs: 6.5 g, Fiber: 1 g, Sugars: 5 g, Protein: 27 g, Sodium: 714 mg, Cholesterol: 412 mg


BIOACTIVE BEETS: Beets contain betalains, antioxidant and anti- inflammatory molecules that may have the potential to fight cardiovascular disease. These highly bioactive pigments come in two forms: betacyanins, which give red beets their signature hue, and betaxanthins, found in golden beets.