Hearty Roots: Rediscover Turnips, Radishes and Celeriac
Warm up with winter's best bounty! Learn to love root vegetables with these novel and nourishing recipes featuring the "lowly" turnip, "boring" potato, and "forgotten" celery root.
Heading out the door? Read this article on the new Outside+ app available now on iOS devices for members! Download the app.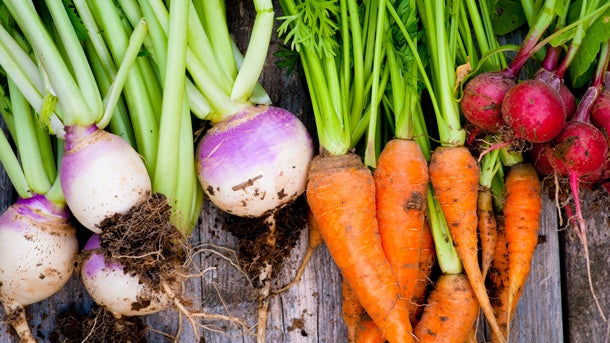 Before the era of modern refrigeration and trans-continental shipping, Northern people everywhere relied on winter storage crops to survive the colder seasons. Today, root crops are often considered starchy and bland, but, nutritionally, these vegetables are far from just empty carbs.
You might be surprised to learn that even the humble potato is high in vitamin C and potassium, particularly in and just under the skin. And, of course, there's more to root crops than just potatoes. With hefty orange rutabagas, colorful heirloom radishes, and unusual, antioxidant-rich roots like celeriac (AKA celery root) on hand, it's no wonder centuries of winter-worn cultures were able to thrive on diets of hardy root crops.
See also3 Ways with Beets.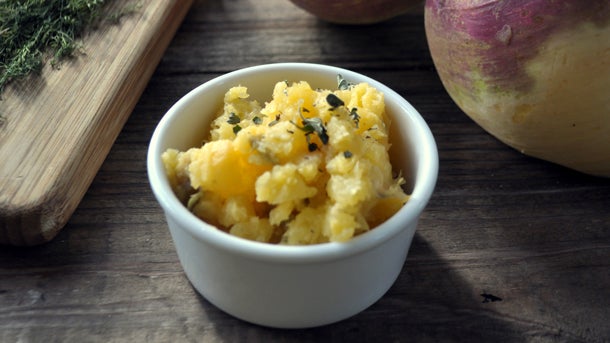 Bashed 'Neeps
The Scots call rutabagas turnips, so the name of this dish means mashed turnips. The golden color of rutabagas intensifies as they cook, making rutabagas prettier than many other roots.
Rutabagas are also nutritionally dense. They contain high amounts of iron, which is unusual among non-leafy vegetables. A serving can contain as much as three times the Recommended Daily Allowance (RDA) of iron. They are also high in antioxidants like vitamins C and A.
Mashed rutabagas are also sweeter than many root vegetables—as long as you don't overcook them. Like all members of the cruciferous family of vegetables, rutabagas can taste "sulfur-y" if over-boiled.
Hands-On Time: 5 minutes
Total Time: 25 minutes
INGREDIENTS:
2 pounds rutabagas, chopped into cubes
2 quarts boiling water
1 tablespoon salt (for the cooking liquid)
2 tablespoons butter
INSTRUCTIONS:
Boil the water, add the salt and rutabagas, and cook until the rutabagas feel soft at the point of a sharp knife, about 20 minutes.
Mash the rutabagas by hand or with an electric mixer.
Stir in the butter, and serve alongside the main course, or on its own as a supremely satisfying locavore comfort food.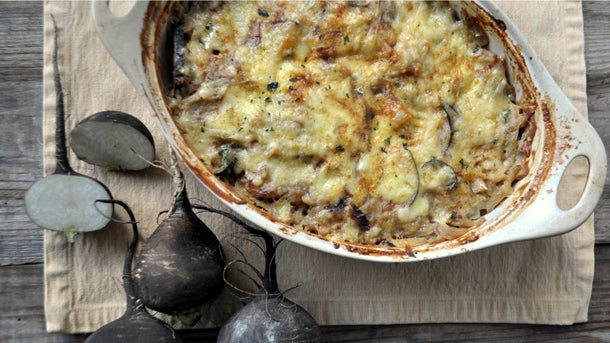 Gratin with Spanish Black Radishes and Gruyere
Spanish Black Radishes are so nutritious they are actually sold in powdered form as a nutritional supplement. Radishes, like all members of the cruciferous vegetable family, contain high levels of glucosinolates. These phytochemical compounds can prevent cells from becoming cancerous. Spanish Black Radishes contain as much as four times more glucosinolates than other cruciferous vegetables.
Hands-on Time: 30 minutes
Total Time: 1 hour and 15 minutes
INGREDIENTS:
2 pounds Spanish black radishes, about 6 medium ones
a clove of garlic
2 medium yellow onions
1 teaspoon salt
1/8 teaspoon baking soda
4 tablespoons butter
3 tablespoons flour
2 cups milk
a few grates of a whole nutmeg
1 cup grated Gruyere, divided
salt, to taste
INSTRUCTIONS:
Pre-heat the oven to 425 degrees and butter a gratin dish. Smear the buttered sides of the dish with a crushed clove of garlic, then, as if you were flouring a cake pan, dust it with about 1/3 cup of the grated Gruyere.
Slice the radishes thinly as you would for scalloped potatoes, but don't peel them.
Slice the onions in long strips into a non-reactive pan along with the butter, salt, and baking soda, and sauté them over low heat until they are golden and translucent, about 20 minutes. Add the flour, add some nutmeg, and stir a couple minutes longer. Heat the milk to simmering in a separate pan, and then pour it, stirring constantly, into the hot, floury onions.
Spread the sliced radishes into the prepared gratin dish, pour the sauce over them, and then top off the whole with the remaining cheese. Bake for 50 minutes, or until the radishes, which are somewhat firmer in texture than potatoes, are soft throughout, and the topping is golden.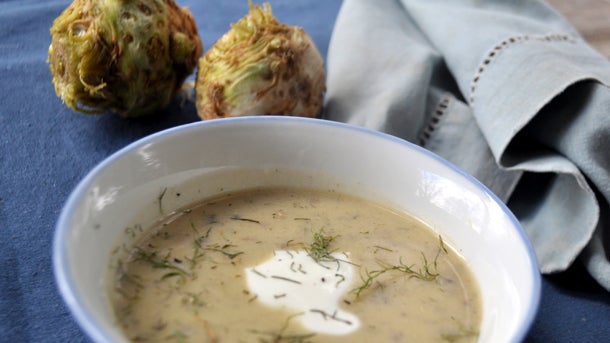 Potato-Celeriac Soup
One serving of celeriac provides about a third of the Recommended Daily Allowance (RDA) of vitamin K, which supports bone and brain health. Celeriac also contains antioxidants, along with calcium and potassium. Besides being high in potassium and vitamin C, potatoes hold respectable amounts of B vitamins along with minerals such as magnesium, copper, phosphorus and manganese.
Hands-on Time: 20 minutes
Total Time: 40 minutes
INGREDIENTS:
1 pound celeriac
2 pounds potatoes
2 quarts chicken stock
2 small leeks
2 tablespoons butter
3/4 teaspoon salt
3 tablespoons fresh dill, 3 teaspoons dried
2 cups of plain Greek yogurt, for topping
INSTRUCTIONS:
Chop the leeks first, then swirl them thoroughly in a bowl of cool water. If you rinse them before chopping, you're likely to miss some of the sand in the folds of the leek. Drain the leeks and sauté them in butter and salt in a Dutch oven or another large soup pot.
Celeriac is one vegetable you do always have to peel, and pretty aggressively at that. You'll want a good, sturdy knife. Chop away at the fuzzy brown skin, particularly the rooty part at the bottom, until you're left with a snowy-white core. Chop this lump into cubes, just as you would a potato. Likewise chop the potato. When the leeks have colored and softened, add the chicken stock and cubed celeriac and potatoes, and simmer the roots until they're softened, about 20 minutes. Add the dill near the end.
It's quickest to puree the soup using an immersion blender. Serve the soup with a generous dollop of plain yogurt. It would also be traditional to add cream to the pot instead at the end.
Learn how to prep celeriachere.
—
Along with her family, Mary Brower owns a year-round organic farm in northern Michigan that offers build your own farm memberships, community events, and food outreach programs. Learn more about Bluestem Farm at www.bluestemfarm.net.