Skillet-Grilled Red Pepper Shrimp
So as not to stifle the nutrients in shrimp and grits, we've cut the butter and cheese so often laced throughout, cutting cholesterol in the process and adding ample iron and vitamins A and C.
Heading out the door? Read this article on the new Outside+ app available now on iOS devices for members! Download the app.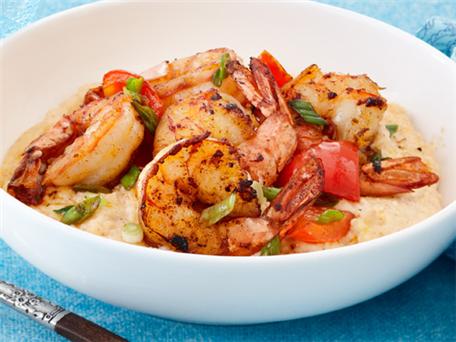 Serves: 4
Hands-on time: 10 minutes
Total time: 20 minutes
INGREDIENTS:
1/2 cup quick-cooking grits
1/2 tsp garlic powder
1 tsp Worcestershire sauce
1/8 tsp ground cayenne pepper
1/2 tsp sea salt
1 oz shredded reduced-fat sharp cheddar cheese
RED PEPPER SHRIMP
Olive oil cooking spray
1 medium red bell pepper, chopped
12 oz medium raw peeled shrimp, rinsed and patted dry
1 tbsp safflower oil
1 tsp paprika
1 tsp garlic powder
1/2 tsp fresh ground black pepper
1/8 tsp sea salt
2 medium scallions, trimmed and finely chopped
INSTRUCTIONS:
Prepare grits: In a medium saucepan, bring 2 cups water to a boil on high heat. Stir in grits and return to a boil. Then reduce heat to medium-low, cover and cook for 5 minutes or until liquid is absorbed. Remove from heat, stir in garlic powder, Worcestershire, cayenne and salt; cover and set aside.
Meanwhile, prepare red pepper shrimp: Heat a large nonstick skillet on medium-high. Coat skillet with cooking spray, add pepper and lightly coat pepper with cooking spray. Cook for 4 minutes, stirring frequently, until pepper begins to lightly brown on edges. Set aside on a plate.
In a medium bowl, combine shrimp with remaining ingredients, except scallions and cheese, and stir until well coated. Add mixture to skillet in a single layer and cook on medium-high, without stirring, for 2 minutes. Stir and cook for 2 more minutes, until shrimp is opaque in center. Remove from heat and stir in red pepper and scallions.
To serve, divide grits among 4 dinner plates and sprinkle evenly with cheese. Spoon equal amounts of shrimp mixture over top.
Nutrients per serving (1/2 cup shrimp mixture and 1/2 cup grits): Calories: 224, Total Fat: 6 g, Sat. Fat: 1 g, Carbs: 20 g, Fiber: 1 g, Sugars: 2 g, Protein: 21 g, Sodium: 486 mg, Cholesterol: 131 mg