Thanksgiving Simple: A Farmer's Take on 4 Classic Holiday Dishes
Our resident farmer Mary Brower shares three fresh sides and one easy dessert for Thanksgiving that showcase delicious whole foods.
Heading out the door? Read this article on the new Outside+ app available now on iOS devices for members! Download the app.
The holidays are coming, and the simplest way to stay healthy and strong while enjoying traditional foods is to choose ones that are whole and unprocessed.
At Thanksgiving, the turkey might take center stage, but, at our organic farm, it's the sides that we love best. As an appetizer, raw heirloom radishes supply antioxidants, a natural source of hydration and fiber. Brussels sprouts contribute calcium and magnesium in support of nervous and digestive system functions, while the cumin seasoning helps digestion, regulates hypoglycemia and aids in the digestion of fats. We favor potatoes with colorful skins. because they have more antioxidants and carotenoids than pale-skinned varieties do. Toss them in garlic and parsley and you add antimicrobial benefits while boosting the green profile of your traditional meal. Best of all, at a whole foods Thanksgiving, even dessert contains a vegetable. The winter squash or pumpkin in this crustless pie is high in the B vitamins that help your body absorb nutrients and regulate metabolism while also boosting your mood. Despite what else you have on your plate, whole vegetables supply the fiber that keeps your digestive system healthy—helping you to absorb other nutrients.
Here are four classic whole-food approaches to classic side dishes that will help you achieve a sane and healthy Thanksgiving meal.
Brussels Sprouts with Garlic and Cumin
Don't be intimidated by Brussels sprouts. Here's an easy way to enjoy this nutritious vegetable this Thanskgiving.
Serves: 8 to 10
Hands-on Time: 15
Total Time: 20
INGREDIENTS:
2 pounds Brussels sprouts
1/2 cup boiling water
1 tablespoon olive oil
3 cloves garlic
1/2 teaspoon salt
1 teaspoon ground cumin
INSTRUCTIONS:
Slice the Brussels sprouts in half and place them in a wide skillet with a half cup of boiling water.Cover over medium-high heat for 3 minutes, popping in to stir them only if it seems necessary.
Remove the lid and leave the heat at medium-high.
Mince the garlic and stir it in along with the cumin and oil. Promise yourself you're not going to stir them too much. At this stage, too much eagerness with a spoon will cause your Brussels sprouts to get all rumpled, and the cut faces won't have a chance to caramelize.
They're done in another three minutes or so, when the heads give to the point of a sharp knife.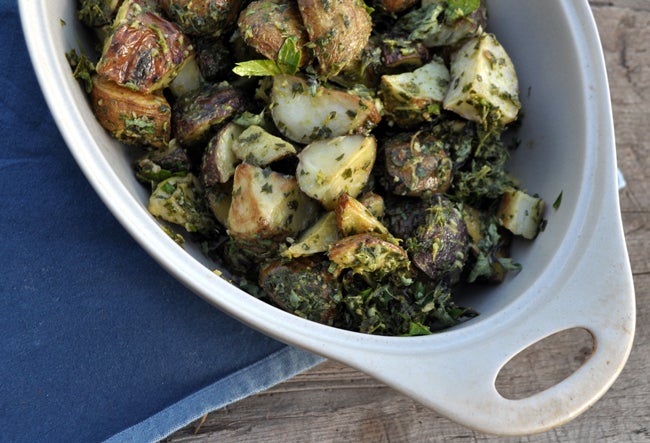 Herbed Roasted Potatoes
You could mash or you could roast. Guess which one is easier?
Serves: 12 to 14
Hands-on Time: 15 minutes
Total Time: 1 hour
INGREDIENTS:
3 pounds red potatoes
2 bunches Italian parsley
4 cloves of garlic
1/2 teaspoon salt (plus salt for the boiling water)
2 tablespoons olive oil
INSTRUCTIONS:
Heat the oven to 450 degrees.
While you are chopping the potatoes, boil a pot of salted water. When it boils, throw in the potatoes and simmer for 7 minutes. It doesn't necessarily have to return to a boil.
Drain the potatoes and place them onto a baking dish lined with parchment paper. Mix them with the oil and salt.
After about 20 minutes in, add the chopped parsley and garlic.
Serve when the potatoes' skins are crispy outside and the insides are tender at the point of a sharp knife.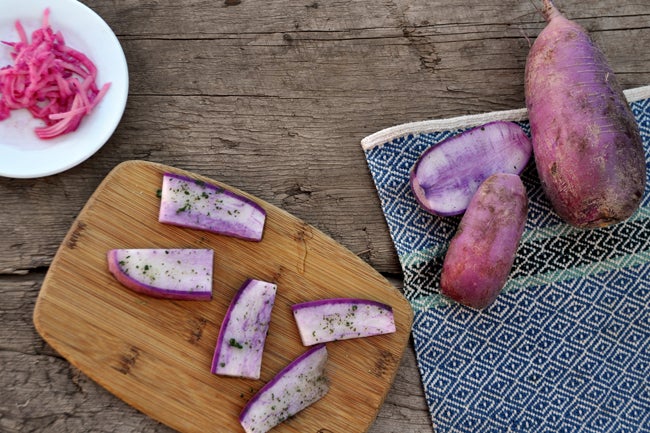 Heirloom Daikion Crudite
Cold-weather cultures the world over love winter radishes not only for their hardiness, but also for their beauty and important nutritional profiles. Heirloom daikon like these Beni Shigure radishes contain 25% of the RDA for vitamin C, and are also high in flavonoids and the cancer-fighting antioxidant sulforaphane. At our house, we love to eat them raw.
Serves: 6 to 12 as an appetizer
Hands-on Time: 5 minutes
Total Time: 5 minutes
INGREDIENTS:
3/4 pound purple daikon (or any winter radish)
a pinch of nice salt
herbed soft cheese, or your dip of choice
INSTRUCTIONS:
Rinse the radishes, but don't bother to peel them if you trust the farm that they came from. Slice the radishes in half (lengthwise) and then make long, thin cuts. Salt and enjoy.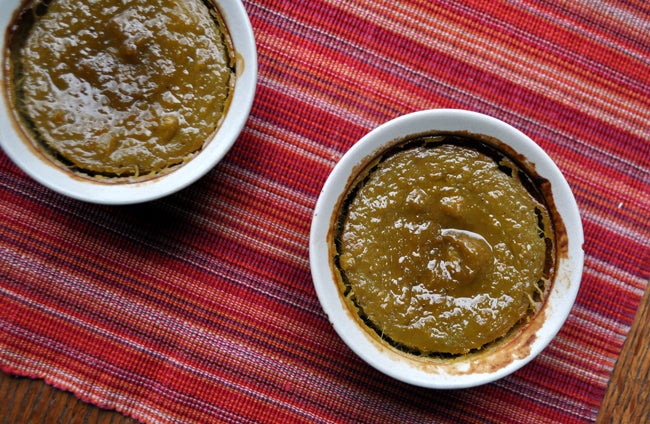 Crustless Pumpkin Pie
A pie made from scratch doesn't need to be a complicated project. One of the best qualities of a this recipe is that it can be prepared a few days in advance of the feast and baked the day of or the day before. Winter squash and pumpkin are 100% interchangeable as fillings for pumpkin pie – in fact, much of the canned pumpkin available in stores is actually made from butternut squash, and the pie pictured was made from an acorn squash. If you're trying to cut back on simple carbs this holiday season, this is an option that bypasses the pastry crust completely.
Serves: 6 to 8
Hands-on Time: 20 minutes
Total Time: 1 1/2 hours
INGREDIENTS:
1 3/4 cups roasted winter squash (about 2.5 lbs raw, whole squash)
1 cup maple syrup
1/2 teaspoon salt
1 teaspoon cinnamon
3 tablespoons grated fresh ginger
Several vigorous grates of a whole nutmeg nut, or ½ tsp ground
2 eggs
1 cup whole milk, low-fat is fine
INSTRUCTIONS:
To roast the winter squash, preheat the oven to 400°F.
Cut the squash in half, scrape out the seeds and place the cut side down on a baking sheet.
Add 1 cup boiling water to the sheet and bake for about 30 minutes, or longer if your winter squash or pie pumpkin is large. You're looking for very soft flesh. This can be done up a few days before you plan to serve the pie.
Grate your fresh ginger (or use a teaspoon and a half of dried ground ginger). Mix the ginger with the maple syrup, roasted squash, salt, and spices—but not the milk and eggs yet—and set them aside.
On the stovetop, heat your roasted winter squash purée in a saucepan over medium-high heat for 15 minutes. You won't have to worry too much about the squash burning and sticking, but you will need to stir it every so often. When the winter squash filling is noticeably thicker, remove the pan from the heat.
Beat together the eggs and milk and stir them into the hot, twice-cooked winter squash. Fill individual ramekins with the puree, and bake for about 25 minutes, until the centers of each ramekin are barely set.
TIP: This recipe is heavy on fresh ginger. For easy grating, freeze a thumb's worth of whole ginger, skin and all. When it's frozen hard, the fibrous parts won't clog the grater.
—
Mary Brower and her family own Bluestem Farm, a year-round organic farm in northern Michigan that offers community events and food outreach programs. Find out more at www.bluestemfarm.net.