How to Prep a Succulent Pork Tenderloin
Chef Nathan Lyon of the Clean Eating Academy explains how to remove the stringy silver skin from a pork tenderloin.
Heading out the door? Read this article on the new Outside+ app available now on iOS devices for members! Download the app.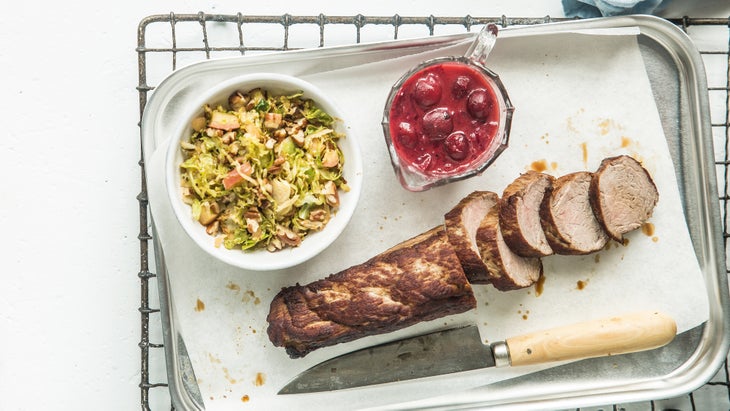 If you happen to be one of those people (or you know someone) who gave up long ago on cooking and eating pork ("It's not healthy! It's too dry!"), please — come back. Sure, I've had my fair share of dried out pork chops and overcooked tenderloins, but let's not forget the merits of the pig.
First off, bacon. Amiright?
Moving on – the tenderloin. The tenderloin is the filet mignon of pork. Soft, succulent, lean and flavorful. Yes, it's true that our pork has gotten less fatty over the years with a demand for a low fat diet. Farmers have responded with leaner breeds of pigs (oxymoron?). But a bite of tenderloin is still as delicious as ever if you can hit that sweet spot. That is why you use your trusty digital thermometer to test for doneness. 145 degrees Fahrenheit and you will have perfection on your plate ­– every single time.
Find out more about Chef Nathan Lyon's new Clean Eating Academy Course, Clean Cooking & Nutrition: The World's Healthiest Proteins & Advanced Vegetable Prep launching March 2017!
Now that we are on the same page with the merits of pork, I do have an important tip for you when it comes to the pork tenderloin. There is a piece of connective tissue, silver in color, that runs like a band along a portion of the tenderloin called the silver skin. This you'll want to remove prior to cooking as the silver skin is tough and fibrous and will challenge you in an endless, unsavory chewing battle.
I am going to show you how you can easily remove this silver skin and you will be well on your way to a wonderful meal. Of course, if you want to take it to the next level and make my Pork Tenderloin with Sweet and Spicy Brussels Sprouts and Cherry Pan Sauce, you may want to consider signing up for my Clean Cooking & Nutrition: The World's Healthiest Proteins & Advanced Vegetable Prep Course. I'll be showing how to cook this delicious dish (and many others) step by step.
Trust me, it will be worth every bite.
What's Silver Skin and How Do I remove It from Pork?