Conversation with a Food Blogger: Ambitious Kitchen
In this column, we're interviewing the tastemakers, foodies and chefs that are dominating the web. This week: Monique Volz from Ambitious Kitchen.
Heading out the door? Read this article on the new Outside+ app available now on iOS devices for members! Download the app.
During college, most students study textbooks, but Monique Volz studied cookbooks instead. Sharing her love of food, baking and her enthusiasm for eating clean was a passion she just couldn't ignore. So, at the end of 2011, Ambitious Kitchen was born, and, just three short years later, Monique was able to leave an office job to pursue blogging full-time. The recipes on her site feature both sweet treats and nutritious food with Spanish flair. Monique is an avid baker, so we recommend that you start with her Coconut Flour Chocolate Chip Cookie recipe below, a grain-free cookie recipe that is as delicious as it is customizable.
If you could describe your blog in three words what would they be?
Creative. Healthy. Nutritious.
Why are you so passionate about cooking?
For me, it's all about having a creative outlet in my life and cooking is that. Being in the kitchen, creating new recipes makes my soul happy. Putting together flavors is like putting together a puzzle; sometimes it's the process that's the best part.
What's your favorite meal of the day?
Breakfast! I love throwing together scrambled eggs with a little mozzarella or pepper jack cheese and serving it with my Grandmother's recipe for whole wheat oatmeal bread, toasted and slathered with nut butter.
What's an ingredient that you just can't live without?
That's a tough one! I'd probably have to say garlic. It's adds such a nice flavor to every dish, plus it's health properties are outstanding for inflammation.
This year I'll be eating more?
Baked HEALTHY treats made with coconut flour. I love making protein energy balls with a little coconut flour and nut butter. It's also wonderful addition to banana or pumpkin bread.
I think everything tastes better with?
Peanut butter… or any kind of nut butter. Okay, maybe not everything but it's by far my favorite.
Where is your favorite place to shop for ingredients?
Trader Joe's or Whole Foods. Whole Foods usually has things that I'm not able to find anywhere else. I also appreciate any place that I can find organic ingredients at a decent price — sometimes Aldi can be terrific for that.
What's your favorite kitchen gadget?
Garlic press or my food processor, honestly I don't know what I'd do without either of them.
Cookbook you can't live without?
I've been cooking a lot out of SkinnyTaste cookbook lately, and my boyfriend loves it.
You're a popular food blogger with thousands of followers. Is there a food blog that YOU follow?
Yes! I love Can You Stay for Dinner? by Andie Mitchell. Her writing is insanely addicting. What's Gaby Cooking by Gaby Dalkin is fantastic for international recipes that are still approachable.
Who would you consider a culinary icon?
Bobby Flay. I met him once, and it was literally the best.
Favorite guilty pleasures?
Watching old episodes of Felicity with a big bowl of coconut oil popcorn. I also adore fresh, warm pumpkin pie with real whipped cream; it just can't be beat.
Late-night snack of choice?
Peanut butter on a banana with a few dark chocolate chips.
What are the biggest challenges and greatest rewards of being a food blogger?
Biggest challenges have to be keeping up with the changing landscape of digital and social media. Staying relevant can also be tough. The food blogger market is so incredibly saturated that it's hard to stand out sometimes. I have to remember to stay true to who I am and the passion that drives me to succeed. The greatest reward is the ability to set your own schedule, live out your passion, travel often, and change how people approach food and nutrition. I have to believe that what I do makes a small difference by encouraging others to have a healthy relationship with food and or eating.
What's one piece of cooking advice you'd like to share with our readers?
Taste as you go! Fresh and dried herbs and spices can make all the difference in a recipe, so don't be afraid to experiment!
Do you have any recipes that stand out as being epic fails?
All the time! Mostly, when I try to bake grain-free. You really have to be careful when you are baking with different flours and sweeteners. They don't bake the same as traditional ingredients. Often it takes me 2 or 3 times before a recipe is successful enough for me to put up on the blog.
What's next in your career?
A cookbook, more travel, and I'm toying with the idea of going back to school for nutrition. We'll see.
Finally, can you share one of your favorite recipes?
Yes! These Paleo Coconut flour Chocolate Chip Cookies are a dream come true and probably one of the easiest recipes I've ever made. I love the fact that there aren't a million ingredients. Oh and did I mention options?! So many options to try!!! Don't you just love a cookie that fits into nearly every dietary need?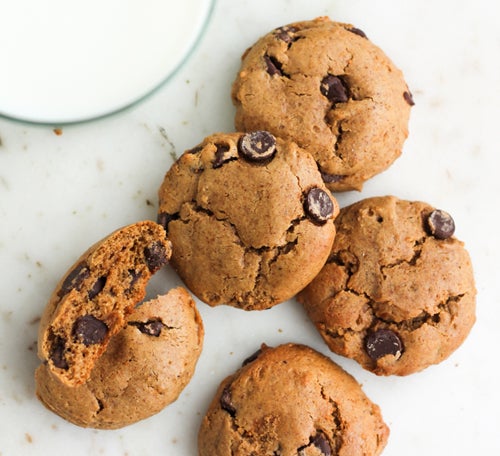 Coconut Flour Chocolate Chip Cookies (Gluten free, Paleo)
Makes: 20 cookies
Hands-on Time: 10 minutes
Total Time: 20 minutes

INGREDIENTS:
3/4 cup unsalted creamy almond butter
1/2 cup organic coconut sugar
2 tablespoons coconut oil, melted and cooled
2 eggs
1/4 cup coconut flour (I used Trader Joe's)
1/2 teaspoon baking soda
1/4 teaspoon salt
1/3 cup dairy free dark chocolate chips (I used Enjoy Life)
INSTRUCTIONS:
Preheat oven to 350 degrees F. Line a cookie sheet with parchment paper.
In the bowl of a food processor, add in almond butter, coconut sugar and coconut oil; process until it comes together, about 1 minute. Add in eggs and process again. The dough will probably seize up at this point, but don't worry that's okay.
Next, add in coconut flour, baking soda and salt; process again until dough forms. Gently fold in chocolate chips.
Use a cookie scoop to drop dough onto prepared cookie sheet. You can flatten dough with the palm of your hand if you'd like to have cookies like mine in the photo, or if you prefer, you can leave the dough as is and cookies will be a bit puffier.
Bake for 8-10 minutes or until cookies turn slightly golden brown around the edges. Allow them to cool on cookie sheet for at least 5 minutes, and then transfer to a wire rack to finish cooling. Repeat with remaining dough.
SUBSTITUTIONS:
Almond butter: If you'd like, you can use peanut butter or any other nut butter. Also I believe sunflower seed butter would work, however often times baked goodies can turn green when you use seed butter. Don't worry, they'll still be safe (and delicious) to eat!
Coconut sugar: Instead of coconut sugar, feel free to use honey or maple syrup; I would advise using 1/4-1/3 cup. You may also use brown sugar (but of course then they aren't paleo). Try an organic brown sugar (the kind that's unrefined).
Coconut flour: If you don't have coconut flour, you can try making my grain free almond butter chocolate chunk cookies instead. They are mighty delicious!
Chocolate: If you want to avoid chocolate, try nibs! Or you can add in shredded coconut, dried cranberries, raisins or whatever your heart desires. Chia seeds are one of my favorites.
Eggs: Unfortunately there are no substitutions for the eggs. You can try a flax egg, but I'm not positive if it will work.
—
Check out Alexis Nilsen's blog Cow Crumbs where she is proving one recipe at a time that gluten-free can be so much more than rice flour and tapioca starch.