Conversation with a Food Blogger: Food52
In this column, we're interviewing the tastemakers, foodies and chefs that are dominating the web. This week: Food52
Heading out the door? Read this article on the new Outside+ app available now on iOS devices for members! Download the app.
Food52 is a website that brings foodies together from all over the world; it serves as a platform for cooks to easily exchange recipes and support each other in the kitchen. Since launching in 2009, millions of visitors have found their way to this popular domain and the Food52 community even helped create the first crowdsourced cookbook. Currently, New York City-based Food52 has a staff of 53. We spoke with Managing Director, Kenzi Wilbur, who's been with the blog since 2012.
If you could describe Food52 in three words what would they be?
How about just one? I'd call us real. Yes we also aim to inspire, to have fun, to teach—and better, to learn from our community—but the word that I think defines us most is "real." We don't just do what we do in the office; we live it.
Why are you so passionate about what you do?
I love what I do because I love food and food systems and the whole art and culture of cooking, but what drives me most days is the pursuit of making all of that accessible to the world at large. And, I hope, doing that in an inclusive way: Here, come cook with us. That's the biggest thing, I think, in home cooking: realizing that even if you don't know how to break down a whole chicken or shape a boule with your bare hands, there are still so many things you can bring to the table. (And that hey! If you do want to learn those things, we'll show you that, too.)
How did Food52 come about?
Amanda and Merrill met working on The Essential New York Times Cookbook together. (Which, by the way, is a fantastic resource, and I can say that because I promise I owned it long before they employed me.) Shortly after that, they realized that there wasn't a place they could go for everything they needed in their cooking and entertaining lives—no hub, no community. So they started one. The rest, as they say, is history.
So far this year do you find that there's a HOT ingredient that's popping up in a lot of recipes?
If we're not careful, we can skew a little heavy on the routine in our own daily office cooking: We make a lot of lunch salads as an editorial team, and they always lean heavily on dark, leafy greens, avocado, and whatever other stray vegetable nubs we have lingering in our crisper. But we do venture out into the world—I swear—and lately we've been seeing a lot of pickled seeds and savory yogurt and hot or spicy honey. Also matcha. Everything is green! Hard cider is making a strong showing, too, though I haven't seen much cooked with it. Yet.
What is the standard you're looking for from a recipe to share it on Food52?
So many of our recipes come from our community—either from their kitchens or memories or an old family recipe box—so we don't have just one set of criteria that will make us consider testing and featuring a recipe. We look for a great idea first: Do we have to try this? Is this combination a little genius? We'll also bring great-sounding versions of classics into the fold, too. Strength in recipe-writing is secondary. So long as the recipe is clear enough for us to wrap our heads around how to make it, we'll give it a go. Editing is what we're here for!
When this site first came about what demographic were you hoping to appeal to?
We hope to appeal to cooks of all levels, everywhere. If you already know how to make a buche de noel, then we have a croissant recipe for you to try. (And seriously: kudos.) If you're unsure if you're boiling eggs the right way, we're here for you, too. I don't think this has changed from day one: If you eat, and sometimes throw together food in your own kitchen—or want to do it more—come visit. You'd do well here.
Food52 is a popular site with thousands of followers. Are there any food blogs that YOU follow?
So many! The great thing about this world is that there's no shortage of beautiful, well-executed content. In fact, we run a roundup of food blog links we're into every week because they're so plentiful. We're huge fans of Molly Wizenberg of Orangette, Ashley Rodriguez of Not Without Salt, Phyllis Grant of Dash and Bella, Molly Yeh of My Name is Yeh. But honestly, the list just scrolls and scrolls. More and more, we're finding inspiration in non-food places and publications, too—think: art, music, long reads, current events—the reach of cooking and food is no longer contained within our own sphere, and that's an incredibly positive, inspirational thing.
Who would you consider a culinary icon?
This is a hard question! I don't believe we become the cooks we're going to be by barreling hard and fast down one, single path. I want to learn from cooks piece by piece—a tip here, a spice that I've never heard of there. Much like it feels to come to our site, actually. I love Laurie Colwin's recipes for their thrift and directness; I respond surprisingly well to Édouard de Pomiane's slightly scolding tone; and I enjoy James Beard for his copious, unfazed use of dairy fat. But really I have something to learn from everyone around me. Kristen, our executive editor, taught me how to cook with old bread better than I knew; another of our editors taught be to shave raw beets into salads whenever possible. Just the other day I learned you should braise chicken in a bath of butter and hot sauce before you grill it. Who knew?
What are the biggest challenges and greatest rewards of Food52?
I see our biggest challenge as the same as our greatest reward. Did we teach someone something new today? Give someone an idea? Inspire someone to get in the kitchen? For us, that's a win; the challenge is in how we do that more—more consistently, more often, more surprisingly.
What's one piece of cooking advice you'd like to share with our readers?
Learn to make a killer vinaigrette. You can use it to bind nearly anything: A green salad, a chicken salad, a mess of grains and the leftover vegetables from your fridge. You can drizzle it into the belly of an avocado. You can dip your bread it in. And that, too: Always have good bread, good olive oil, good salt. These are your building blocks.
Are there any food trends right now that you are super popular?
We see trends from our readers in subtle way—so instead of seeing a boom of vegetarian readers, we'll notice that vegetable-heavy recipes are starting to get more play. (Which is definitely happening, with us and everywhere else.) We're also seeing increased interest in alternative, off-the-beaten track flours, and I'm into it. Why shouldn't we be putting buckwheat flour in our pancakes?
Food52 has been called a "foodie empire" that must feel pretty rewarding?
Like I said before, we win when we've given someone an idea, inspired them to cook, or, especially now with the shop and more home and design content, made a nook in their home brighter. That's what keeps us going.
What's next for Food52?
More food! More great recipes. A new layout; a smarter way of discovering our content. A wedding registry, so couples on the road to marriage can collect all the things they want for their new homes and so that I can create the most robust birthday wish list of all time. (Everyone who knows me: Can you see me winking?) An app! And many more—you'll have to keep checking in.
Finally, can you share some of your favorite recipes from the site?
If I were editing an article that contained the phrase "that's like picking a favorite child!" I would probably cut it out, but in this moment I'm feeling why it's so true! There are so many. Right now I can't stop cooking Phyllis Grant's grilled romaine. And I'll forever keep Merrill's braised chicken thighs and Shannon's roasted potato salad on repeat. But ask me next week—I'm sure I'll have a new favorite. That's just how this works.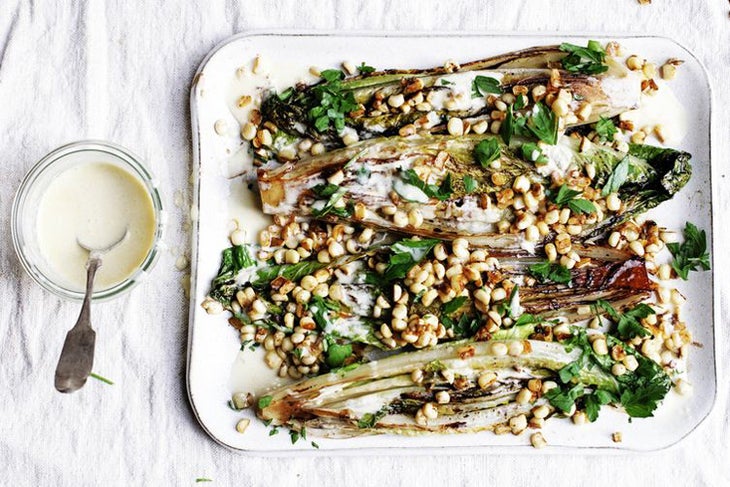 Grilled Romaine with Corn and Creamy Anchovy Garlic Vinaigrette
Serves 2
INGREDIENTS:
1 egg
2 cloves garlic, peeled
4 to 6 anchovy fillets, packed in oil
2 teaspoons lemon juice
1 teaspoon lemon zest
1 tablespoon Champagne vinegar
1 teaspoon Dijon mustard (I like Grey Poupon)
Splash Worcestershire sauce
2 tablespoons crème fraîche
2 hearts of romaine
1/4 teaspoon plus 1/8 teaspoon kosher salt
1 tablespoon balsamic vinegar
2 tablespoons butter, divided (half for the romaine and half for the corn)
1 ear of corn, shucked
Handful parsley leaves, coarsely chopped, for garnish
INSTRUCTIONS:
To coddle the egg: Bring a small pot of water to the boil. Lower flame to medium. Carefully lower the egg into the water. Gently boil for 2 minutes. Rinse under cold water for a minute. Set aside.
Bash garlic and anchovies into a paste using a mortar and pestle (or chop finely with a chef's knife). Crack open the egg and use a small spoon to scoop out the interior and add it to the anchovy garlic paste. Most of the egg will still be raw. Mix well. It's okay to have a few small chunks of white that don't mix in. Whisk in lemon juice/zest, vinegar, mustard, Worcestershire sauce, and crème fraîche. Taste. Adjust. You want it to be quite acidic. The romaine needs a lot of flavor. Set aside.
Halve the romaine hearts lengthwise. Evenly sprinkle the cut sides with 1/4 teaspoon salt. Set aside. Put balsamic and 1 tablespoon butter in a large (9-inch or so) pan (I use cast iron). Crank the heat to high. Stir until the butter and balsamic melt together and thicken a bit (about a minute). Press romaine halves cut-side down in the pan. Use your hands, a spatula, or the bottom of another pan to press them down. Peek after a minute. You want a nice dark color but you don't want them to burn. Flip them over and cook for one more minute. Remove and place on a serving platter.
Turn the heat down to medium. Add the remaining tablespoon of butter. Once it starts to brown, use a very sharp or serrated knife to cut the corn off of the cob and down into the hot pan. Add the remaining salt. Turn off the heat. Taste. Adjust the seasoning.
Spoon cooked corn over the grilled romaine. Garnish with chopped parsley. Serve with dressing on the side. Or splash it all over.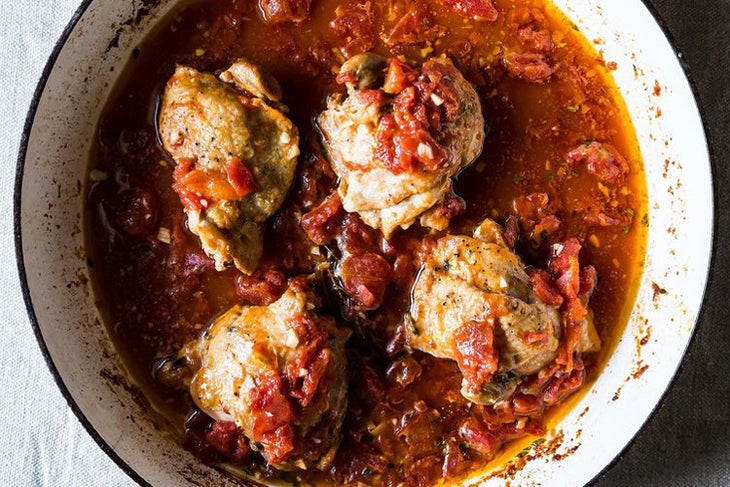 Braised Chicken Thighs with Tomato and Garlic
Serves 4
INGREDIENTS:
8 chicken thighs on the bone, skin-on
2 teaspoons olive oil
Salt
6 large garlic cloves, roughly chopped
20 ounces canned chopped tomatoes (I prefer tetra-pack)
1 cup chicken stock (homemade or low sodium)
2 sprigs thyme
Orzo or rice for serving
INSTRUCTIONS:
Pat the chicken thighs dry. Season them liberally on all sides with salt. Heat the olive oil in large, heavy sauté pan with high sides over medium heat. Brown the chicken thighs on both sides in two batches, about 5 minutes per side. Transfer the chicken to a plate and keep warm. Pour off all but about a tablespoon of fat in the pan.
Turn the heat down to medium-low and add the garlic. Cook, stirring frequently, until you can smell it, about a minute. (Don't let it burn.) Add the canned tomatoes, chicken stock and a large pinch of salt, and turn the heat up until the liquid comes to a simmer, scraping up the brown bits from the bottom of the pan with a wooden spoon as they loosen. Add the thyme and then nestle the chicken thighs, skin-side-up in the sauce.
Partially cover the pan and turn down the heat so that the sauce is simmering gently. Cook for about 30 minutes, until the chicken is tender.
If the sauce is thin, transfer the chicken to a clean plate and keep warm while you turn up the heat for a few minutes so that the sauce simmers and thickens a bit. Don't let it cook down too much — you want this to be pretty saucy.
Return the chicken to the sauce and heat through before serving over orzo or rice.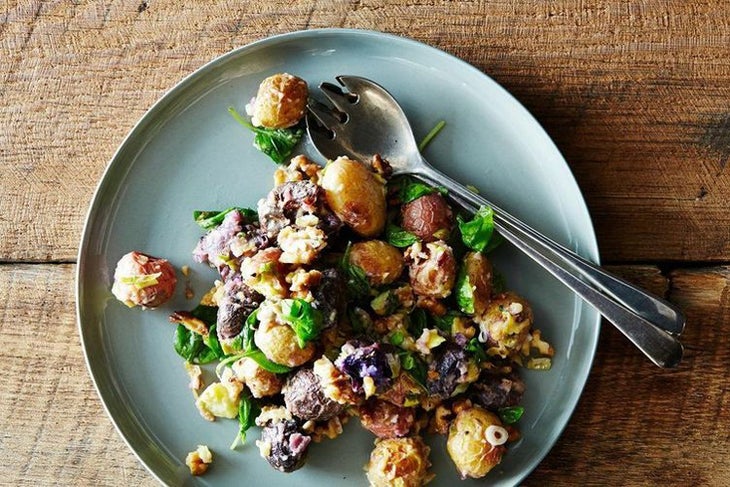 Roasted Potato Salad with Mustard-Walnut Vinaigrette
Serves 6 – 8
INGREDIENTS:
SALAD
4 pounds mixed marble potatoes, or other small potatoes
1 cup walnuts, toasted and roughly chopped
1 bunch basil, leaves torn into bite-sized pieces
1bunch scallions, white and green parts thinly sliced crosswise
VINAIGRETTE
2 cloves garlic, peeled
1 tablespoon whole-grain mustard
1 tablespoon Dijon mustard
2 tablespoons lemon juice
1 tablespoon red wine vinegar
2 tablespoons roasted walnut oil
¼ cup extra-virgin olive oil
Sea salt and freshly ground black pepper, to taste
INSTRUCTIONS:
Preheat oven to 425° F and line two rimmed baking sheets with parchment paper.
Wash and dry potatoes, then spread evenly between baking sheets. Drizzle with olive oil and toss to evenly coat potatoes. Sprinkle with freshly-ground black pepper and sea salt, then roast, shaking the pans occasionally, until potatoes are tender and browning (about 45 minutes, depending on the size of your potatoes).
Meanwhile, prepare vinaigrette. Place garlic cloves on a cutting board, sprinkle with a generous couple pinches of sea salt, and chop and mash with the side of your knife until the clove breaks down into a salty paste.
Add garlic paste to a small bowl along with mustards, lemon juice, and vinegar. Whisk to emulsify. Add olive and walnut oils and whisk vigorously to combine. Taste and adjust seasoning with additional sea salt and pepper.
When potatoes are done, transfer to a large bowl. Add scallions and dressing, and toss to coat. Using the back of a mixing spoon or the end of a wooden spatula, roughly smash some of the potatoes to break the skins. You're not making mashed potatoes, but breaking the potatoes down will allow them to soak up more of the vinaigrette.
Allow dressed potatoes to sit at room temperature for about 45 minutes to one hour. Just before serving, stir in walnuts and basil.
Photos: James Ransom, Phyllis Grant, Merrill Stubbs, Shannon
—
Check out Alexis Nilsen's blog Cow Crumbs where she is proving one recipe at a time that gluten-free can be so much more than rice flour and tapioca starch.