Conversation with a Food Blogger: Kim D'Eon
In this column, we're interviewing the tastemakers, foodies and chefs that are dominating the web. This week: Kim D'Eon
Heading out the door? Read this article on the new Outside+ app available now on iOS devices for members! Download the app.
Not many wellness advocates would admit to having a diet growing up that consisted of processed staples like boxed macaroni and cheese or dinner from a can. Kim D'Eon says she lived in the thick of that processed food world. Furthermore, her foray into the "dark" side of health now plays an integral role in her understanding the benefits of healthy eating.
Kim's adventures in "healthy" eating didn't begin until she hit her 20s, and even then it wasn't because she wanted to heal. She simply desired to shed a few pounds for her demanding career in TV. But off the screen Kim suffered from constant chronic digestive issues and an upset stomach. After years of discomfort, she finally felt compelled to cleaned up her eating habits. Kim cut out dairy and gluten, and for the first time in her adult life she felt normal. No drugs necessary.
Along her culinary journey, Kim fell in love with cooking and with food that tasted delicious and is also highly nutritious. When Kim started to heal naturally, she grew so empowered that she wanted to help others. So she put aside the lights, cameras and action and became a nutritionist. Based out of Toronto, Kim D'Eon has become a recognized healthy living expert and food blogger who wants to inspire those around her to eat more "real" food.
If you could describe your blog in three words what would they be?
Authentic. Realistic. Fun.
What inspires you?
Reading a good book or watching an amazing documentary. Watching other wellness champions inspiring and educating on the power of real food and holistic health.
What are the biggest challenges and greatest rewards of being a food blogger?
It's incredibly rewarding to help empower people to improve their health through the nutrition advice and healthy recipes I post online. I get a thrill from using my social platforms to connect with people from all over the world and get instant feedback. I literally, beam with pride when people make my recipes and tag me in their pics (especially if it's something new to them). On that note, I'm constantly challenged to make healthy recipes appealing and accessible to a broad audience. That's why I'm always working on improving my photos. We eat with our eyes too, you know.
Why are you so passionate about eating healthy?
I had a horrible diet growing up and I was sick a lot. Prescription medication could never alleviate my conditions. But as soon as I switched over to a real foods lifestyle, I experienced an enormous improvement in my health. My first-hand experience with that kind of real healing lead me to become a holistic nutritionist and reimagine my career. Now, I'm able to combine my nutrition knowledge with my media expertise to help inspire others to experience the positive impact of eating real, whole foods for themselves.
What is your favorite meal of the day?
IMPOSSIBLE! Love 'em all. I happen to take a lot of pictures of my breakfast because it's when I'm guaranteed to be home and have great lighting. If you follow me on Instagram (@kimdeoncom), you know that I love to blend things for breakfast like smoothies and smoothie bowls. In fact, I recently launched Kim' Quickies where I post up quick recipes of some of my breakfast faves.
One ingredient that you just can't live without?
Lemons…I always have lemons or limes at home. They're a great addition to water, smoothies, salad dressings and squeezed over just about any other meal to help make it pop. Plus, of course, they're loaded with good nutrition like antioxidants, vitamins and minerals.
In your opinion, what's the most overrated ingredient right now?
Well, if you mean in the mainstream…I'd have to say dairy. People think that they simply CANNOT live without dairy. I know. I used to be one of them until I completely cut it out for a few years and learned that it is 100% possible to still have totally delicious, satisfying meals. Over the years, I've learned how to make so many great dairy alternatives from nuts, seeds and legumes that are healthier and easier to digest. I make tons of creamy dishes now without a single drop of dairy and no one would be able to tell the difference, I swear. That said, when I do indulge in a little "real" cheese here and there it really does light up those pleasure centres in my brain. Um…so, maybe it's not actually overrated as much as it is overused.
This year I have been trying to eat more…?
Sea veggies. I have to admit, I don't LOVE those crispy nori snacks on their own, but I do love adding them to recipes, so I need to do more of that. Sea veggies are simply LOADED with vitamins and minerals and are SO good for you! I have kelp shakers in the kitchen, as well as chlorella and spirulina in the fridge, but have been passing over them lately. Thanks for the reminder!
I think everything tastes better with…?
Dill pickles, hummus, and hot sauce…or a combination of all three.
What's one piece of cooking advice you'd like to share with our readers?
Don't boil your veggies. Besides leaching all the water-soluble vitamins (especially vitamin C) into the water, it just makes them taste bland and boring. I swear it's the reason I was so fussy as a child – all our veggies were boiled to death! Even now, I cannot touch boiled broccoli. Try steaming, baking, roasting or sautéing instead.
Do you have any recipes that stand out for being epic fails?
I don't really consider anything a fail because at least I'm putting in the effort to make something that's healthy. These days, I can usually tweak a dish until it tastes pretty amazing (see me wiping the dirt off my shoulder?) The only time I really consider it a "fail" is when it doesn't look very appetizing. I make lots of delicious, healthy meals that end up looking like a pile of garbage so I never photograph or share them. Maybe I should start an ugly recipe section on my site.
My favorite kitchen gadget is?
I know everyone says their high-speed blender and that would be true for me, too, but I also adore my citrus squeezer. Use that thing every day!
One cookbook that you just can't live without?
I actually don't use a lot of cookbooks these days. If I'm looking for inspiration, I usually just google the ingredients I have on hand, look over a few recipes and make up some version of the combined results.
You're a popular food blogger with thousands of followers. Are there any food blogs that YOU follow?
Totally! I really admire Deliciously Ella, Hemsley and Hemsley and Nutrition Stripped is one of my all-time faves! Love McKel.
Who would you consider a culinary icon?
Jamie Oliver: A great chef, captivating media personality, fearless real food activist and a real inspiration.
Favorite late-night snack?
Dark chocolate or stovetop popcorn.
Sweet or salty?
Both at once! The best! But, if I really, really had to choose: salty.
What's next in your career?
Besides gearing up to shoot more Youtube videos for some of my real food recipes and healthy tips and tricks, I'm working on my first ebook, which is a step-by-step guide to detoxing your kitchen and setting it up for real food success because it's hard to transition to a whole foods lifestyle when your kitchen is booby-trapped with junk. I want to help people who want to make a healthy change, but don't really know where to start. Besides that, I'm working towards making my site www.kimdeon.com into a valuable resource for people to come, learn, share and connect. After that, the sky's the limit: books, speaking, creating my own product line, another TV show…I kinda want to do it all! Aim high, right?!
Finally, can you share one of your favorite recipes?
Of course! With spring in full bloom, I've been focusing on superfood salads, so feast your eyes on this pretty little thing: Sweet and Crunchy Kale Salad! It's got it all going on.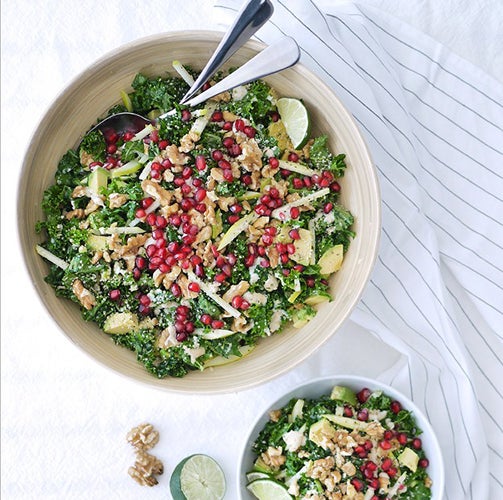 Sweet and Crunchy Massaged Kale Salad
Serves: 6-8
INGREDIENTS:
2 bunches green kale, washed, chopped and massaged
2 granny smith apples, sliced into matchsticks
1-2 avocados, peeled and chopped
1 fresh pomegranate, seeded
1 cup walnuts, crushed
Maple Lime Tahini Dressing
1/4 c tahini -juice of 1 or 2 limes (depending on how tart you like it)
2 tbsp pure maple syrup
2 tbsp filtered water
1 pinch sea salt
INSTRUCTIONS:
Add all ingredients to a large bowl and mix to combine (leave some nuts and seeds for final garnish).
For the dressing combine all ingredients in jar and shake vigorously to mix thoroughly or give a quick whiz with immersion blender.
—
Check out Alexis Nilsen's blog Cow Crumbs where she is proving one recipe at a time that gluten-free can be so much more than rice flour and tapioca starch.