Conversation with a Food Blogger: Pretend Health Freak
In this column, we're interviewing the tastemakers, foodies and chefs that are dominating the web. This week: Sarah Bambey from Pretend Health Freak.
Heading out the door? Read this article on the new Outside+ app available now on iOS devices for members! Download the app.
The self-described Pretend Health Freak doesn't believe in labels or diet restrictions, like vegan, paleo or the like. Instead, Sarah Bambey, the woman behind the popular blog, makes food choices intuitively, based on what her body needs at the moment. She describes herself as a "clean eating, yoga doing, lover of life" who "pretends" to be an expert on all things health–with a lot of help from Google! Based out of New South Wales, Australia, Sarah previously worked in digital marketing. But, she left the 9-to-5 grind behind in order to follow her passion: food. The recipes you'll find on her site are made with love and real ingredients. Are you a "pretend health freak" who doesn't want to give up your favorite dessert? Don't worry! Sarah loves sweets too! In fact, you can download you can download her free eBook Sweet Treats for the Pretend Health Freaks on her blog.
If you could describe your blog in three words what would they be?
Healthy, natural, and simple.
If you could describe your cooking style in one word what would it be?
Minimal.
Why are you so passionate about healthy eating?
Because when I'm eating healthy I feel like I am at my best, which gives me a whole new level of confidence. And it's not only good for me, but also for our environment, so really it's a win win!
What is your favorite meal of the day?
Breakfast for sure! I'm so hungry when I wake up but I have to be honest with you… I have a serious sweet tooth so breakfast usually consists of something sweet.
What's an ingredient that you just can't live without?
Coconut. I use coconut in every form… flakes, shredded, desiccated, oil, milk, sugar… See what I mean?
This year I've been eating more?
Ginger. It's great for digestion and creating warmth in the body. I always have it in my beetroot smoothie!
Most overrated ingredient of 2015?
Agave syrup. Some say it's healthy, some say it's worse than cane sugar. I don't think it tastes better that rice malt syrup which is fructose-free and cheaper, so I use that instead.
I think everything tastes better with?
A pinch of salt, it can be added to desserts to enhance the flavor, to fresh steamed vegetables. However not with products that already contain added salt. That's just overkill.
If you were stranded on a deserted island what two spices would you want to have with you?
Just two? Ok umm… ginger and cinnamon. Or cumin and cinnamon… I don't know!
What is your favorite kitchen gadget?
My Vitamix! Seriously, is there anything it can't do? It makes creating recipes so much fun. That's why I sell them via my online store because truthfully I think everyone needs one.
Cookbook you can't live without?
Lorna Jane has a good one, but truthfully I prefer not to follow recipes; I feel like it restricts my creativity!
You're a popular food blogger with thousands of followers. Is there a food blog that YOU follow?
Oh I follow SO many… It's a great source for inspiration and it always keeps me on my toes.
Who would you consider a culinary icon?
Lola Berry. She's a great inspiration of mine who has many published cookbooks for healthy foodies to enjoy.
Favorite late-night snack?
Chocolate… I don't do it often but I really do love it, preferably clean chocolate.
Favorite guilty pleasure?
If it's not chocolate, it would have to be cheesecake! I love the taste, the texture, everything about it really. But, whenever I have a treat, I eat it without guilt; that's the key.
What are the biggest challenges and greatest rewards of being a food blogger?
The biggest challenges would be handling criticism, especially as a "healthy" food blogger. Everyone has his or her own idea of what's healthy, and the pressure can be tough, although most of that comes from me. The challenges are highly outweighed though by all of the amazing relationships I've built, the positive support, and the number of doors it has opened for me. I feel so grateful for where it's taken me so far and wouldn't have it any other way.
One piece of cooking advice you'd like to share with our readers?
Always try new things and be open minded to new techniques and methods. Cooking is so much fun but when you make the same things over and over it can become a burden. There are plenty of cool ideas out there, you just have to know where to look, one of the many reasons I love pinterest.
Do you have any recipes that stand out for being epic fails?
You'd have to ask my followers that one! Haha. I wouldn't share them if I didn't think they were a success. That being said, I've made my share of bad pancakes.
What's next in your career?
I have so many ideas for Pretend Health Freak, but at this point I'm just happy to keep sharing free healthy recipes and I'm excited to see where that takes me.
Finally, can you share one of your favorite recipes?
Yes, I'd love to share my Healthy Bounty Slice and the recipe is from my free eBook: Sweet Treats for the Pretend Health Freaks. It's a winner with everyone who's tried it plus they are so easy to make.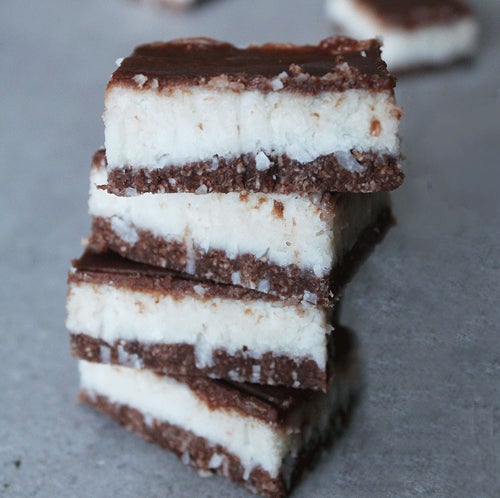 Healthy Bounty Slice (Gluten Free, Dairy Free, Vegan, Paleo)
Makes: 16-20
INGREDIENTS:
Base
2/3 C almond meal
1/3 C coconut flour
2 Tbsp coconut oil
2 Tbsp rice malt syrup
1 Tbsp cacao powder
1 Tbsp coconut milk
Coconut Layer
3 C shredded coconut
3 Tbsp coconut milk
2 Tbsp coconut oil
2 Tbsp rice malt syrup
Topping
3 Tbsp coconut oil
2 Tbsp rice malt syrup
1 Tbsp cacao powder
1/2 Tbsp nut butter
INSTRUCTIONS:
Line a medium sized square cake tin with baking paper. Combine all of the base ingredients and press into cake tin. Refrigerate.
Process coconut layer ingredients until relatively smooth. Pour over base. Freeze.
Combine topping ingredients with fork until smooth.- Pour over coconut layer and refrigerate or freeze. Cut and store in a sealed container.
—
Check out Alexis Nilsen's blog Cow Crumbs where she is proving one recipe at a time that gluten-free can be so much more than rice flour and tapioca starch.