Conversation with a Food Blogger: The Urban Poser
In this column, we're interviewing the tastemakers, foodies and chefs that are dominating the web. This week: Jenni Hulet from The Urban Poser
Heading out the door? Read this article on the new Outside+ app available now on iOS devices for members! Download the app.
Eating paleo is much more than a diet–it's a lifestyle. Just ask blogging heavyweight Jenni Hulet. AKA The Urban Poser, Jenni has achieved rockstar status thanks to her popular blog and influential instagram account that documents her adventures in the kitchen and beyond.
With the release of her latest cookbook My Paleo Patisserie, Jenni has taken the rich heritage, exquisite elegance and rustic beauty of traditional patisserie baking and seamlessly melded it with a gluten-free, paleo-inspired diet. But it wasn't always smooth sailing for this passionate chef. In 2010, Jenni's life was turned upside down when she went from active mom and yoga instructor to bedridden invalid due to uncontrollable pain and muscle spasms. Jenni was diagnosed as severely gluten and casein intolerant and was put on a strict diet to heal. Thus, a beautiful blog was born.
See alsoWhat is the Whole30?
If you could describe your blog in three words what would they be?
Live life vibrantly!
Why are you so passionate about health?
17 years ago, I reached the darkest part of my life, after years of struggling with bulimia. I was about to have my first child and desperately wanted to be free of it and not have it destroy my children. My marriage was also at a breaking point, and we had very little hope. I needed to find a way to retrain my mind that food was not a means of maintaining control in my life, it is meant to nourish, fuel and heal, as well as being an opportunity to form connections and celebrate with other people. As a family, we started with a natural, "real foods" approach to diet, focusing on nutrient dense foods and what they actually did for the body. And that's when much of the healing began for us. Our choice of "diet lifestyle" has changed at times throughout the years, to meet different dietary needs that arose.
What is your favorite meal of the day?
Dinner. That's when everyone is home and I feel I can have the most fun with creativity that I can share with the rest of the family. Otherwise it would be breakfast! I adore breakfast foods!
What's an ingredient that you just can't live without?
Ghee!!! I love my ghee and salt. I could live off of ghee and salt. Which says a lot really, since I used to eat as little fat as possible. Ha ha!
This year I'll be eating more?
Well it's not going to be pastries, that's for sure. Not after spending the last year writing the book My Paleo Patisserie! Let's see….red meat? We're throwing the idea around to write our next book on red meats. Pastured red meats specifically. They've gotten such a bad rap in the past, but they can actually be so healing. Did you know Ostrich is red meat? I had no idea. My kids are already searching where to buy it. They think it's so cool. Ha ha!
If you were stranded on a deserted island what two spices would you want to have with you?
Definitely garam masala and dried Italian herbs.
Where is your favorite place to shop for ingredients?
I should say my local farmers' market in my business, but really it's Whole Foods. They have so many local ingredients from veggies and eggs to meats and even local kombucha tea. Plus, they have nearly everything I need for baking. And they have an awesome wall of chocolate that I may or may not visit daily.
What is your favorite kitchen gadget?
Whisks! I adore whisks. Big ones, tiny ones, I can't get enough of them. But I pretty much love all gadgets. The more the better.
You're a popular food blogger with thousands of followers. Is there a food blog that YOU follow?
Absolutely! Oddly, I have an affinity for following non health driving blogs. I love blogs that inspire and focus on a lifestyle of beauty and often simplicity. My current favorites are Manger by Mimi Thorisson and Call Me Cupcake by Linda Lomelino.
Who would you consider a culinary icon?
Julia Child is an obvious choice and a definite influence on my book My Paleo Patisserie. But I also love David Leibovitz. He always puts out brilliant work.
As a health-conscious food blogger, do you still treat yourself to guilty pleasures?
Hahaha, well my last book was all pastries so you tell me. Kidding. We actually include "guilty pleasures" in our definition of what a "healthy" lifestyle is. It's our way of remembering that food, life and health is about balance, not just raw nutrients.
What is your favorite late-night snack?
Chocolate. That is all.
What are the biggest challenges and greatest rewards of being a food blogger?
External criticism for me is the biggest challenge. I'm pretty much a solid introvert, so it's hard for me to be exposed all the time the way bloggers are. People tend to feel more connected to you than they really are. Which is great when they are nice. But when they are mean-spirited, it can be quite disheartening. But the greatest reward is connecting with people and being an encouragement and resource for those on similar journeys.
What's one piece of cooking advice you'd like to share with our readers?
As Julia Child said, "The only stumbling block is fear of failure. In cooking you've got to have a what-the-hell attitude."
Do you have any recipes that stand out for being epic fails?
Pretty much all of them were epic fails at one point, at least with the baking recipes. One time I made up this gorgeous pear and frangipane cake. Had it all glazed and beautiful, opened a cupboard and then dropped a huge bowl on it. It was completely smashed.
What's next in your career?
Maybe another book and definitely more consistent blogging. I kind of dropped the ball on the blog when we started the pastry book. Otherwise, we homeschool our two boys, so the next season is focused on getting them both through high school. So…high school teacher?
Finally, can you share one of your favorite recipes?
The Italian Almond Cookies are a little bit of cookie heaven. Best of all though, they are super easy to make and super tasty too.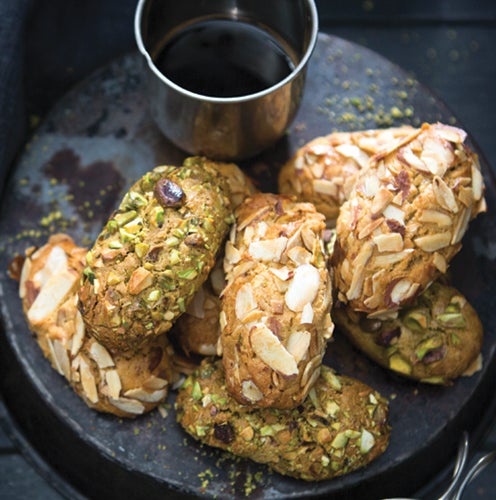 Italian Almond Cookies (Paleo, Grain-Free, Gluten-Free, Dairy-Free)
Makes: 12
INGREDIENTS:
Cookies
2 cups almond flour
2/3 cup firmly packed maple sugar
2 large egg whites
Pinch of salt
A few drops of almond extract
For the coating
1 large egg white
1/2 cup sliced almonds
INSTRUCTIONS:
Preheat the oven to 325°F. Line a cookie sheet with parchment paper.
Combine the flour and sugar in a large bowl. In a separate bowl, beat the two egg whites with a pinch of salt and a few drops of almond extract till they form soft peaks. Using a spatula, fold the beaten egg whites into the flour mixture, mixing till a smooth ball of dough has formed.
Make the coating: In a small bowl, beat the egg white with a fork for about 15 seconds. Place the sliced almonds on a small plate or in a shallow bowl. Set aside.
Divide the dough into 12 equal portions and shape them into small ovals, about 1 1/2 inches (4 cm) long. You may need to wet and clean your hands periodically, as the dough will be slightly sticky.
Coat one cookie at a time on all sides with the beaten egg white, then roll or press in the sliced almonds. Arrange the cookies on the prepared cookie sheet, spacing them about 1 inch apart.
Bake for 25 to 30 minutes or till golden. Rotate the pan halfway through the baking time for even baking. Let cool on the pan.
These cookies are best eaten the day they are made but can be stored in an airtight container at room temperature for up to 3 days.
—
Check out Alexis Nilsen's blog Cow Crumbs where she is proving one recipe at a time that gluten-free can be so much more than rice flour and tapioca starch.