Meet Your Shortcut Cooking Saviors
Bruce Weinstein and Mark Scarbrough, the powerhouse culinary pair behind 30-plus cookbooks, are gearing up to teach Clean Eating's next game-changing Clean Eating Academy course, Shortcut Cooking.
Heading out the door? Read this article on the new Outside+ app available now on iOS devices for members! Download the app.
Bruce Weinstein and Mark Scarbrough, the powerhouse culinary pair behind 30-plus cookbooks and the instructors for our next game-changing Clean Eating Academy course, Shortcut Cooking: Easiest-Ever Clean Meals.
To be with Mark Scarbrough and Bruce Weinstein is to enter a worldwhere food is fun and nothing can't be made easier for the home cook. With 30 cookbooks to their names and counting — including The Great Big Pressure Cooker Book, The Great American Slow Cooker Book and,forthcoming in 2018, The Kitchen Shortcut Bible — the pair are naturalswhen it comes to simplifying, streamlining and, basically, makingeverything you cook taste better.Who better, then, to lead the charge for Clean Eating's next onlinecooking course, Shortcut Cooking, which will teach you how to do more with less, and then some.
Clean Eating: How did shortcut cooking become your "thing"? 
Bruce: We've been columnists on WeightWatchers.com for 12 years,and we've found what readers aremost interested in is not thecomplicated stuff. So we've alwayshad a piece of our career that'sfocused on how to cook quicklyand easily.
You've become the pied pipers of time-saving appliances through your cookbooks. Pressure cookers, slow cookers, food processors –what else do you love to use? 
Bruce: We've been trying to convince publishers on the immersionblender, but we're unable to getanyone to see that it's more than forblending soup in a pot! I use it tomake mayonnaise, dips, sauces,marinara… just yesterday I used it toprocess 25 pounds of tomatoes!Mark: I'm an avid fan of the turboblender – Vitamix and Blendtecare brilliant.
When you're short on time, what are your go-tos to add flavor to a dish? 
Bruce: Leftovers tend to dull quickly, so condiments are an absolute must.Pepper sauces (such as sambal oelekand sriracha), chutney, pomegranatemolasses, Worcestershire sauce —a little bit can brighten the flavor.
Mark: A Southern chowchow (pickled relish) can make a ton ofdifference. Here's the thing aboutshortcut cooking: You are notgetting the complex chemicalreaction that a long braise gives you.So you have to figure out how tobump the flavor higher. For example,if I make chicken sauté withvegetables in a pan, the easiest wayto bump the flavor is at the end bygiving it a splash of lemon juice orbalsamic or rice vinegar. Add a littleacid, and you bump all flavors up.
What are your favorite cheats for a faster dinner? 
Mark: I just made the Savory Cauliflower Waffles [from the course, featured below] with packaged cauliflower rice.They're fantastic! Cooks in 3 minutesin the waffle iron. It's so easy andyou skip the food processor.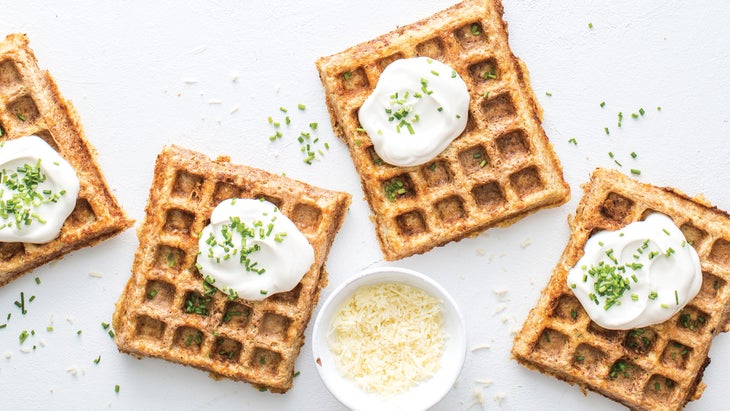 Bruce: I've discovered the joys of frozen, shelled edamame — not thecooked kind. Through freezingthey are partially cooked, so you canadd them at any stage of cooking.I'll make an edamame hummus bymicrowaving them for 1 minute untilthey are al dente, or thaw them andthrow them into bean salad.
Mark: When you're quick cooking, use clean, prepackaged* tomatoesand broth; you're not going tomake stock from scratch or reducesomething for an hour. The best$15 bucks you can spend is to goand buy four or five brands of clean,prepackaged diced tomatoes andopen and taste them. Some will tastetoo salty, some too mushy, somewill have too much liquid. You'lldiscover the one that matches yourtaste. It's the same with broth: Someare too vegetal, others too salty —tastes vary. It's money well spent.And you may find the $1 wateryvariety is your favorite! [Laughs.]Whenever we teach a class, werefuse to answer what our favoritesare. You have to decide. [*BPA-free canned, boxed or jarred tomatoes; boxed or frozen low-sodium broth.]
Sign up today for Shortcut Cooking: Easiest-Ever Clean Meals for discount codes and a chance to win a free course! cleaneating.com/shortcut
Tell me about your point of view for the food in this course. Whatwill students be seeing? 
Mark: What they're going to see are actual techniques rather thanhacks. That's important. Also, theclass brings a kind of holistic kitchenknowledge. It will cover a range ofingredients, and you'll learn not onlyways to speed up those particularthings, but also techniques and waysof cooking that speed everything up.
Bruce: Exactly that point. We are teaching a man to fish. We'reshowing you a recipe, but withinthat recipe, we are teaching atechnique to save you time thatyou can easily expand and vary.And we'll talk to you about how todo that. Once we talk you througha technique, you'll see 10 moredishes in your head.
How much time do you think people might save by taking your course? 
Mark: We can't quantify what you'll save overall, but for every recipe, weaimed for 15 minutes of prep time.
Bruce: I don't think anyone should have to spend more than 15 minutesof prep time for a recipe. We triedto use ingredients and techniquesto allow that. Do you need to cutscallions? Instead of getting thecutting board out, and then havingto wash that and a knife, usescissors. It's those kinds of things allthroughout. When you save 1 minutehere, 30 minutes there, it adds up.
To learn more about Shortcut Cooking: Easiest-Ever Clean Meals with Bruce Weinstein and Mark Scarbrough, click here.