Give Lentils a Try: An Interview with Chef Michael Smith
Chef Michael Smith talks food, family, time-saving tips and a very versatile legume: lentil!
Heading out the door? Read this article on the new Outside+ app available now on iOS devices for members! Download the app.
Food NetworkCanada star and food activist Chef Michael Smith always stresses the importance of eating local, seasonal ingredients and has a preference for meatless, grain- and legume-heavy meals. One such legume he says is sometimes overlooked is the mighty lentil, a powerful little pulse that is easy to use and packed with protein, minerals and fiber. Easy on the waistline thanks to very low calories and fat, lentils are also somewhat of a food chameleon, blending subtly into certain dishes and lending meaty, textural heft to others.
Four common types of lentils, which grow in pods and are sold whole or split (in dried or canned varieties), are green, red, du Puy (French green) and beluga (black). Green lentils are one of the most common varieties and are known to sprout easily. There are also red lentils, which are dehulled and sold whole or split (these are often used in the rich dhal you find in Indian cuisine). The final two, du Puy and beluga, are somewhat less common and very attractive when cooked, therefore best used as simple sides or in salads.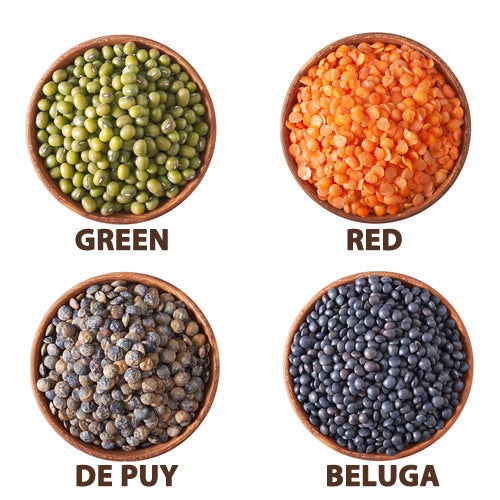 To cook lentils, Chef Smith simply combines one part lentils (picked through for stones) with three parts water and a bit of salt or thyme, brings it to a boil and simmers, covered, for 20 to 30 minutes. He also has a tendency to sneak lentil paste (puréed cooked lentils with a bit of extra water) into sauces and gravies as a thickener, and even his kid's chocolate chip cookies!
The chef answers a few of our questions:
CE: What does eating clean mean to you?
MS: I approach my food first through the lens of vegetables, getting my protein through vegetable sources, complementary grains and legumes, all of that… and the meat sort of follows behind. We eat no meat if I don't know the person who produces it. I've been buying chicken from the same kid for five years – he's putting himself through college. The pork is heritage pork, grown just up the road from my house. It starts with which ingredients you source, how you source them, which ones you choose to get and how you bring them into your family.
CE: How do you bring ingredients to your family?
MS: Simply! I had to forget so much about how I learned to cook for work. The way you cook at home is dramatically different from the way you do at a restaurant. We tend to value complexity quite a bit more in a restaurant scenario than we do in home cooking. Home cooking's all about simplicity.
CE: What's one of the easiest ways to use lentils?
MS: Lentils cooked with nothing but water and salt and seasoned with a touch of lemon juice at the end are incredibly delicious all by themselves. Legumes in general always benefit from a little bit of acid – such as a splash of vinegar or lemon juice – added only at the end of the cooking process, once they're tender. If you add it at the beginning, the acid toughens the lentils. It's a finishing ingredient much like a pinch of salt.
CE: Does your son Gabe eat just about everything? It seems that way on your Food Network show, Chef at Home.
MS: Yes but no. If you watch my show it seems like Gabe is some kind of nutritional prodigy, but he's not. He benefits from editing – that's the reality of it. He's ten years old now and I don't see him as a picky eater, but he's certainly asserting himself; there's a lot of stuff he's not interested in. Having said that, he'll eat every stick of asparagus I put in front of him, he'll cram mouthfuls of cilantro, he'll eat baby spinach right off the plant in the garden, so there's plenty that's right there. But really, what it comes down to is that if there's no crap in the house, how can he eat it in the first place?
CE: Must-have pantry staples?
MS: Fresh herbs, lots of spices, canned tomatoes. For me though, I just love to have a well-stocked pantry.
CE: No junk food?
MS: When you eat crap, your mind doesn't function as well. You don't realize your core potential, you don't have that lightness of being, that lightness in your step – all of those things are missing from your life.
Check out Chef Smith's web series on lentils here, complete with a farm visit and Lentils 101.