Fire up a Greener Grill!
Think grilling season has to sabotage your sustainability goals? It's not as complicated as you may think: Stay friendly to the earth all summer long with these 5 green grilling hacks.
Heading out the door? Read this article on the new Outside+ app available now on iOS devices for members! Download the app.
Are you ready to do more for the environment? You can start right at home – and we're here to help! Clean Eating is launching the Green14 Challenge on June 21. Together, we'll learn how to reduce waste and save money. It's the perfect opportunity to discover even more eco-friendly ideas, like cooking tips, recipes and gardening advice for a greener life. You can make changes that have a positive impact on the environment. Sign up for the Green14 Challenge today!
1. Grill shrimp and shellfish more often. Instead of ocean heavyweights such as tuna or swordfish (which can be at risk of overfishing or can contain mercury), pop shrimp, clams and mussels on the grill instead. Look for third party–certified sustainable options, such as shellfish certified by the Marine Stewardship Council (MSC) or ones designated as "Best Choice" or "Good Alternative" by the Monterey Bay Aquarium's Seafood Watch program. Plus, shellfish that are lower on the food chain help keep our waters clean and pack important minerals including selenium and zinc.
2. Choose the greenest grill. When it comes to total carbon emissions, the short of it is, gas grills are the better choice. They produce considerably fewer greenhouse gas (GHG) emissions than charcoal or electric (though if you are tapped into a renewable energy source, electric can be a green choice too). A 2009 British study found the carbon footprint for grilling with charcoal was almost three times the amount of using gas. This was primarily because charcoal is typically made by heating wood, but just 20 to 35% of the wood becomes charcoal; the majority of what's left over is converted to gas and released into the atmosphere as GHG emissions. For my top grill pick, check out "The Right Gear for the Grill."
3. Bring the heat, but keep it quick. Use this simple equation for healthier grilling: smaller portions of high-quality organic meats + a marinade that reduces heterocyclic amines (HCAs) + quick cooking = better for you and the planet. Let me explain: In addition to using more fuel to cook longer at higher heat, well-done red meats contain higher levels of HCAs, which are chemicals that may cause cancer. You can slash their formation (while also treading more coolly on the planet) by cooking on lower heat and for less time. Research has also discovered a few secret-weapon ingredients and ingredient combinations that considerably cut HCAs when added to rubs and marinades such as olive oil, garlic, onion, lemon, rosemary, yogurt, beer or wine – these can slash HCA formation by as much as 70%. Another tip: opt for thinly sliced cuts of meat or kebabs, which will cook faster and reduce the amount of fuel needed.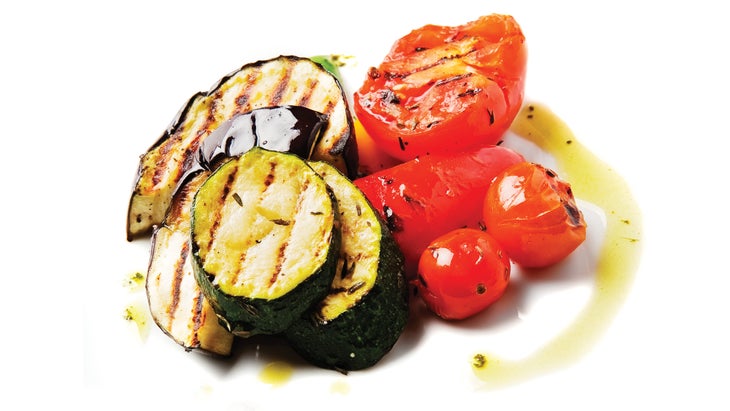 4. Use plenty of plants! From farmers' market finds to overflowing summer gardens, pretty much all of nature's bounty can be tossed on the grill to create bold flavors brimming with health benefits. My own foolproof method involves brushing veggies with a bit of olive oil, grilling until desired doneness, then sprinkling a snip of summer herbs and a squeeze of fresh lemon. Summer squash and zucchini, sliced into long "steaks," are particularly tasty this way. And don't forget dessert! Grilled peaches or apricots, brushed with local raw honey, a shower of fresh mint and finished with a dab of local fresh yogurt or ricotta, is pure summer bliss.
5. Enjoy smoky eggplant, meaty mushrooms and more. While meat potentially creates those unwelcome HCAs, how wonderful is it that plants get a free pass! Get that smoky, meaty taste by firing up mushrooms (which pack B vitamins and selenium) or charred eggplant that you can schmear onto toasted bread or pita as a "kick-back-your-heels" summer appetizer. There's also an abundance of meatless mains starring tempeh, which is found in the refrigerator and freezer cases of most grocery stores. Check labels for Clean Eating–approved ingredients.