Meet the Weeknight Dinner Wizard
Clean Eating's culinary nutritionist, Beth Lipton, is unlocking the secrets to easier and more nutritious weeknights with her upcoming online courses, Easy, No-Mess 1-Pan Meals and High-Protein Meals for Energy & Fat Loss.
Heading out the door? Read this article on the new Outside+ app available now on iOS devices for members! Download the app.
What if we told you that all you needed was a sheet pan, a skillet and a Dutch oven to make weeknight cooking a breeze? Enter Beth Lipton, a New York-based chef, food and wellness writer and Clean Eating's very own culinary nutritionist. Lipton's mission is to help people eat healthier by actually enjoying the experience of cooking – and just as importantly, without finishing off with a sink full of dishes. In her course, Easy, No- Mess 1-Pan Meals, she walks you through kitchen tools, culinary techniques, and scrumptious recipes to help you whip your weeknight dinners into shape.
As a health-focused chef and writer, Lipton is also the perfect person to teach High-Protein Meals for Energy & Fat Loss. In this course, she'll cover everything you need to know to do high-protein right. She'll get in the kitchen with you and cook up creative protein-packed meals (forget bland chicken and canned tuna!) to rev up your energy and help with fat loss. We sat down with her to get more insight into her philosophy and what we can expect from her upcoming courses.
Do you have a food philosophy that you live by?
To me, food always has to be delicious. It may sound obvious, but I think it's a point that often gets lost with all the competing advice out there. We have all kinds of judgments and "shoulds" around food — but ultimately, eating should be about enjoyment, nourishment, sharing, pleasure and fun.
What can students expect to learn in Easy, No-Mess 1-Pan Meals?
In this class, I'll share lots of super-practical and useful information about Dutch ovens, skillets and sheet pans, including ways to use them you might not have thought of. Students will learn some fantastic, crowd-pleasing recipes and tips on how to throw together a one-pan meal, even without a recipe.
Why are one-pan meals so important for a busy cook? 
Once you've made a meal and enjoyed it, the last thing you want to deal with is a sink full of dishes. A one-pan meal means streamlined cleanup, so you can get on with your life.
What is your top trick for no-fuss cooking?
To me, a big part of healthy cooking involves not being stressed before, during and after cooking. One thing I always do is what chefs call mise en place, which means getting everything ready before you begin. So before you start cooking, wash, dry and chop your vegetables, get your spices and measuring spoons out and have your protein patted dry and seasoned. That way, when it's time to cook, you have everything at your fingertips, ready to go.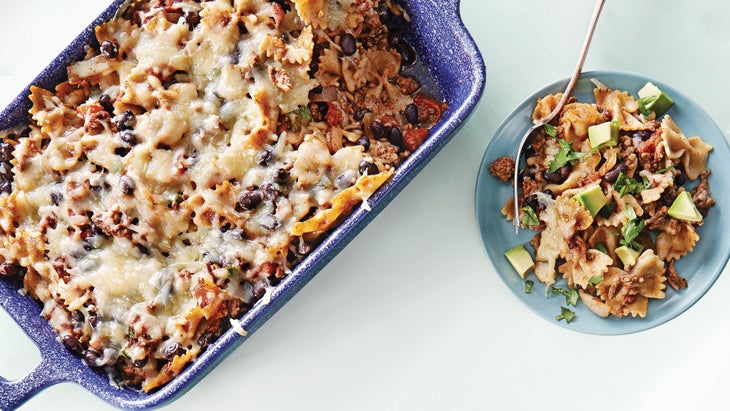 Let's talk about your second course, High-Protein Meals for Energy & Fat Loss. Who should be eating more protein?
It isn't just a question of more, as much as making sure you're getting what you need. Are you hungry soon after meals? Are you working out but not building muscle? Do you get colds a lot? All of these can be signs that you need more protein. Figuring out what you need and then getting it throughout the day can help you feel and look your best, and who doesn't want that?
What's your best tip for adding more protein to your meals? 
Fill your plate with a variety of foods — you'll get some protein in your salad, some in your roasted cauliflower or broccoli, some in the herbs and spices that give everything that punch of flavor. You'll get more in the almond butter sauce you dip your chicken or shrimp into, along with the chicken or shrimp itself. The more variety, the more protein — and, as a bonus, you'll get more nutrients overall.
---
Join clean culinary instructor and long-time Clean Eating contributing editor Beth Lipton for this crash course in making one-pan meals like the pros. Beth covers everything from choosing the right equipment to cooking without a recipe and make-ahead shortcuts. All you need is a sheet pan, skillet, and Dutch oven to cook your way to delicious and downright nutritious weeknight meals that can be made in a snap.
These classes are available exclusively for Outside+ members. Already signed up? Click here to start these classes.
If you're not yet a member, there's never been a better time to join. Sign up today to enjoy this class, plus gain access to our entire Outside Learn library, all our content, and so much more.