Thrifty & Green: Why "Nose to Tail" Is Back on the Menu
Fancy an artisanal pâté, crispy pigs' ears or sautéed sweetbreads? If so, you're taking part in one of this season's hottest trends: nose-to-tail eating.
Heading out the door? Read this article on the new Outside+ app available now on iOS devices for members! Download the app.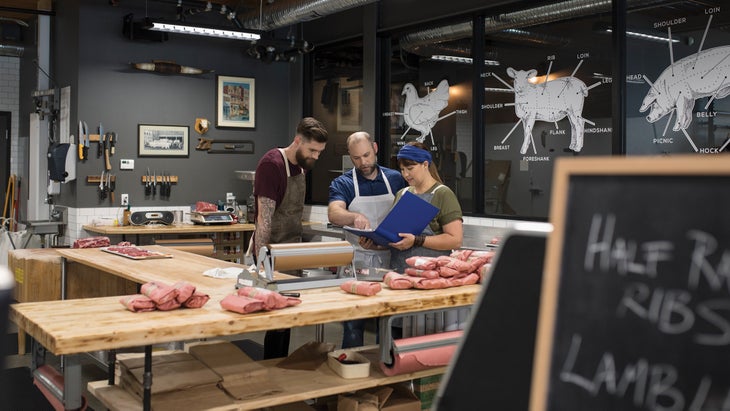 If you're like me, you probably didn't grow up craving cuts like tripe or pigs' feet. Liver? Maybe. But if you've ever wandered through food markets in other countries, chances are you've seen something different: whole animals butchered and on display, waiting to be transformed into something delicious. For those of us raised in the era of gleaming butcher counter displays, filled with perfectly portioned, glossy wrapped cuts of meat (that seem far removed from where they came from), the notion of digging into a dish featuring organs or other "unsavory bits" can feel a bit jarring. But a new movement led by chefs, artisan butchers, foodies and environmentally conscious eaters aims to change that. Better still, it's changing how we shop, cook and eat.
What is nose-to-tail eating?
A top trend of 2018, nose-to-tail eating is a philosophy of using every part of the animal in food preparation, letting nothing go to waste. Aside from its appeal as a more traditional diet, it's also one of the most economically and environmentally friendly ways to approach working with meat. Plus, it aims to squash our squeamishness: from charcuterie to cod cheeks, nose to tail celebrates traditionally prepared dishes that feature overlooked or lesser-known parts.
It's green and mean (on the bottom line).
Of course, slashing food costs is one big reason for its popularity. Buying a whole or half share of an animal through a Community Supported Agriculture (CSA), for instance, means you'll get the popular cuts for a fraction of the grocery store price. And as your grandmother knew, making use of every part – from bones to tissue to organs – is an affordable way to boost your nutrition.
Less food waste is another benefit: With roughly one-third of all food produced today being tossed before it's eaten, nose to tail ensures that all the resources that went into creating that product (including water and fossil fuel) is savored, not thrown out.
For many chefs and butchers who are helping this ancient practice gain modern fans, it's also about returning to and embracing the natural cycles of the farm. This is because, traditionally, farmers would raise a pig or a cow over the spring and summer, butcher it in the fall, and then make use of every part over the winter. Put more simply: farmers can't raise just a pork chop; they have to raise the whole pig.
Ancient nutrition meets modern superfood.
While exact nutrient value varies depending on the part in question, a "whole animal" approach delivers a wider, more diverse set of nutrients than simply sticking to traditional cuts of muscle. For example, beef liver is a rich source of vision-supportive vitamin A and immune-boosting zinc. It's also high in iron, which is necessary for the production of hemoglobin, a protein found in red blood cells that helps carry oxygen throughout the body. Slow-simmered broth made using beef bones boasts eight times the protein of traditional broth per 8-ounce cup, is full of nourishing minerals and can help reduce inflammation. Organic beef heart is a powerhouse source of CoQ10, a nutrient shown to combat oxidative stress, improve energy and slow many markers associated with aging.
For those who want to try the trend, it's now becoming easier to find than ever.
New to Nose to Tail? Here's How to Try It:
Follow CE principles. When sourcing animals, choose certified organic, biodynamic and 100% grass fed for the cleanest sourced products possible.
Build a charcuterie plate. Look for local and artisanal sausages, pâtés or terrines and serve with an assortment of pickles, radishes, dried fruits and nuts.
Go piece by piece. Start by experimenting with one or two dishes using lesser-known cuts like tongue or cheek before taking on something more complex (such as roasting a whole animal).
Get tips from the pros. Talk with farmers or butchers you buy from about how they typically prepare a dish.
Feature new tastes alongside old favorites. Incorporate a new cut alongside a familiar one – for instance, serving some luscious pork terrine with a pork loin boosts flavor.
Perk up your pantry. Try these products that we love: EPIC Pastured Bison Tallow or EPIC Cage-Free Duck Fat ($11, epicbar.com)