Tips for Staying Healthy at a Music Festival
Lisa Shanken, a health and nutrition coach and music festival lover, is bringing her two passions together to help festival goers get the most out of their experiences. This summer, Shanken will be traveling to different festivals to lead workshops that focus on eating right and exercising to keep revelers feeling their best. Shanken shares tips to help you stay hydrated and energized – from the road trip to the event to the very last chord.
Heading out the door? Read this article on the new Outside+ app available now on iOS devices for members! Download the app.
With 20 years of music festival experience under her belt and a 15-year career as a certified health and nutrition coach and personal trainer, Lisa Shanken always dreamed of finding a way to bring her passion for music and wellness together.
"I've been going to music festivals for a very long time and by the end of the festival, so many people are like 'Oh, my back hurts,' or "I can't stand anymore,'" Shanken says.
Knowing that their bodies were getting tired, Shanken started small by leading stretching circles with her friends between the sets of music and found they started to feel better.
One of her favorite stretches is a simple forward fold. From there, slowly roll up and bring hands over head and lean to the right and then to the left.
"You need a lot of energy to get through an entire music festival," she says. "The last day of the festival should be just as fun as the first."
Shanken realized that the music festivals she'd been attending for years were a perfect setting to introduce wellness. She started sharing her ideas with some friends in the music industry, and her programs have really taken off. Her goal: help people enjoy the festival as much as possible through maintaining a healthy diet and exercise routine – despite living in a tent for a few days. She believes that making just a few small changes can help you feel better both during and after the event.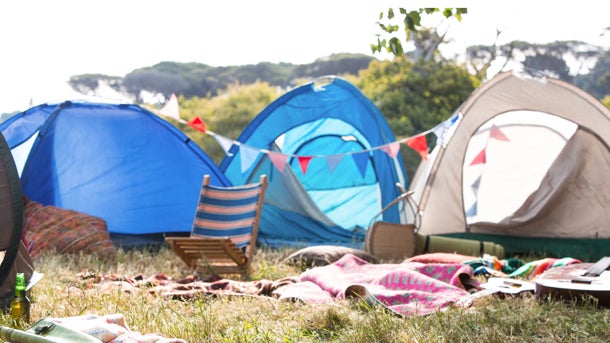 Skip Festival Fare. Pack Your Own Food
Starting with the drive to the festival, Shanken recommends stopping at the grocery store to grab some healthy snacks on the way there. Some of her personal favorites include bananas (since they are easy to transport), sulfite-free trail mix and sunflower seeds. She also suggests making a few vegetable smoothies ahead of time and packing them in thermoses.
Check out some of Lisa's make-ahead recipes here. 
At the festival, Shanken suggests that you select the healthier options from the food vendors present – it can be as easy as choosing the spinach pizza rather than the plain pizza for a veggie boost. Shanken recommends recipes that are simple, like kale tossed with apple, lemon and oil, which can be assembled on site.
With Camp Bisco and Vertex Festival marked on her calendar, where she will be leading stretching, 5Ks and workshops that focus on how to stay hydrated and eat clean alongside the partying and dancing, Shanken is offering Clean Eating readers a few of her top tips and recommended items to bring.
What to Bring:
Stay away from Vitamin Waters and Gatorades. Even though they are hydrating, they are full of sugar and will make you feel very uneven throughout the day.
Drink coconut water. It is nature's electrolyte drink. If you don't like plain coconut water, Shanken recommends adding it to a fruit smoothie for extra hydration.
Eat water-dense foods. These include watermelon, cucumber, celery, bananas and kale. These kinds of foods will keep you hydrated.
Eat lots of fruit. They are naturally cooling to the body.
Take power naps. One or two throughout the day can really recharge you. No more than 40 minutes though because after that you will enter into a deeper sleep which is harder to wake up from.
Bring earplugs and an eye mask. It gets bright and loud early.
Stop at the grocery store on your way. Most people stop any way to get beverages and snacks. Use this opportunity to grab a few healthier options.
Cooler Must-Haves:
Coconut water. Great for hydration.
Berries (blueberries, raspberries, strawberries). These are easily portable, don't need refrigeration for a few hours and are packed with energizing antioxidants.
Lemons. Add them to your water for a flavor boost.
Nuts & Nut butters. Both are a source of protein and the butters can be unrefrigerated for several hours.
Hummus & Veggies. Another protein source with bonus hydration from the vegetables.