The Farm-to-Table Flavors of Vermont
From artisanal dairy to maple treats, the Green Mountain State delivers food made with care and local, natural ingredients
For a small state, Vermont has a surprising concentration of agriculture—approximately 6,000 farms on 1.5 million acres of farmland. When it comes to locally sourced ingredients, you'll find everything from farm-fresh dairy to organic fruits and veggies and, of course, all things maple. Together, these farms set the tone for Vermont's clean-eating culture; you'll find vegan and vegetarian options, as well as meals to suit a variety of dietary restrictions at restaurants across the state. The culture is centered on active lifestyles and year-round outdoor recreation, so there's something for every type of health-conscious traveler. And because Vermont delivers so much variety in such a compact area, exploring the whole state is very doable—traversing the sixth smallest state from south to north takes about three hours. Whether you pack everything into one trip or plan multiple visits, here are our picks for taste-testing your way around Vermont.
(Photos: Gretchen Powers)
Fresh Fruits and Veggies
Many of Vermont's family-owned farms welcome visitors year-round. (We aren't kidding when we say year-round: the state has a Winter Farm Trail that maps out 11 farms you can visit on cross-country skis or snowshoes.) Farmers' markets are also a four-season affair, with many summer markets moving indoors once cooler weather rolls around.
Farm Visits
At Cedar Circle Farm, in East Thetford, visitors can see the operation's organic growing practices firsthand on group tours of the 40-acre property. The staff is always happy to answer questions and give tips for growing your own organic produce. After the tour, head to the on-site café, which serves fresh baked goods and sandwiches made in the farm's kitchen, as well as refrigerated and frozen items from the farm, such as dressings, pesto, and frozen fruits and veggies. Then stop by the farm stand before you go to load up on fresh berries and veggies.    
You-Pick Orchards
In the fall, apple orchards welcome visitors to stroll the grounds and pick their own apples. While the well-known McIntosh accounts for about 50 percent of the apples grown in Vermont and is also the state fruit, local orchards produce about 150 varieties. If you've never eaten an apple right off the tree, you're in for a treat: farm-fresh apples are as juicy as they come and like nothing you've ever had from the grocery store. Make a day of your orchard visit and stay for festive fall activities and apple cider donuts, a New England classic.
Ciders, Brews, and Wines
In addition to the kid-friendly ciders you find at apple orchards, Vermont brewers serve up creative ciders for adults, as well as beers and wines. Whether you're getting off the slopes after a day of skiing or stopping for a drink between legs of a bike ride, Vermont's breweries and distilleries cater to the outdoor-adventure crowd.
Ciders
At the Vermont Cider Company Cider House, in Middlebury, take a self-guided tour of the facility where Woodchuck ciders are produced and sample 20 ciders on tap. Or plan to visit multiple cideries along the Vermont Cider Trail in search of distinctive flavors crafted with local fruits.
Beers
In Braintree, visitors come to Bent Hill Brewery for the beers, but they stay for the food. You won't find traditional bar food here: the kitchen proudly serves a meatless menu. Try the falafel salad with house-made falafel, marinated tomatoes and cucumbers, whipped feta cheese, and a lemon tahini vinaigrette.
To explore the wide variety of tastes and styles the Vermont brewery scene has to offer, follow one of the many beer trails recommended by the Vermont Brewers Association.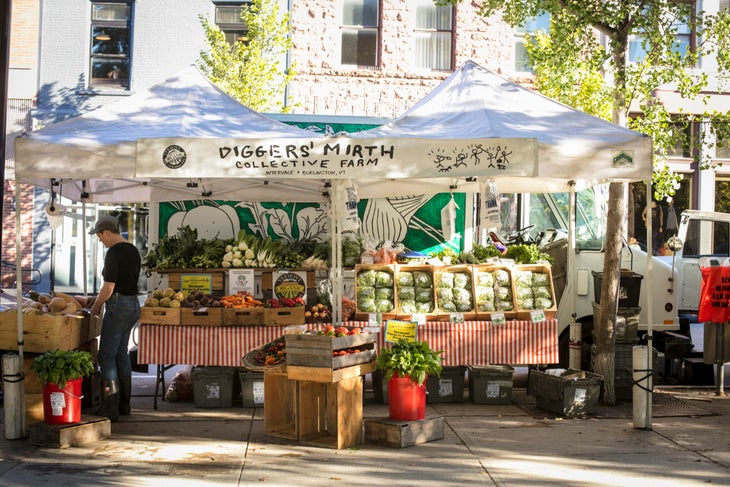 Wines
Head to the Champlain Valley, in northwestern Vermont along the Canadian border—Vermont's wine country. More than three dozen vineyards and wineries produce wine with grapes grown in this region, which stretches into Canada. Native species of wild grapes were found growing near the St. Lawrence River and Lake Champlain as early as 1535. Today, growers capitalize on the grape-friendly climate and soil to cultivate more popular varietals. What pairs well with a wine tasting? Live music. At the Snow Farm Vineyard, summer visitors can experience a tasting, stroll the historic grounds, and stick around for the free summer concert series.
Artisanal Dairy
Vermonters are serious about their dairy. Dairy farms occupy 20 times more acres than all of Vermont's state parks combined—which says a lot, because Vermonters also take their outdoor recreation very seriously. Although the Vermont dairy industry is collectively large, 97 percent of the farms are small, family-owned operations. And these small farms produce dairy for some big names in the industry.
Cheese
If cheese is on your regular grocery list, you've likely seen Cabot cheese on the shelf. The brand—named for Cabot, Vermont, where the company got its start—is famous for its award-winning varieties of Vermont cheddar. Stop by the Cabot Farm Store in Waterbury Center, in central Vermont just 20 minutes northwest of Montpelier, or visit one of the Cabot partner farms to see the faces (both human and bovine) behind the name.
Cabot is just one of more than 45 cheesemakers in the state. Many dairy farmers have their own small-scale cheesemaking operations, each with its own unique flavors. Sample local artisan cheeses on the Vermont Cheese Trail, which makes it easy to track down cheesemakers across the state.
Ice Cream
Ben & Jerry's, another big name in dairy, got its start in Vermont as well. The original Ben & Jerry's ice cream shop was opened in Burlington in 1978 by two friends who crafted their ice cream with Vermont milk and cream. More than 40 years later, the brand is a global household name. Visitors can tour the factory in Waterbury for an inside look at how Ben & Jerry's ice cream is made today and sample the final product. If you're short on time, stop by the factory to take a peek at the Flavor Graveyard, a tribute to discontinued flavors of the past, or treat yourself to a scoop of rich and creamy Vermont goodness at the Scoop Shop window.
Of course, with a product that's as big a crowd-pleaser as ice cream, there's plenty of room in the business. Creemees (Vermontese for extra-creamy soft ice cream) are a must-try when you visit the state. For creative creemee flavors like maple, cinnamon, and ginger, try Canteen Creemee in Waitsfield. Even if you steer clear of dairy, eggs, and refined sugar, there's a creemee for you out there. Dive into plant-based and gluten friendly creemees at Offbeat Creemee, or check out one of its specialty hard ice cream flavors, like Berry Cheesecake or Brownie Batter.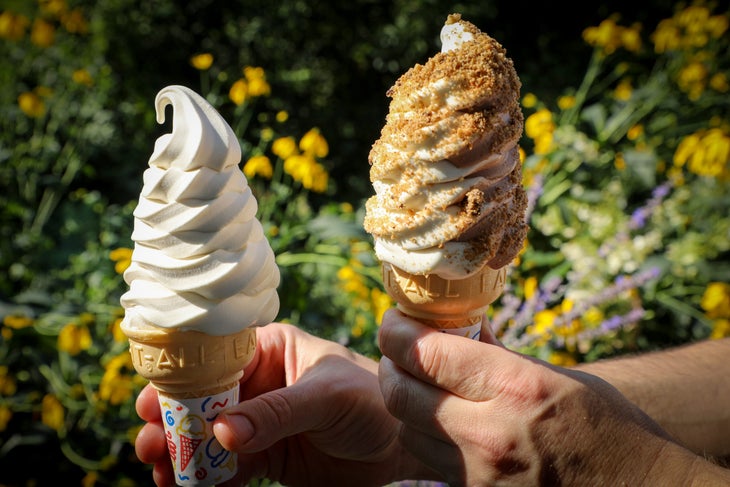 All Things Maple
It wouldn't be a culinary tour of Vermont without a taste of the state's best-known flavor: maple. In 2022, Vermont generated a record 2.5 million gallons of maple syrup—over 50 percent of the nation's supply that year. More than 1,500 sugarhouses support this staggering production.
The Process
Sugaring season usually begins in March, when rising daytime temperatures trigger sugar maples to thaw sap. Plan your visit for spring to get a firsthand look at the sugaring process. At the end of March—typically the last two weekends of the month—Vermont hosts a statewide Maple Open House, when sugarhouses open their doors to visitors to tour the works and sample products. You'll also have an opportunity to learn how methods have evolved from taps and sap buckets on trees to the modern-day reverse osmosis process.
The Products
Don't fret if you aren't able to visit during the sugaring season. Maple products are a staple year-round in Vermont. Sample all four grades of maple syrup to see how the flavor and consistency change as the season progresses. Then pick up granulated maple sugar to use in your baking. Not only does maple sugar have a lower glycemic index than cane sugar, but it also retains more nutrients in the refining process. If you'd rather buy sweet treats than bake your own, check out Sweet Alchemy, a vegan bakery in Essex Junction that showcases Vermont's famous maple flavor in many of its baked goods.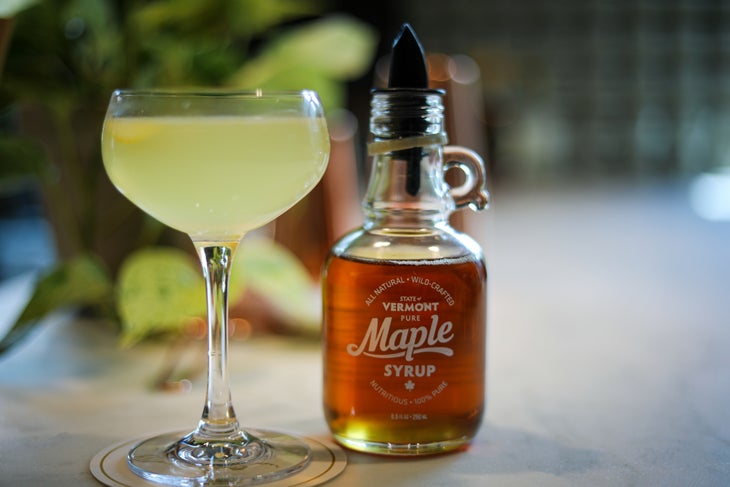 ---
Vermont's ever-changing landscape draws outdoor enthusiasts year-round to a place where diverse natural beauty creates the space to slow down, look around, and simply take notice. Vermont can inspire, restore, and bring you to a whole new state. Sign up to receive the latest news from the Green Mountains.