Seemore Meats & Veggies is a Woman-Owned Meat Company That's Completely Changing the Game
Fun flavors, simple clean ingredients and plenty of veggies – that's what you'll find inside this innovative brand's sausages.
Heading out the door? Read this article on the new Outside+ app available now on iOS devices for members! Download the app.
When you think of sausage, "clean food" probably isn't the first thing that comes to mind. After all, sausages are made from all of the leftover bits after the best cuts of meat have been used up. Plus, many store-bought sausages are highly processed, filled with additives, extra salt and other not-so-clean ingredients. But that's all about to change thanks to Seemore Meats & Veggies, a woman-owned and women-led company that's making a whole new kind of sausage. 
The genius creation of Cara Nicoletti, a professional butcher who turned her years of expertise into an innovative new clean product, Seemore is making meat more fun and even better for you. Her secret? Taking sausage from wholly meat-based to flexitarian-approved with plenty of veggies (and drool-worthy flavors!).
I spoke with Nicoletti about her veggie spin on sausage, the incredible flavor combinations she's created and how Seemore is making products that are better for you and the environment at large.
Veggie-filled sausage? It's a thing – and you're going to love it
Adding vegetables into chicken or pork sausage might sound a little crazy, but it's a delicious idea. And it's exactly what Seemore Meats & Veggies is doing. Each of the brand's sausage varieties, from the tomato- and mozzarella-stuffed Chicken Parm to the beets- and fennel-filled La Dolce Beet-A, is rich in both flavor and veggies. These blends of ground meat, herbs and seasonings, vegetables and other tasty ingredients are 35 percent veggie – and all of the meat is humanely raised.
Creating innovative, fun sausages was pretty much a natural fit for founder Nicoletti. She's a fourth-generation butcher and the first woman in her family to take on the art. "[Butchering] was the least dangerous thing I was allowed to do growing up," Nicoletti laughs. 
At first, Nicoletti was a traditional butcher through and through, working on meat alone. She took her skills into the restaurant industry as she got older, and it was in a butcher shop in New York that she came up with the idea that would ultimately become Seemore Meats & Veggies. 
While incorporating plant-based ingredients into her sausages was the primary goal, Nicoletti also sought out familiar comfort food flavors that would make them more relatable, understandable and (of course) delicious.
"[Seemore's sausages] are the most approachable way you can think about eating meat. It's a meal in a casing, taking carrots, celery, onion, dill and making it into a chicken soup sausage," Nicoletti says. "I found it made the product more approachable and fun. It changed the tone of the conversation. Instead of trying to get people to care about gestation crates and hormones, I was like, 'It tastes like chicken parm.'"
And Seemore's sausages really are decadent meals wrapped in individual sausages. From Bubbe's Chicken Soup to Loaded Baked Potato to Chicken Chili Verde, each flavor evokes all of the same flavors as the sausages' namesake dishes. And they even include those staple ingredients you know and love, like spicy green chilis, fresh cilantro, broccolini, potatoes and even breadcrumbs.
Seemore makes meat more sustainable, too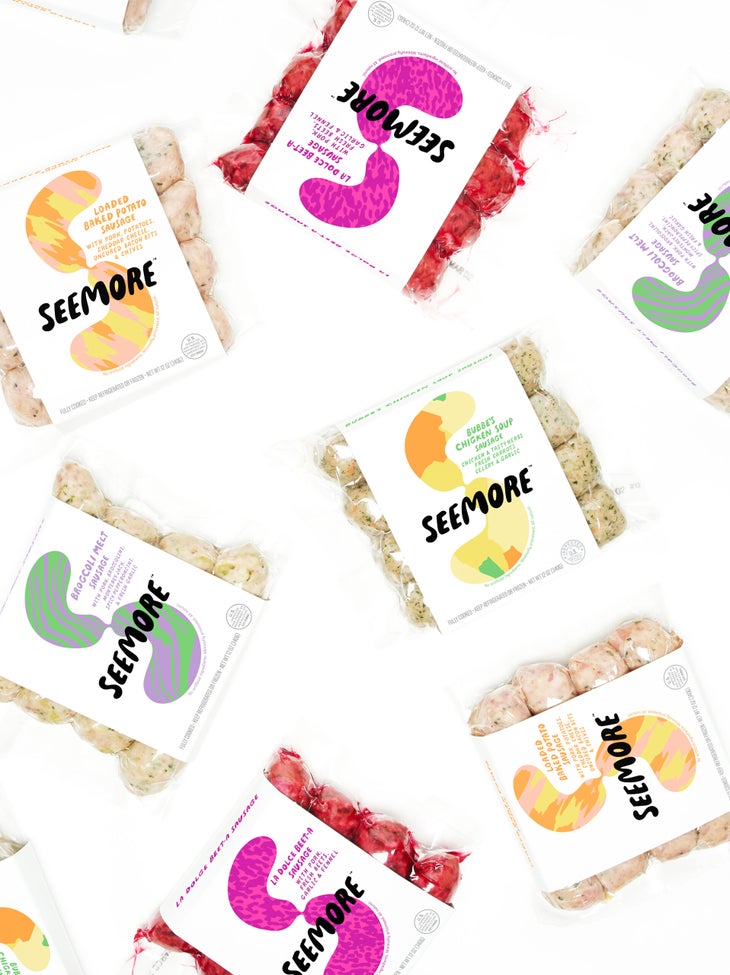 In addition to making it oh-so-easy to eat more veggies, Seemore has another secret ingredient. They're environmentally-minded in a way that goes well beyond just offsetting carbon emissions.
"[Sausage] is the first sustainably-minded food product. It's the solution to making whole-animal eating viable, because it allows you to use the scraps, extend the shelf life through salting," Nicoletti points out. "I was always really drawn to that aspect."
When Nicoletti's career first began, she noticed that waste was a big problem within the food industry. "[In restaurants] I was really disillusioned by the amount of waste I was seeing," she explains. "As a butcher, you don't waste anything."
But she also identified another problem: We're simply eating too much meat on too large of a scale. "I was working in a [butcher] shop where we were getting these incredible animals. My customers were coming back way too often, we were selling way too much meat," Nicoletti notes. "The guys I worked for were talking about supplementing with boxed product."
To stretch out the high-quality meat she was working with and help customers consume meat in a different way, Nicoletti decided to test something entirely new, healthier and, ultimately, more sustainable.
"I started experimenting with ways to get my customers to eat less meat," she says. "I pivoted and started putting vegetables into sausages to stretch that really beautiful meat we were using and get it to more people at a decent price point – to make it less exclusive. I really wanted to turn the dial on sustainable meat eating in a much bigger way."
Somewhat ironically, her first foray into veggie-filled sausages started as something of an eco-friendly experiment. "There was a little green market attached to the shop I worked at. I asked the woman who owned the market for wilted vegetables that were going to be tossed," Nicoletti explains. "I arranged them like a puzzle in front of me – wilted greens, carrots, bruised tomatoes – and I would think about how those translated into a meal… I was using what I had."
Nicoletti had no idea that veggie-filled sausages would become such a hit. "When I started making these, blended products were not a thing. And now, it's very much a thing," she laughs.
But what sets Nicoletti apart from other veggie-forward food products is her outlook on how, exactly, to blend plant foods into meats.
"I think that with a lot of the plant-based products, especially in the meat space, there's more science involved than taste," she explains. "I think having chefs and butchers develop your meals is much more compelling than having a tech person. There's so much that we still don't know about all of those really processed products and what they do to our bodies and our environment."
That's why Seemore Meats & Veggies isn't just about plants – and why these delicious meat-and-veggie products are made with natural, clean ingredients. 
"We really just want to make the experience of eating better as easy as possible," she says. "I think that sometimes, better eating and clean eating is intimidating. There's a barrier to entry. [Seemore] is easier to understand, easier to prepare… you can eat them as they are and get meat and vegetables. Our labels are really just meat, vegetables and spices."
It's not about giving up meat, but rethinking how you eat meat
Though Nicoletti has a wealth of experience around butchering and within the meat industry, she herself is more of a flexitarian. 
"I haven't been a big meat eater for many years. When you see the whole process, it changes the way you think about meat. You think about it more as a once-in-a-while food."
Nicoletti isn't trying to get people to give up meat. Rather, she sees Seemore's meat-and-veg approach as a way to enjoy high-quality meat and plant-based ingredients while making your diet kinder to the environment. 
"People will pigeonhole us and say we're trying to get people to eat less meat. Yes, that's true, but I believe so much in the power of regenerative agriculture. If we could just slow down a bit, allow farmers to take it up, there's so much potential for beef farming to be helpful for global warming and climate change," Nicoletti points out.
And when it comes to the growing popularity of lab-made, highly processed plant-based meat alternatives, she's both pleased and a bit cautious. 
"I'm not sad about the shift towards plant-based foods, but I'm very hesitant when we talk about anything as 'the' one answer. We went too all-in on meat eating; if we're going to completely replace meat with processed plant-based proteins, that won't be good for the environment either. [We should be] eating meat more carefully," Nicoletti says.
That's what Seemore reflects, too. Balanced meals, with a little meat and a few plants, rolled into a meal that's nutritionally well-rounded – while being free of all those additives that are commonly found in your wholly plant-based alternatives. 
Woman-founded with an entirely female team, Seemore is shaking up the meat industry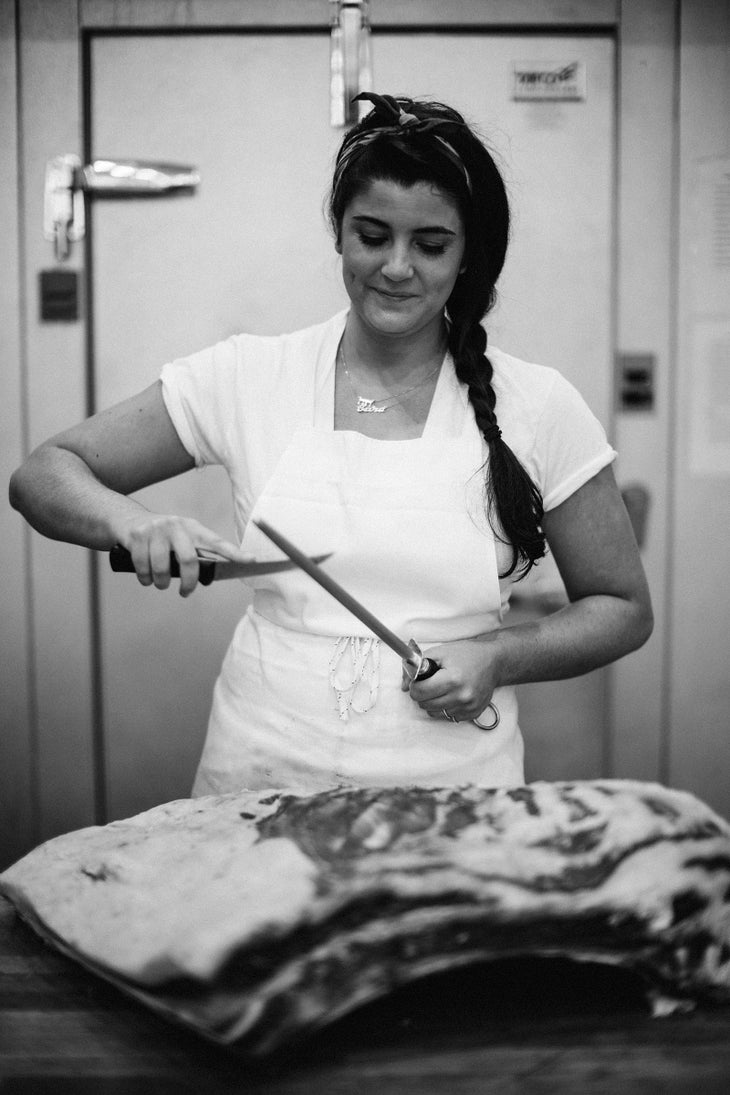 Nicoletti is also making quite the impact on the meat industry as a whole. After all, women are rarely the face of meat products – in a world dominated by men and male-focused products, Nicoletti's Seemore Meats & Veggies is standing out. And it's not just because of the colorful, standout packaging (or those colorful sausages!).
"When I started working in restaurants 18 years ago, I gravitated towards meat preparation because it was what I knew. I didn't have female role models in the space to look up to; when I first started, there were no women."
But it wasn't just a lack of women in the butchering world that Nicoletti noticed. There was, and still is, a lack of a female presence in the meat industry and even the meat section of your local grocery store. 
"What's interesting when you look at the meat aisle [in a grocery store] is it's still so heavily branded towards men. There are two distinct tones: Products that are MEAT or more exclusive 'save the world'. They feel serious, exclusive and not fun," Nicoletti says. "But what we know is women are the buying power in the grocery store."
That's the gap Seemore aims to fill. With bright, eye-catching and rainbow-colored packaging, the brand's products look nothing like what you'd typically find lining the meat section of your favorite shops. And that's exactly what Nicoletti wanted: Sausages that speak to anyone, with can't-miss flavors (and something that's fun!). 
Plus, in addition to creating a more inclusive meat product, Nicoletti has also created a team of her own – and she's leading an all-female team. "I think being able to build a team from the ground up like that has been one of the most joyful experiences of my life," Nicoletti shares. "I can't even express how amazing the women are who work with Seemore. I'm shocked by their brains every day." 
Thriving in the face of total uncertainty
Of course, creating an entirely new kind of sausage didn't come without its challenges -– and one of the biggest was the economic uncertainty and instability of 2020. Seemore launched during the COVID-19 pandemic, and it put Nicoletti and her team through their paces immediately.
"We launched two weeks before lockdown," she shares. "We didn't get to follow the normal playbook on getting a brand to succeed." 
And when it came to tapping into the pandemic resources offered to other businesses, Seemore was out of luck. "We hit a wall. Because we didn't operate before COVID, no one recognizes that we've been hit by this disaster too," Nicoletti says.
But none of that has put a damper on Seemore's success or growth. With plenty of positive feedback and partnerships with popular retailers, these clean veggie-and-meat sausages are shaking things up and starting to appear in increasingly more stores. 
What it's really like to try Seemore Meats & Veggies
Wondering if it's really that appealing to bite into a purple-pink La Dolce Beet-A sausage or a green Chicken Chili Verde sausage? Well, I tried Seemore's sausages – and now, I don't think I can go back to basic meat-only sausage!
Super simple to cook on the grill or right on your stovetop, these veggie-filled sausages are a treat from the second you start heating them up. They're fragrant and beautifully colored; you can actually see the ingredients listed on the label, like chives and bits of bacon in the Loaded Baked Potato or mozzarella cheese in the Chicken Parm. 
My favorite variety? It was a toss up between the Loaded Baked Potato (but then again, I consider a loaded baked potato the ultimate comfort food!) and Chicken Parm. The Chicken Parm might've been even better, simply because it tasted amazing and was so impressively versatile. This variety tasted delicious on its own, but I also really loved it sliced and used as a pizza topping. And if you love salsa verde, you can't overlook the Chicken Chili Verde. Even though this sausage had some heat, I couldn't stop eating it (and, in my opinion, would make an amazing taco meat). 
Oh, and Seemore's sausages aren't just meant to be enjoyed plain or in a bun. They're endlessly versatile, and Nicoletti loves seeing how customers incorporate the sausages into their own recipes or meals. After all, that's kind of how the sausages came into being: A little mixing and a little matching for the perfect flavor combos.
"The guys I worked with used to call me Willy Wonka," Nicoletti jokes. "We're really having fun with it. By nature of the fact that they're filled with vegetables, [our sausages] are really colored."
If you're ready to give Seemore's delicious veg-filled sausages a try for yourself, you can find them online at eatseemore.com or at Whole Foods. But, true to Nicoletti's goal to make clean, tasty sausages widely accessible, Seemore is planning to expand. Soon, you'll find the brand's sausages at Imperfect Foods and Thrive Market – and keep an eye out for even more stores near you in the months ahead!