Annie Mazur
Annie Mazur set out to lose 50 pounds by the time she turned 50. In doing so, she reclaimed her happiness and more than doubled her goal!
Heading out the door? Read this article on the new Outside+ app available now on iOS devices for members! Download the app.
Annie Mazur
Home: Edgewater Park, NJ
Age: 50
Height: 5'0"
Beginning weight: 245
Current weight: 132
Background: Works in marketing at a retirement home; mother of two and grandmother of four
Annie Mazur knows about low points. Hers came after her husband of 14 years passed away from cancer. "My husband's death hit me hard," Annie says. "There were days when I didn't even want to get out of bed." Things that would normally provide consolation – such as curling up on the floor and playing with her granddaughter – became impossible because of her weight. She had always struggled with weight, yo-yoing as she tried various quick-fix diet plans. But she gained even more during her husband's illness.
After her husband's death, grief initially spurred some weight loss, and in 2006 she lost about 45 pounds. But as she approached her 50th birthday, Annie was still deeply unhappy with her weight and was facing a slew of weight-related health problems. "I wanted to do something to make my life better," she says. "I was ready for a new chapter."
Annie Mazur – BeforeAnnie's "Aha" Moment
Annie's lightbulb moment came one day when she drove past a sign outside a local gym. She'd seen the gym before, but this time something about it made her take notice and she realized: This was how she was going to lose the weight for good – through a major lifestyle change consisting of a clean diet and a little exercise. Still, she did her due diligence – interviewing the trainer, Susan Ball, to make sure it was a good fit. Nutrition would be key, but Annie would also have to do something she'd never done before: exercise. "My first time on the treadmill was terrifying," she says. "But it gave me a challenge to overcome."

Evolving Goals
Along with exercise (she began getting active three to five times a week), Annie also started a food journal (she keeps both a paper journal and an online version). Additionally, she had to learn about portion control – a new concept. She cut out the obvious stuff, such as fast food, which she doesn't miss at all. But she also did some thinking about why she had been eating what she ate. "I was such an emotional eater," she admits. "Now it's different. I don't crave the same things."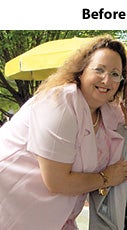 After she met her initial goal of losing 50 pounds by the time she turned 50, Annie realized that she needed to set new goals. Today, she has smaller short-term goals: "I want to be able to do a pull-up unassisted." For Annie, motivation is no longer a problem – all she needs to do is play a simple game of tag with her granddaughter to remind her why she made the changes in the first place. "I have a whole new life," she beams.
Annie's Top Tips
Banish the "D" word. "Diet" is a four-letter word. I don't believe in diets; I believe in a healthy lifestyle.
Drink plenty of water. I am constantly drinking water to keep my body hydrated and to flush out the toxins.
Visualize the pounds melting away. When I work out, I actually visualize my fat melting away, like a candle burning.
Stay away from the salt shaker. Salt will cause water retention and bloating. Experiment with new spices instead. I especially like wasabi and red pepper.
Keep a food journal. I log everything I eat and drink and give myself a calorie budget. It's like a checkbook: You shouldn't spend what you don't have.
Annie's Daily Diet
Breakfast: Coffee, yogurt, wheat bran cereal
Morning snack: Raw veggies (such as carrots) or low-fat string cheese
Lunch: Broth-based soup, protein bar or hardboiled eggs, low-fat string cheese, raw veggies
Afternoon snack: Piece of fruit (apple or banana)
Dinner: Chicken or fish, vegetables and occasionally rice
Nighttime snack (occasional): Air-popped popcorn – hold the butter!
Annie's Exercise Plan
Monday: Cardio + super sets (doing one set for one muscle group then immediately doing an exercise for the opposing muscle group)
Tuesday: Cardio (elliptical or treadmill for one hour)
Wednesday: Cardio + compound sets that work the whole body
Thursday: Cardio
Friday: Cardio + circuit training
Saturday: Cardio
Sunday: Cardio
See also: Marcie Calvert's weight loss story.