Debbie Skuratowicz
"I was tremendously addicted to food and ate to feel happier." How Debbie Skuratowicz lost 110 pounds and went from a size 20 to a size 10 in just over a year.
Heading out the door? Read this article on the new Outside+ app available now on iOS devices for members! Download the app.
Debbie Skuratowicz
Home: Columbus, Ohio
Age: 37
Height: 5'4"
Starting Weight: 290 lbs
Current Weight: 180 lbs
Overweight as a young girl, Debbie Skuratowicz's childhood centered on food. "My whole family is overweight," she says. "Relatives on both sides suffered from diabetes, heart problems and cancer and died young – in their 60s." But she also liked sports – and played hard. Unfortunately, a painful spine fracture during a field hockey game when Debbie was 16 led her to cut out exercise altogether ("Just moving was hard!") and eat for consolation – up to an unhappy size 26.
Finding Purpose
Out of high school, Debbie signed on with a personal trainer and, in 1992, got down to 200 pounds at the age of 23. But meeting the man she was to marry and giving birth to her son, Blake, spelled a slow but steady regain. "Over a decade, I put on 90 pounds," she says. "If you stop making your health a priority, it's easy to let things slide."
Debbie Skuratowicz – BeforeWhen her father passed away suddenly from gallbladder cancer in 2003, Debbie's weight was at an all-time high: 290 pounds. She resolved to change. "I thought, I don't want to go down the same path," she says.
Starting Over
Despite working full-time as a contract analyst, taking classes to get her bachelor's degree and tending to her family and home, Debbie knew she had to focus on her health. She began by enlisting expert help and support, interviewing personal trainers over the phone. Encouraged by the upbeat personality of one, Debbie signed on for training sessions. She also started a food diary, recording what she ate and how she felt each day.
Instead of skipping breakfast and relying on drive-through lunches and her usual high-fat, high-calorie dinners, Debbie began to eat a sensible breakfast and select lean proteins – like grilled chicken and burgers made from chicken, turkey or buffalo – for her other meals. Determined to enjoy tasty food, she experimented, making praiseworthy tacos out of ground chicken and rounding out her meals with vegetables and salads. As the pounds melted off, Debbie stepped up her activity, going cycling with her son and taking the four flights of stairs to her office instead of the elevator.

Staying Motivated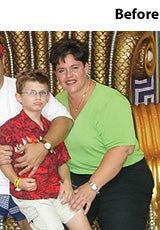 While training for a half-marathon a year ago, Debbie learned that she had lost cartilage in her ankle joints and needed surgery. Unable to do aerobics for nearly four months, Debbie had to dig down deep to avoid giving up on her fitness goals, she says. But the confidence gained from a 110-pound weight loss propelled her to stay the course and also get certified as a personal trainer. Debbie plans to put her motivational speaking skills to work helping others who are battling weight problems.
"People who knew me in high school don't recognize me," says Debbie, who was a finalist at a body-change contest at work not long ago. (She put the $500 cash prize toward her trainer and gym and the "$1,000 in product" award to a year's worth of protein shakes.) "It totally feels good! I love being able to walk around and not be out of breath. I'm happier now – I walk around with a smile."
My journey began just over a year ago. I had been dieting and walking, with very slow progress. It had been eight weeks since I had put any form of sugar into my body. Then I lost my dad to cancer; I walked into my mom's house and grabbed a doughnut.
Debbie's Workout Regimen
Cardio 40 to 75 minutes daily, three to five times a week
Weight training 30 to 45 minutes, twice a week
Boot camp Boot camp class for 45 to 60 minutes, three times a week
Debbie's Sample Menu
Debbie beats diet boredom by varying her meals each day.
Breakfast: 2 eggs or egg whites and turkey bacon or a protein shake and oatmeal
Lunch: A salad with chicken, red and green pepper, mozzarella, chickpeas and vinaigrette or lean protein, vegetables and pasta or bread made from spelt or rice flour
Afternoon snack A small cup of yogurt and an apple or fruit with walnuts
Dinner: Grilled chicken breast or burgers made from chicken, turkey or buffalo, salad and/or green beans or other vegetables
Dessert: A sugar-free frozen pop or sugar-free frozen yogurt
or fudge pops
Debbie's Top Tips
Keep a food diary. By writing down what you eat, you're more likely to avoid unhealthy foods. And if you gain a few pounds, you'll be able to figure out why.
Get your endorphins. Get your endorphins from working out, not from eating.
Order smart. When I go out to dinner, I look at the menu online and decide what to order. I substitute vegetables or a fruit cup for fries.
Preparation is key. I fix a lot of food on Sunday for the week – chicken breasts, plus pasta and rice that I portion into half-cup servings – so I can grab them for weekday meals.
Satisfy your cravings – healthfully. I blend chocolate protein powder with water, ice, a few semisweet chocolate chips and 1 tsp natural peanut butter.
Don't feel deprived. Give in to your vices in small amounts. At parties, I select one thing I really want – say, a piece of fudge – and then eat healthier things for the rest of my dinner.
Figure out what motivates you. I knew I wanted to live past my 60s and be around when my son has his children!Eat something warm. It satisfies you more than cold food. Warm homemade applesauce with stevia or any other natural sweetener and cinnamon is the best thing in the world!
Try new foods. I used to never eat green vegetables – unless it was the fried zucchini you get at restaurants. There isn't a vegetable I don't like now.
See also: Marcie Calvert's weight loss story.