Best Cold Brew
Coffee drinkers are often incredibly enthusiastic about their favorite morning beverage. Many coffee drinkers only drink one brand or only blend with one type of milk. In essence, they like what they like. Then on the other end of the spectrum, there are people who only drink iced coffee. But iced coffee has evolved over time. What was once merely hot coffee brought down to room temperature with ice added has evolved into a whole process of "brewing" coffee under refrigeration for extended periods of time. Making cold brew is similar to making iced tea, in that it involves more of an infusion process over time as opposed to the heat-extraction process undergone with regular, hot coffee. Now, it's easier than ever with the variety of products that exist specifically for making individual portions of cold brew using only your favorite ground coffee, water, and your refrigerator. We checked out some of the cold brew makers out there and picked out a few of the best for you to consider.
Photo: Getty Images/iStockphoto
Heading out the door? Read this article on the new Outside+ app available now on iOS devices for members! Download the app.
Highest Quality
Coffee Gator Cold Brew Kit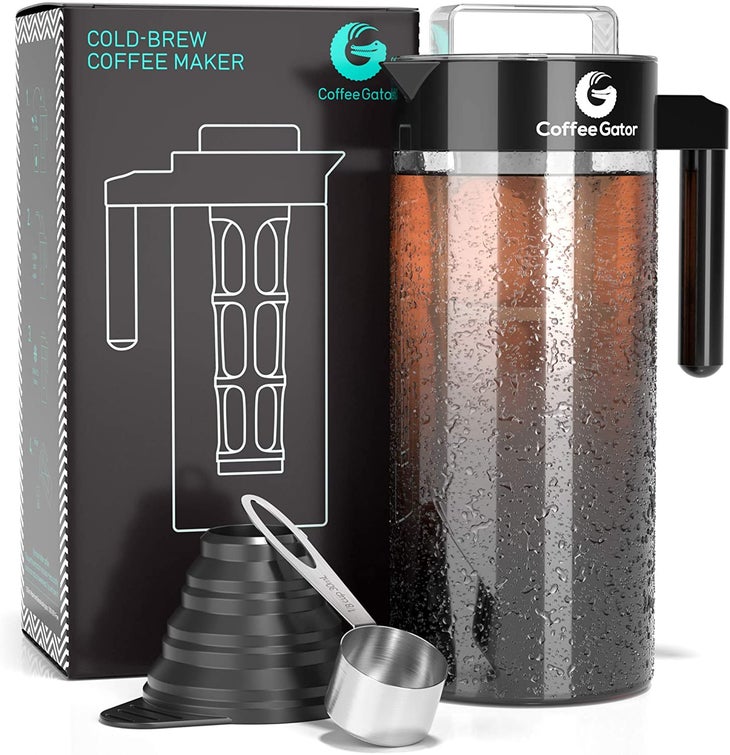 Delicious Cold Brew in 12-24 Hours
Brew coffee while you sleep with the Coffee Gator Cold Brew Kit, which makes 47-ounces of delicious brew that's up to 67% less acidic than regular, hot coffee.
What We Liked
In four simple steps, the Coffee Gator yields a delicious, smooth brew you can drink straight or use it as concentrate to yield two to three times the amount. All you have to do is add 2.6-ounces of medium-ground coffee to the filter, top with cold water, wait 12-24 hours, and pour or dilute to your liking. The kit comes with a 47-ounce borosilicate glass container, leak-proof lid, handle, ultra-fine mesh filter with bottom cap, and bonus scoop and funnel,everything you need, minus the coffee. It's easy to use, easy to clean, and yields smooth cold brew coffee in as little as 12 hours that will keep fresh in the refrigerator for up to three weeks. Get it here.
Most Durable
Takeya Patented Deluxe Cold Brew Iced Coffee Maker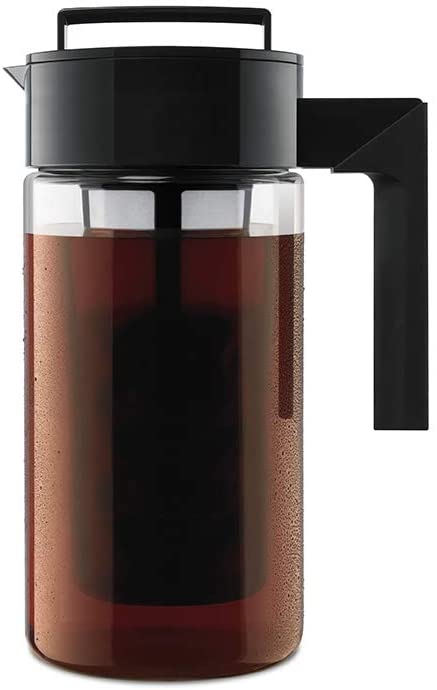 Airtight & Shatterproof
Made of shatterproof, BPA-free Tritan plastic, this one-quart cold brew maker from Takeya features a leak-proof, airtight lid and fine mesh filter that's designed to keep even the finest ground coffee from seeping into your fresh brew.
What We Liked
With it's BPA-free plastic construction and non-slip silicone handle, this is the cold brew maker you can take with you anywhere without ever worrying about it shattering into a million pieces and spilling your hard-earned cold brew into oblivion. If you've ever broken a glass coffee pot or cold brew maker, you know how depressing it can be. The Takeya Deluxe is lightweight, durable, easy to clean, and yields a full-quart of smooth cold brew in less than 24-hours using any style of ground coffee. Buy it now.
Most Convenient
Keurig K-Elite Coffee Maker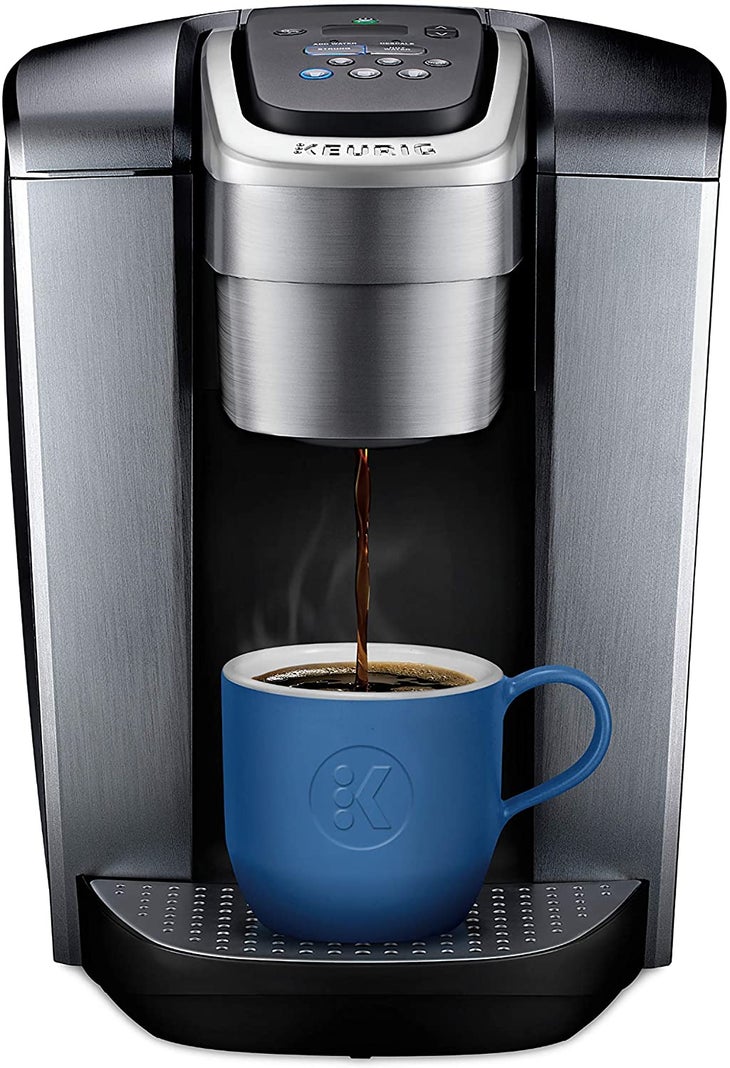 Fast & Fresh Coffee in Minutes
With the touch of a button, the Keurig K-Elite Coffee Maker can make 4, 6, 8, 10, and 12-ounce cups of your favorite variety of K-Cup individual servings in both hot and iced coffee styles in under a minute.
What We Liked
Though normally associated with individual cups of hot coffee, the Keurig Elite features an iced coffee setting. Simply fill your cup with ice, place it beneath the dispenser, and the machine selects the optimal size and strength for a delicious serving of ice-cold coffee. This option takes the hassle of waiting 12-24 hours to enjoy cold coffee, as the K-Elite has it ready in less than a minute. Additionally, the machine has a 75-ounce water reservoir that can make up to 8 cups of coffee before refilling, and also offers hot water on demand with the touch of a button for enjoying tea, oatmeal, or instant soups. Buy it here.
Best Design
Ovalware Airtight Cold Brew Iced Coffee Maker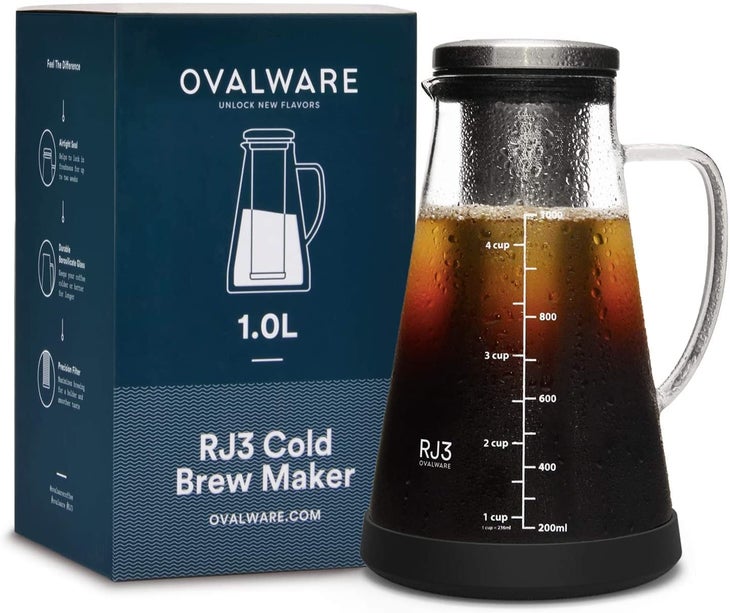 Smoother Coffee Every Time
Made with durable, borosilicate glass, a non-slip rubber cushion base, a silicon airtight seal, and a rustproof laser-cut filter, this Ovalware Cold Brew Maker epitomizes high quality design and high quality results.
What We Liked
A lot of science and engineering went into making this cold brew maker, and you can tell by the design. The vessel itself features a beaker-like profile that's wider on the bottom and tapered at the top. The glass is marked with both imperial and metric measuring lines, allowing you to create cold brews customized to your liking of concentration. The airtight silicone seal minimizes leakages and seals in flavor for up to 2 weeks in the fridge, while the rubber base ensures stability when prepping on the counter and storing in the fridge. In 12-24 hours, the carafe yields coffee that's up to 70% less acidic than normal drip-style coffee machines, plus it can be used to make your favorite tea and infused beverages as well. Get it now.