Best Lasagna Pans for Home Kitchens
What's better than a perfectly cooked lasagna? Cheesy mozzarella, fresh basil, savory red sauce, and fresh pasta stacked a mile high — it's hard to find a better meal. But you can't make lasagna without a lasagna pan. If you've been craving this Italian favorite but just don't have the kitchen hardware to make it happen in your home, what are you waiting for? It's time to buy a lasagna pan – stat. Not all lasagna pans are the same, though, and that's why you should explore your options before you just pick up any ol' pan from the grocery store. Check out our favorites below. Happy shopping (and Italian dining)!
Heading out the door? Read this article on the new Outside+ app available now on iOS devices for members! Download the app.
Editor's Choice
casaWare Ceramic Coated NonStick Lasagna/Roaster Pan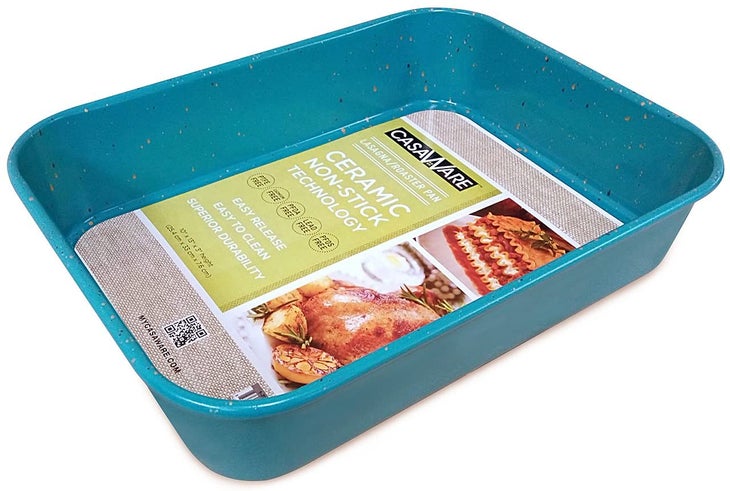 Sturdy Pan That'll Last for Years
When things don't go right in the kitchen, this lasagna dish has your back. No matter the mess or stress, this kitchen essential will be with you for a long time.
What We Liked
Let's face it — sometimes we run into mistakes in the kitchen. When that happens, it's good to have high-quality, durable, and reliabe cookware on your side. That's exactly what this lasagna-slash-roaster pan is. It features ceramic, non-stick tech for your stickiest situations. It can handle extreme heat, so there's no bubbling or peeling of the coating, no matter how long you forget about it in the oven. And the 13 by 10-inch bottom will never scratch when you try to scrape away stuck-on food. Order Online.
Best for Large Servings
Cuisinart 6117-14 Chef's Classic Nonstick Hard-Anodized 14-Inch Lasagna Pan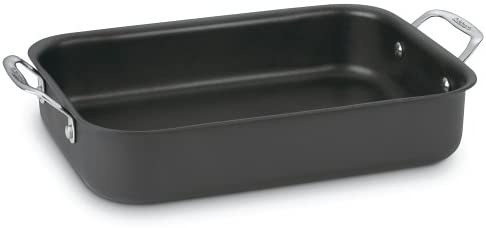 Feed the Entire Party
Don't make two lasagnas. There's no need when you could just make one big, delicious pan of an Italian classic.
What We Liked
This larger-than-average pan is 14 inches long. That means more lasagna at once. If you entertain or host routinely, you'll want this in your kitchen toolbox. The high sides mean you can stack your lasagna higher, too. It's deep and roomy all around! Even though the pan is large, it still fits all standard ovens, including the stainless steel handles on either side of the vessel itself. Purchase Yours Today.
Best for Small Portions
Rachael Ray 55052 Solid Glaze Ceramics Roasting Pan/Baking Pan/Lasagna Pan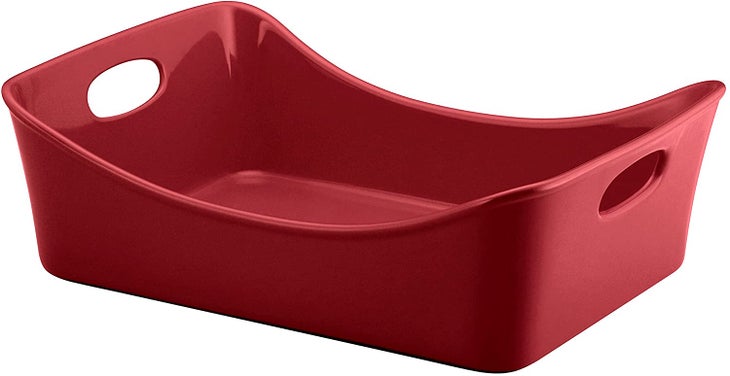 For Individuals or Couples
Don't go overboard with your lasagna if you're only cooking for one or two. Grab this pan, enjoy your meal, and you'll still have leftovers (maybe).
What We Liked
Perhaps you don't need a huge lasagna pan — and if so, no big deal. You can go with a smaller option like this one. It's 9 by 13 inches, which is the traditional casserole dish size. It's more compact than the average version, making it a good fit for those cooking for only themselves or for two. Our testers said they still had plenty of leftovers for the next day at work. Get It Here.
Best for Families
Chicago Metallic Professional Lasagna Trio Bread Loaf Pan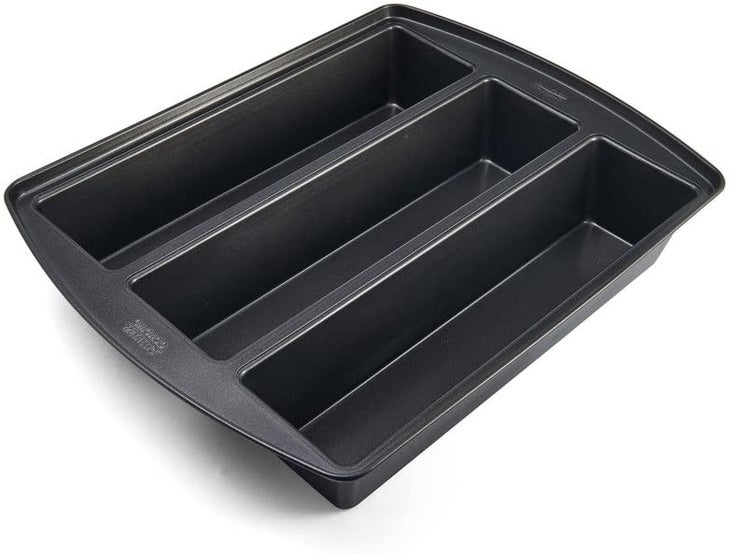 Three Types of Lasagna At Once
Feed even your pickiest diners! Here's a pan that bakes lasagna three delicious ways. This design is genius.
What We Liked
This baking dish is split into three different receptacles, so you can bake three unique, customized "orders" at a time and never worry about them touching each other. Want to bake a meat lasagna, a vegan lasagna, and an all-cheese lasagna? You can do it all with one pan and one trip to the oven. Bravo for such a practical, thoughtful design! Buy Now.