Best Meat Injectors
Marinating meat the old-fashioned way—rubbing or soaking the meat and letting it set—can be time consuming. But worst of all, sometimes it simply doesn't deliver, resulting in only the surface of the meat with that mouth-watering, juicy delight you expected to get from top to bottom of the cut. It doesn't have to be that way! Meat injectors are safe and simple to use. But best of all, meat injectors provide a convenient way to disperse marinade throughout the cut of meat, so the juicy flavor is unavoidable. Meat injectors are made with a variety of designs and capacities. Take a look at the four best meat injectors we've discovered.
Heading out the door? Read this article on the new Outside+ app available now on iOS devices for members! Download the app.
Top Choice
Grill BEAST – 304 Stainless Steel Meat Injector Kit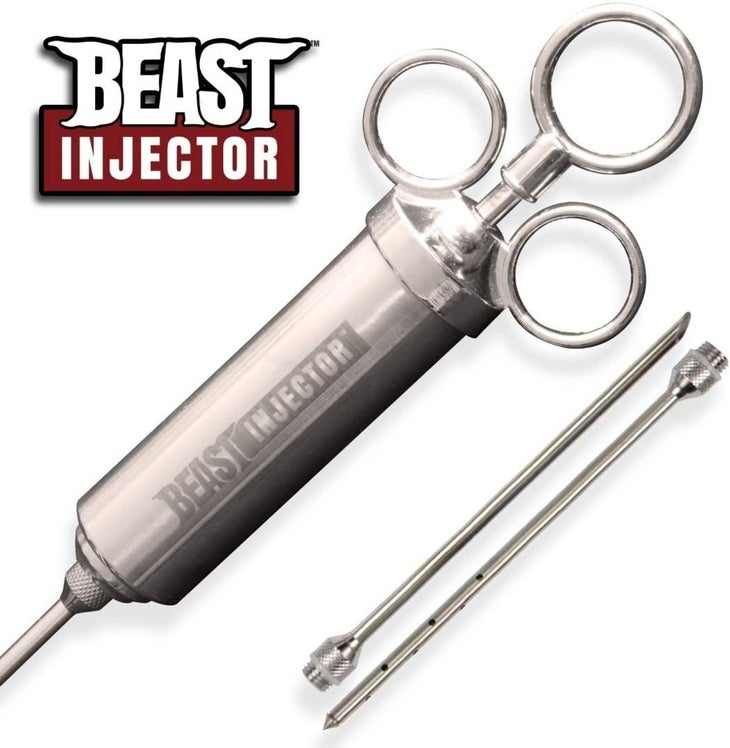 Going the Extra Mile. Grill Beast proudly stands behind their products with a 100 percent money-back guarantee and lifetime warranty. Plus, this kit includes fun little extras, like an e-book, so you can use the injector like a pro.
What We Liked:
Grill Beast Injectors are made from 304 high-grade stainless steel. The barrel holds two ounces so you don't spend so much time having to refill. The three-ring handle makes it easy to grip, and it's dishwasher safe. The kit comes with three sharp needles designed to meet every meat prep situation, including two needles that are six inches long. One of these needles has an angled cut for chunky marinades, while the other has 12 holes for liquid marinades, ensuring juicy results every time. The third needle is three inches long and is ideal for precise placement and small cuts of meat. Purchase Now.
Backyard Favorite
Ofargo Stainless Steel Meat Injector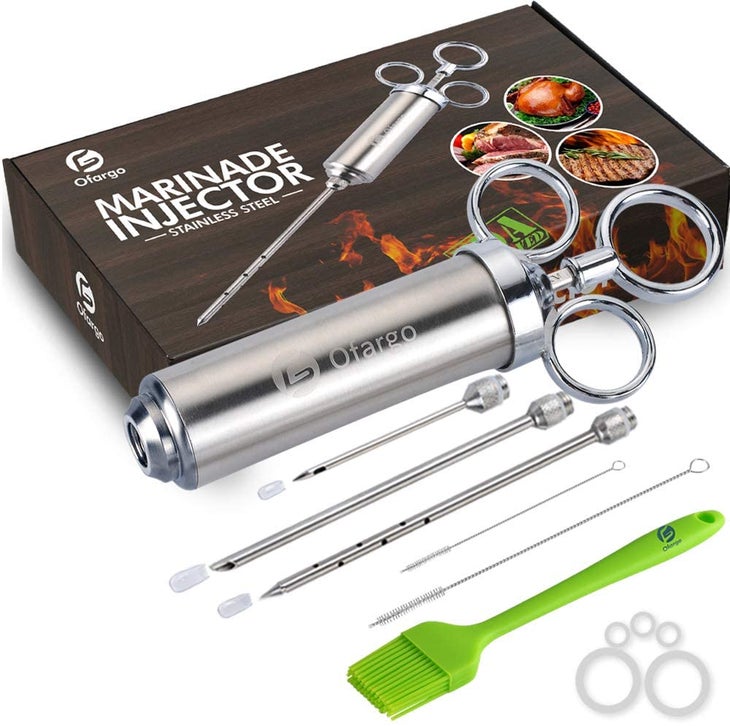 Plenty of Extras. Ofargo provides all the things you expect and then some. Sure, you get three great injector needles, but you also get five extra syringe silicone rings and two brushes—one to baste and the other to clean.
What We Liked:
This meat injector is top-notch. The handle and injector top are made of a zinc alloy, while the two-ounce barrel is made from 304 food-grade stainless steel. Two cleaning brushes, a basting brush, and five seals are included, all made from food-safe silicone. The three-ring handle provides a confident grip, too. Each kit comes with two six-inch needles and one three-inch needle. One of the six-inch needles has multiple holes for meat saturation that leads to tender goodness.To top it off, you'll find great recipes and advice in the free e-book. Get Yours Today.
Most Durable
Smokey Hollow Meat Injector Kit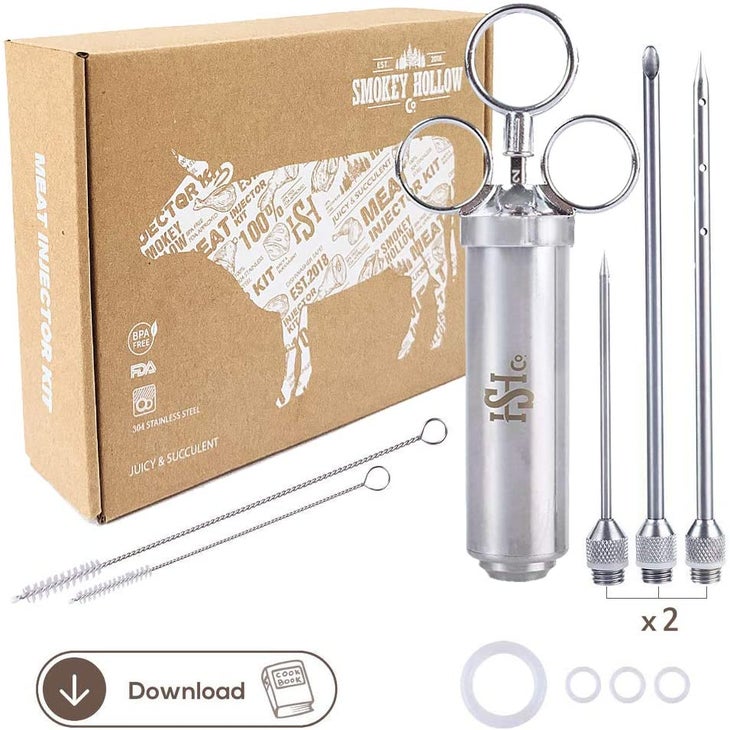 Fast Meat Prep. This kit cuts marinade time down to just an hour by diffusing your selection fast. Plus, there are plenty of easy recipes included in the free cookbook.
What We Liked:
This injector kit provides twice as many needles as other kits. High-grade, BPA-free, 304 stainless steel is used for each of the six needles and the barrel. Plus, the syringe is easy to use and dishwasher safe. Four silicone O-rings and two cleaning brushes add an extra layer of convenience to this kit, as do the 30-day guarantee and free cookbook. Buy Now.
Best Quality
Dicfeos Meat Injector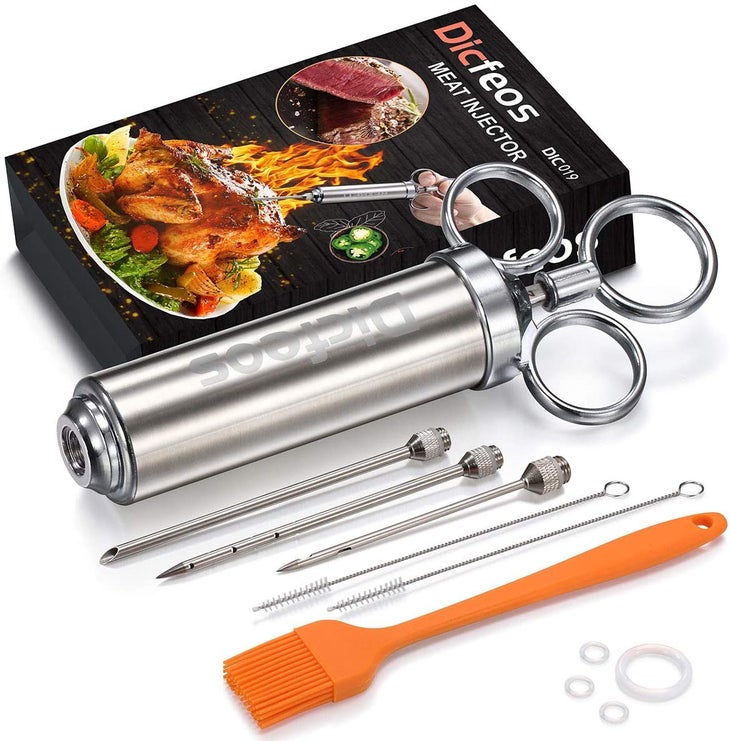 Bring Out the Flavor. Where topical rubs and marinades fall short, the Dicfeos injector steps up to deliver delicious morsels of meat with every bite.
What We Liked:
This injector offers supreme quality, relying on FDA-approved, 304 stainless steel for the needles and barrels. Plus, the tools deliver great versatility, offering a 5.8-inch angle-cut needle for chunky marinades, a 5.8-inch needle with 12 precision-drilled holes for liquid marinades, and a shorter steak needle. Two cleaning brushes and a basting brush are also included, rounding out this set with everything you need for high-quality cooking. Available On Amazon.