Best Oil Bottles
An oil bottle for storing and infusing olive oil is an essential tool for your home kitchen. You can keep the stylish bottle on the kitchen counter while storing the bulk container in the pantry. With no-spill spouts, there's no more grabbing oily bottles while cooking and no oily drips on the counter. Oil bottles let you drizzle the exact amount you need with no drips or leaks. You can add fresh herbs to create infusions to share with friends and family. Here are some great oil bottles with both functionality and style.
Photo: Getty Images/iStockphoto
Heading out the door? Read this article on the new Outside+ app available now on iOS devices for members! Download the app.
Best Basic Bundle
Aozita Glass Olive Oil Bottle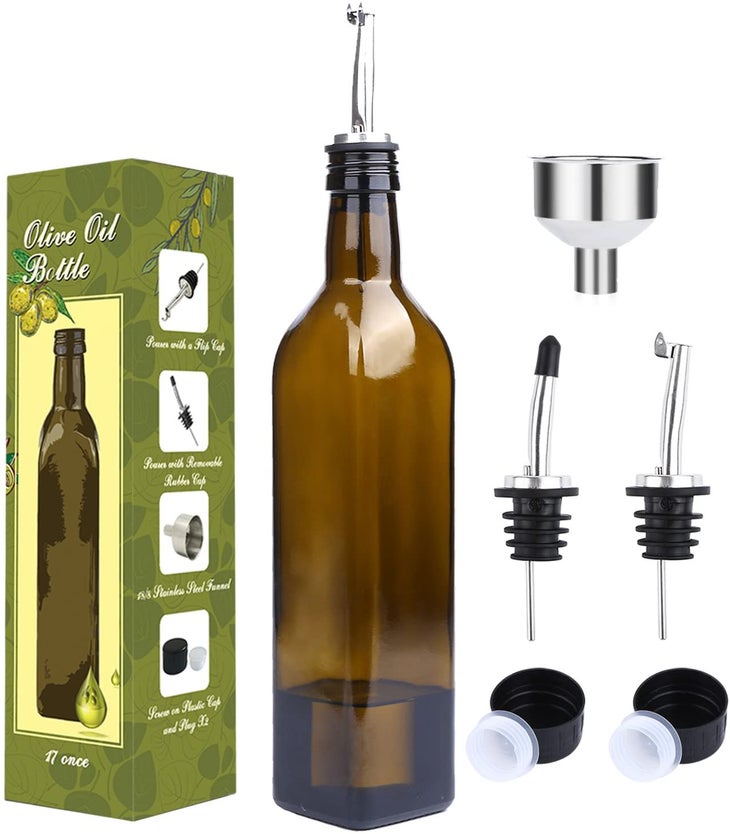 Keeps Oil Fresh
A brown glass 17-ounce olive oil bottle with two included quick pour spouts, funnel, and sealing caps.
What We Liked
While we love the subdued style of this brown glass body, we love the functionality even more. Keep olive oil fresher with the sealed cap and dark glass, and pour it with more ease than ever with the included spouts. Get it here.
Best Condiment Caddy
Zeppoli Oil and Vinegar Bottle Set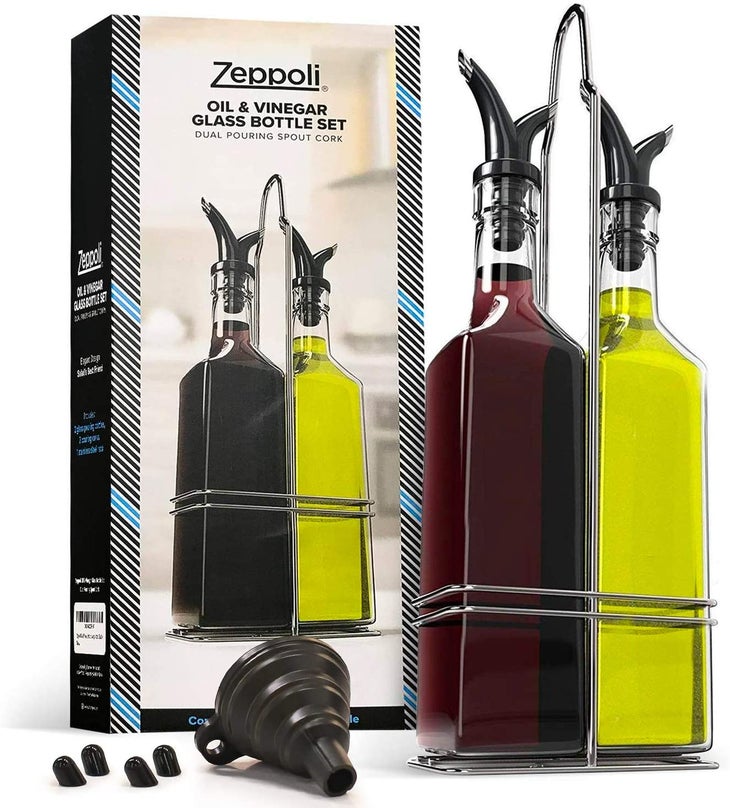 Classic Oil and Vinegar Design
Two 17-ounce glass bottles with a stainless steel caddy, collapsible rubber funnel, and BPA-free plastic pour spouts.
What We Liked
You can use this charming kit as part of your table setting, with oil and vinegar. Or store unique kinds of oil and leave it sitting on the countertop while you cook. Buy it now.
Most Precise Pour
Belwares Olive Oil Dispenser Bottle Set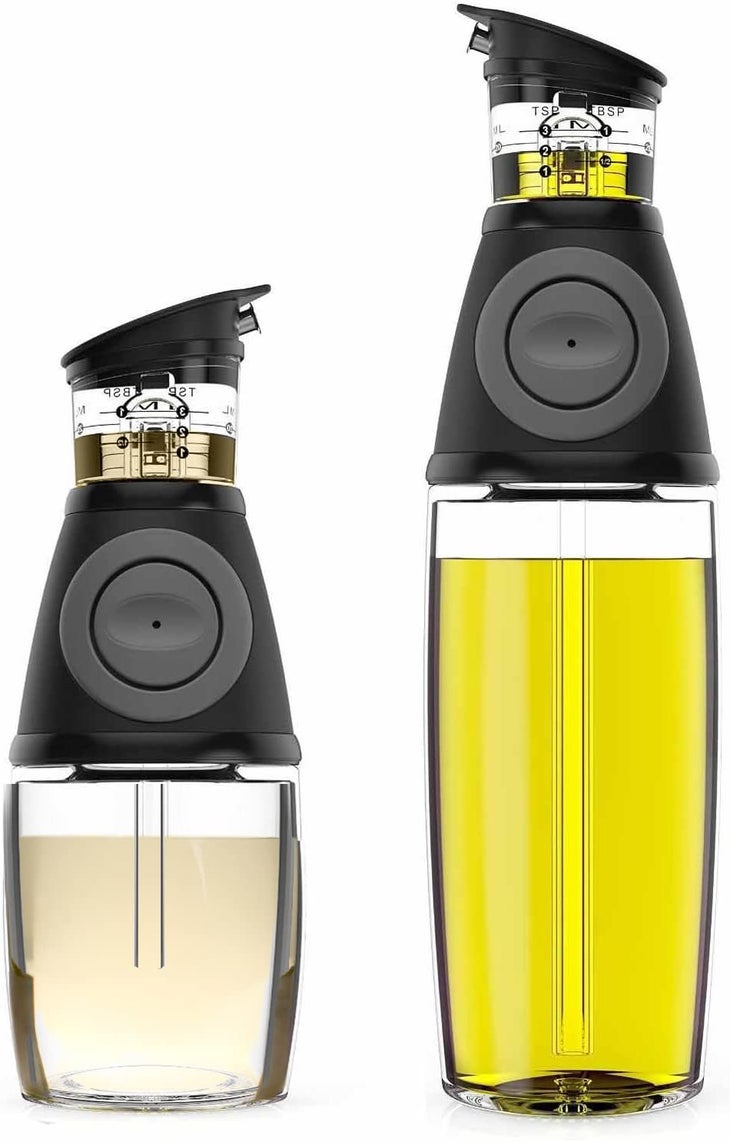 Controlled Portions and Pours
Get exceptional performance from these two dishwasher-safe olive oil bottles with a 17-ounce and 9-ounce volume and portioning lids.
What We Liked
When they say drip-free, they mean it. These bottles correctly measure olive oil up to 3 teaspoons or 1 tablespoon. You can always pour the exact amount that you need and not a single drop more. They're stylish enough for the table and perform for a professional kitchen. Buy it here.
Most Stylish
Rachel Ray Solid Glaze Ceramic EVOO Olive Oil Bottle Dispenser with Spout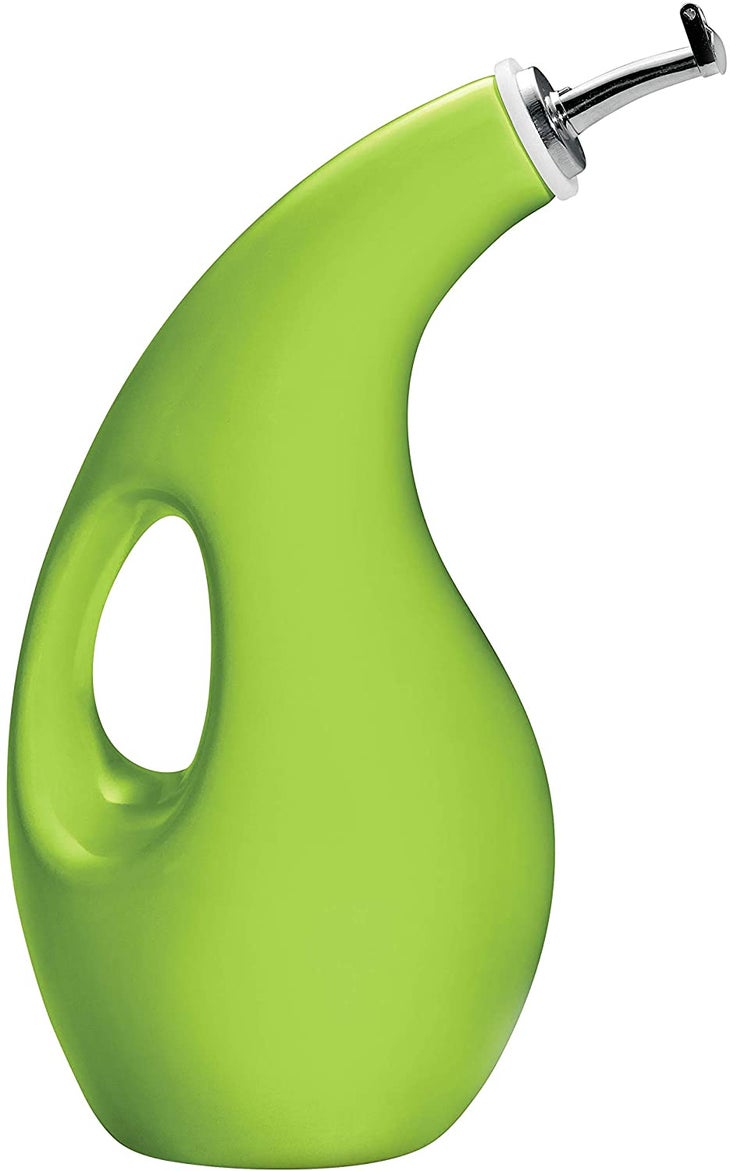 Colorful and Stylish
A 24-ounce glazed ceramic olive oil bottle, with incorporated handle and included quick-pour spout.
What We Liked
We love with kitchen gear looks good while making life easy. If you're anything like us, you'll leave the olive oil on the table 24/7 in this bottle that could pass for a vase. And you'll love the precision pouring as much as you enjoy the bold colors and contemporary design. Get it now.