Best Pizza Cutters
Whether you're making homemade from pizza from scratch, pulling your favorite frozen pizza out of the oven, or your recent pizza delivery wasn't cut properly, having a quality pizza cutter is a nice thing to have in your kitchen drawer. Designed to create clean slices and cut through even the thickest of crusts, pizza cutters come in all shapes, sizes and designs. Whether you prefer your pizza with large, foldable slices, evenly cut traditional slices for sharing, or squared, smaller cuts, a good pizza cutter allows you to have control on how you serve and share your favorite pizza. Not sure what to look for when adding a pizza cutter to your kitchen tool set? Check out some of these great options we found for pizza lovers.
Heading out the door? Read this article on the new Outside+ app available now on iOS devices for members! Download the app.
Most Versatile
KitchenStar 16″ Pizza Cutter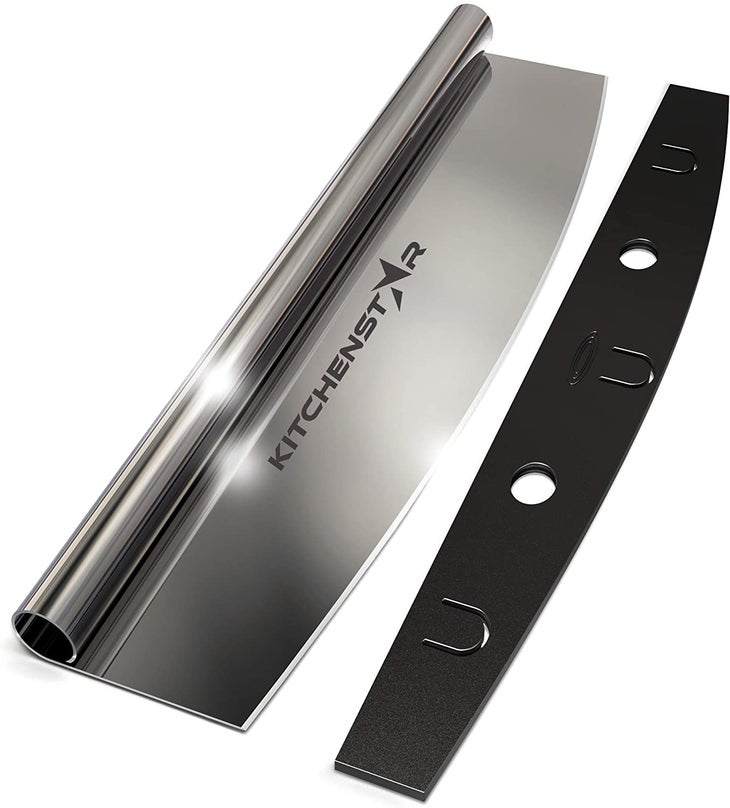 Multipurpose Rocking Blade. This is not your mother's rolling pizza cutter. Made of food-grade 18/0 stainless steel with a rounded ergonomic handle, this pizza blade is designed to slice through your favorite pizza or dessert, with a smooth rocking motion without disrupting the pie's integrity or shifting toppings.
What We Liked
This 16″ pizza cutter is a multi-functioning workhorse for the kitchen. Designed to easily slice through thin crust and deep dish pizza alike, it's curved blade design makes it perfect for slicing pies, cakes, brownies, cheeses and herbs. It even works great to finely mince and dice finicky vegetables like onions, garlic and peppers to be used as pizza toppings or ingredients in a variety of meals. The extra sharp blade comes with a protective plastic cover for storage when not in use. Order Online.
Most User-Friendly
Kitchy Pizza Cutter Wheel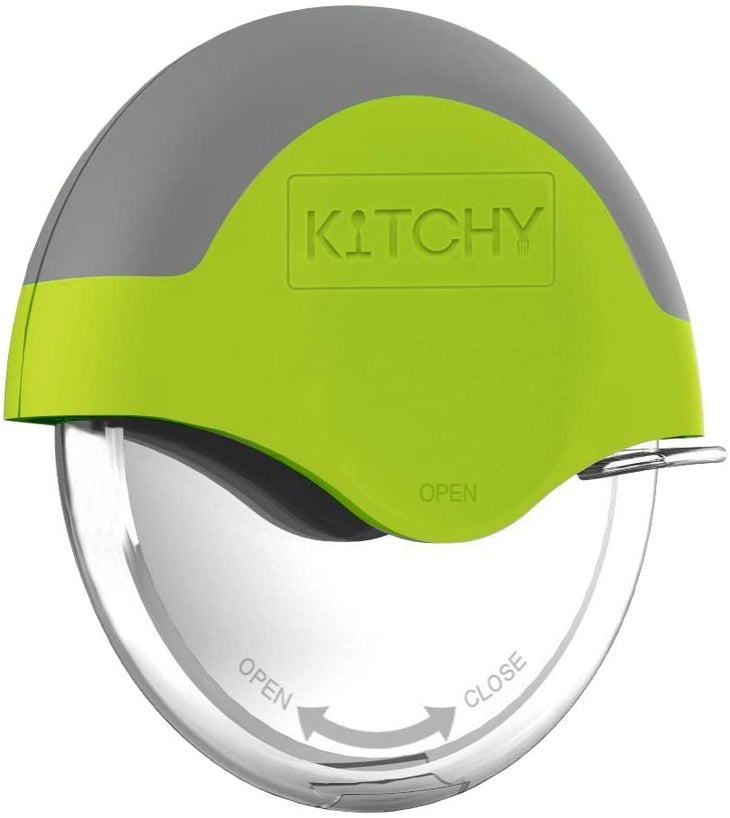 Safe & Convenient Pizza Cutting. Designed with safety and efficiency in mind, this Kitchy pizza cutter wheel fits in the palm of your hand and stores away neatly in your utensil drawer. An ergonomic handle and extra sharp blade are designed to cleanly cut through even the thickest of pizza crusts.
What We Liked
The Kitchy pizza cutter wheel features a retractable blade guard to protect cuts and scratches when reaching into the utensil drawer, allowing the blade to only be used when needed. The handle is made with durable, dishwasher safe plastic with a no-slip silicone grip. The entire device easily snaps apart, allowing you to hand wash or dishwash both sides of the housing, blade, and blade guard to ensure no build-up of sauce, cheese, or bacteria occurs. Purchase Yours Today.
Best Commercial Grade Cutter
Winco Pizza Cutter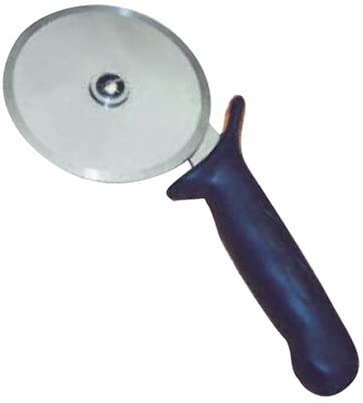 Straightforward and Long Lasting. With a straightforward and simple design you've probably seen used in your favorite take-out pizza spot, this 4-inch blade with handle pizza cutter is as simple as they come without sacrificing functionality and longevity.
What We Liked
Equally great for high-traffic pizza shops and large volume restaurants serving pizza as it is for at-home use, this simple pizza blade roller with handle gets the job done. Whether you're cutting pizza, pie, brownies, or lasagna, the durable and efficient stainless steel blade will get the job done every time. Buy Online.
Most Professional
Checkered Chef Pizza Cutter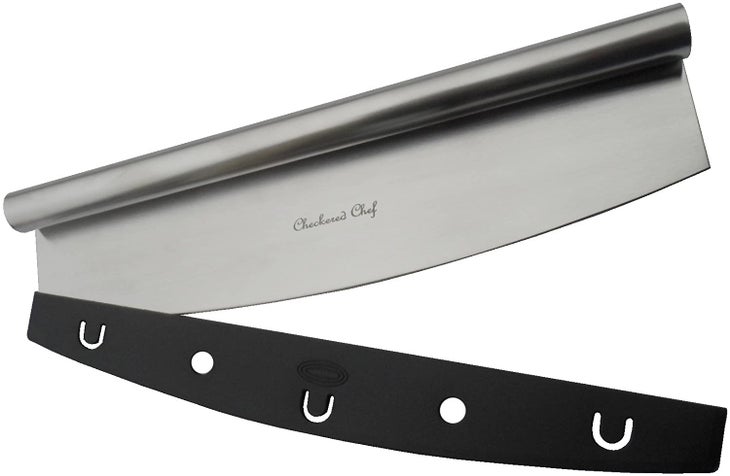 Slice, Dice & Serve. With an ergonomic design and super sharp blade, this professional curved blade from Checkered Chef allows you to cut eight perfectly even slices of pizza in four motions.
What We Liked
Whether you're cutting pizza, slicing brownies, cutting cinnamon rolls, or dicing herbs, this multi-functioning blade allows you to tackle the task with ease. Constructed from a single piece of stainless steel sharpened at the blade and rolled at the top to create an ergonomic handle, this pizza cutter is dishwasher safe, rust-free and more hygienic than traditional rolling pizza blades. Order Now.