Best Popcorn for Popping at Home
Popcorn has been enjoyed for ages, both as an at-home snack and a movie theatre staple. Microwavable packets have made it more convenient for home popcorn making and industrial machines allow theaters and large venues to produce popcorn in large quantities, but nothing beats making popcorn the old-fashioned way. Popping popcorn typically provides multiple preparation options for the consumer, as most can be cooked in either the microwave or on the stovetop. If you're feeling adventurous, popping popcorn can also be cooked over a campfire or in a large kettle for a different flavor profile. Regardless of how you make it, traditional popping popcorn gives you more control in the cooking process and allows for more options when it comes to flavor. If you're ready to ditch the microwave packet, check out some of these popping popcorn options to take your favorite snack up a notch.
Heading out the door? Read this article on the new Outside+ app available now on iOS devices for members! Download the app.
Most Traditional
Amish Country Popcorn Baby White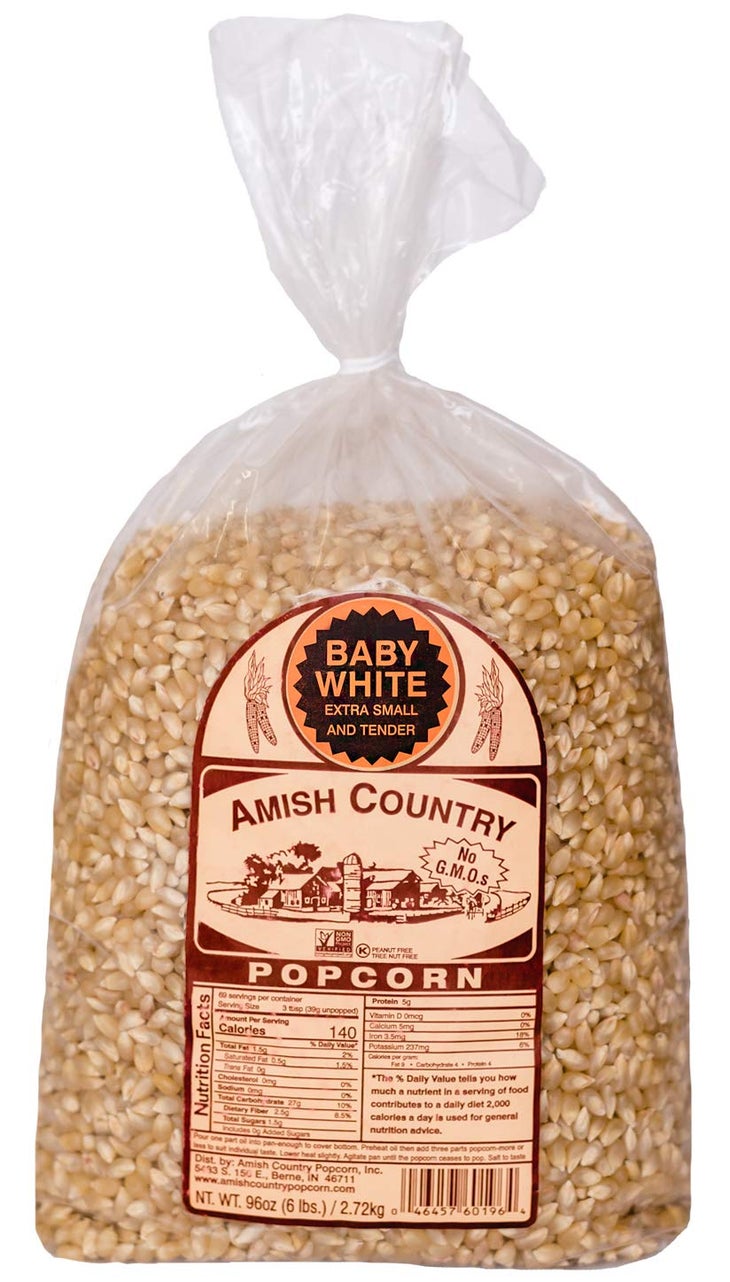 Amish Country Small & Tender Popcorn. This Baby White popcorn from Amish Country Popcorn is grown and produced in the heart of Amish country on Indiana farms. It's 100 percent natural and made without additives, allergens, or preservatives.
What We Liked
When you think of Amish products, you typically think of down-to-earth quality. There's no exception with this Baby White Small & Tender popcorn from Amish Country Popcorn. The product is non-GMO, vegan, gluten free, nut free, and dairy free…just pure, farm-grown corn kernels. This six-pound bag will yield dozens of snacks cooked and seasoned your way, whether in the microwave or stovetop, for a delicious, low-calorie snack. Order Online.
Snappy White Popcorn
Best Old-Fashioned Variety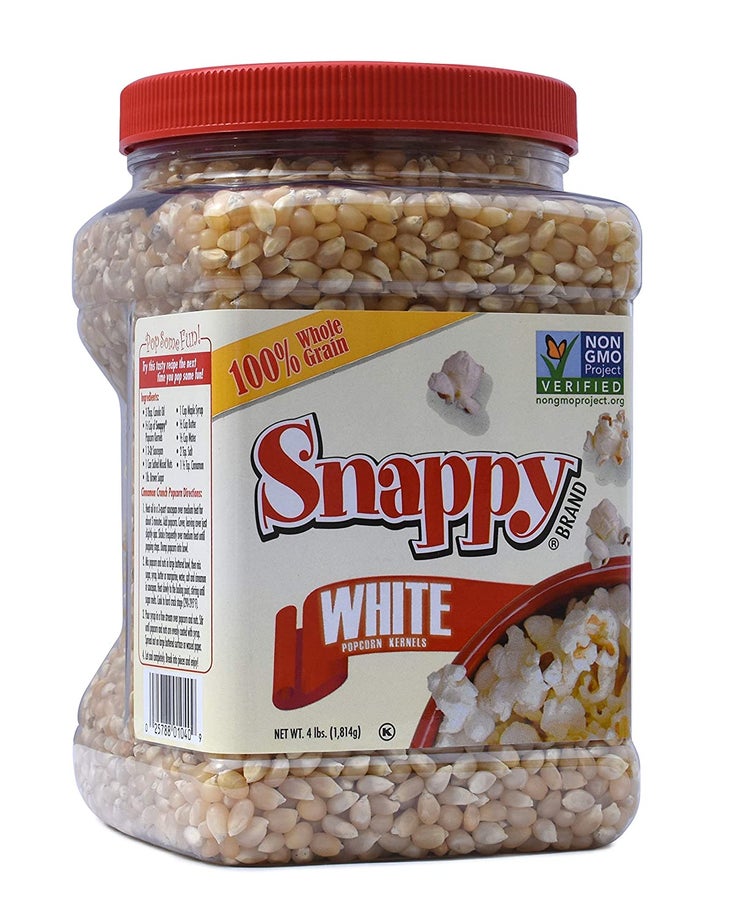 Old-Fashioned Popcorn Lover's Popcorn. These gourmet kernels from Snappy are made of 100 percent whole grain white corn and yield a light and tender puffed popcorn, whether cooked on the stovetop or in the microwave. The brand has been selling popcorn grown on farms in Iowa since the 1940s.
What We Liked
This Snappy White popcorn comes in a reusable four-pound plastic tub, and the company offers refill bags to eliminate unnecessary waste from repurchasing. These premium-grade, whole grain kernels are ready straight from the tub to pop via air popper, stovetop, or popcorn machine, yielding theatre-quality popcorn that's a low-calorie, high-fiber snack. Snappy corn is grown on Iowa farms and is a non-GMO verified brand. Purchase Yours Today.
Best Quality
Bob's Red Mill Resealable Whole White Popcorn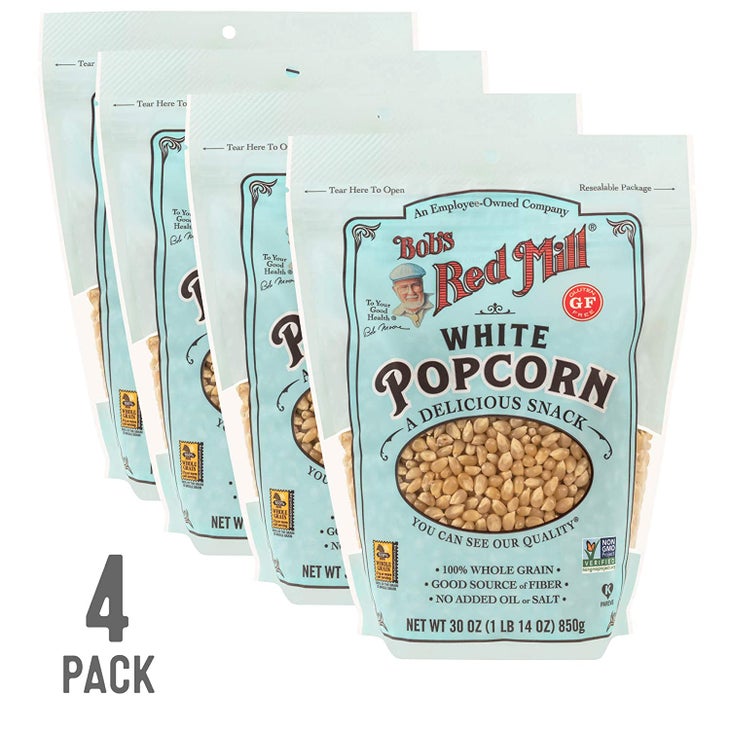 Nutritious & Delicious. From a brand associated with a wide range of high-quality, all-natural grains, starches, and snacks, this whole white popping popcorn from Bob's Red Mill comes in a 30-ounce resealable bag to retain freshness, and it's available in individual bags or packs of four.
What We Liked
Yielding a tender, white popcorn with a slightly sweet flavor, this variety of popping popcorn from Bob's Red Mill is designed to be made the old-fashioned way (stovetop) and eliminate the desire to ever go back to low-quality microwavable varieties that often have excessive added ingredients. This variety can be cooked with or without oil for added health benefits and leaves the customization up to you when it comes to salt, butter, and seasonings. Get It Here.
Most Convenient
Great Northern Popcorn Premium Portion Packs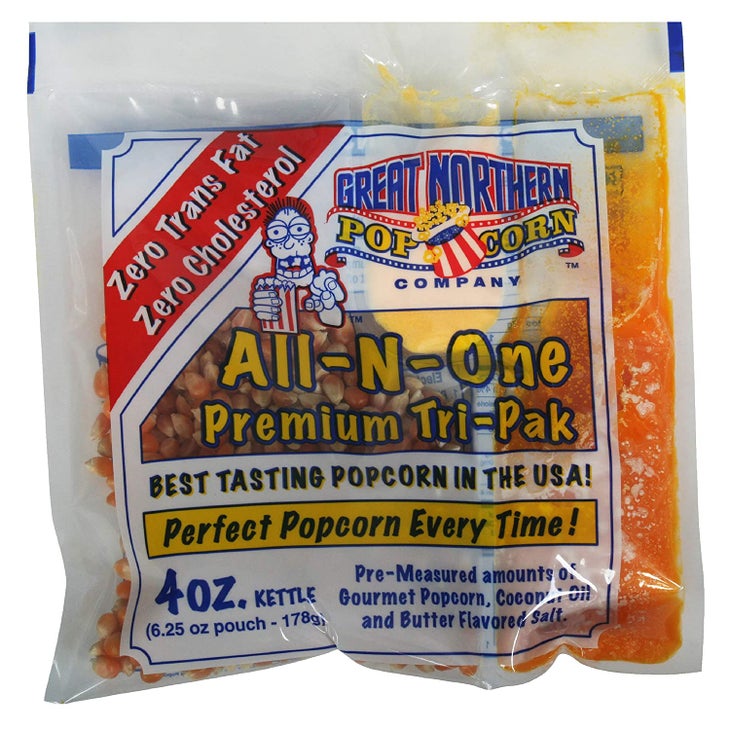 Individually-Portioned Goodness. These "all-in-one" packs from Great Northern Popcorn come in individual portions with pre-measured amounts of popcorn, coconut oil, and butter flavored salt for user-friendly convenience and fuss-free cleanup.
What We Liked
Great Northern Popcorn has been providing quality, crowd-pleasing popcorn to MLB stadiums, movie theatres, and convention centers for years. Since they seem to know what people enjoy in a popcorn product, they've created these individual portions that can be made in the comfort of home with the perfect blend of oil, butter, and salt. Whether cooked in the microwave, on the stovetop, or in a popcorn machine, these individual packs are designed with convenience in mind to create a consistently delicious, theatre-quality popcorn wherever you want to enjoy it. Buy Now.