Best Quiche Pans
Ahh, quiche—everyone's favorite addition to the office breakfast party. How good your quiche is can determine your social standing for days to come, so you don't want to fumble here! In all seriousness, the best quiche is dependent on the best quiche chef, of course, and the best quiche ingredients, but the quiche pan can make a surprising difference in the quality of these delicious breakfast tarts, too. You're sure to wow friends, family, and coworkers with a tasty quiche, and these quiche pans offer different sizes and styles to appeal to every baker's need. Whether it's a grouchy in-law who's never given you a smile or your boss who's considering dishing out a promotion, a quiche from one of these pans is sure to get the job done!
Heading out the door? Read this article on the new Outside+ app available now on iOS devices for members! Download the app.
Best Non-Stick
Fox Run 44513 Removable Bottom Non-Stick Tart and Quiche Pan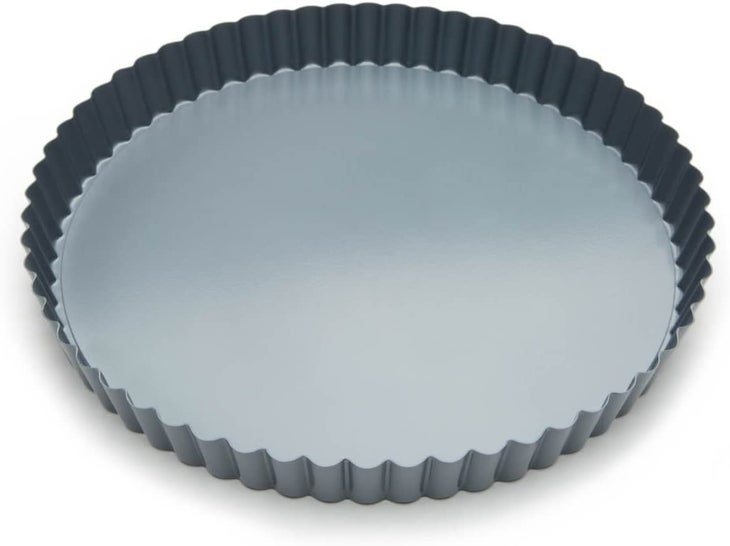 Perfect Non-Stick Pan
This is a great pan for quiche and tarts, due to excellent non-stick coating
What We Liked
This nine-inch pan is a top-notch purchase on all accounts. It's durable, with heavy gauge carbon steel construction, and it offers even heat distribution throughout the surface area of the pan. The removable bottom makes taking out your masterpiece easy. The kicker, however, is that it's a member of the Fox Run Preferred Non-Stick bakeware collection, a surefire trademark of high-quality non-stick material (it's backed by a five-year warranty to boot). Order Online.
Best Quality
CHEFMADE 9.5-Inch Round Tart Pan with Removable Loose Bottom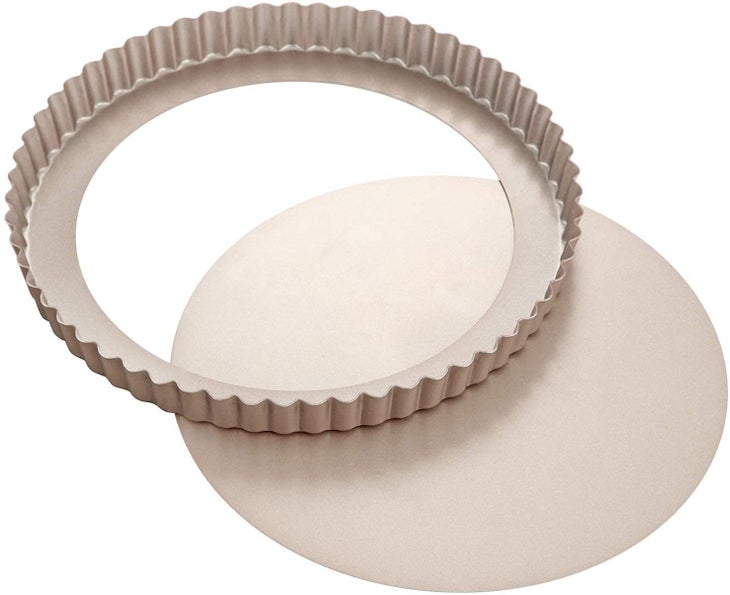 Excellent Quiche Pan
This pan offers solid, even heating and non-stick capabilities.
What We Liked
A pan is a pan, but this pan goes above and beyond with thickened 0.8mm carbon steel to help even heat distribution and provide easy cooking. The removable bottom makes serving your quiche or tart (or pie) as easy as pie, and its high temperature resistance, easy release design, and fast heating round out an excellent quiche pan that has it all. It'll serve you well for anything from quiches to tarts. Purchase Yours Today.
Largest Size
HOMOW Nonstick Heavy Duty Tart Pan With Removable Bottom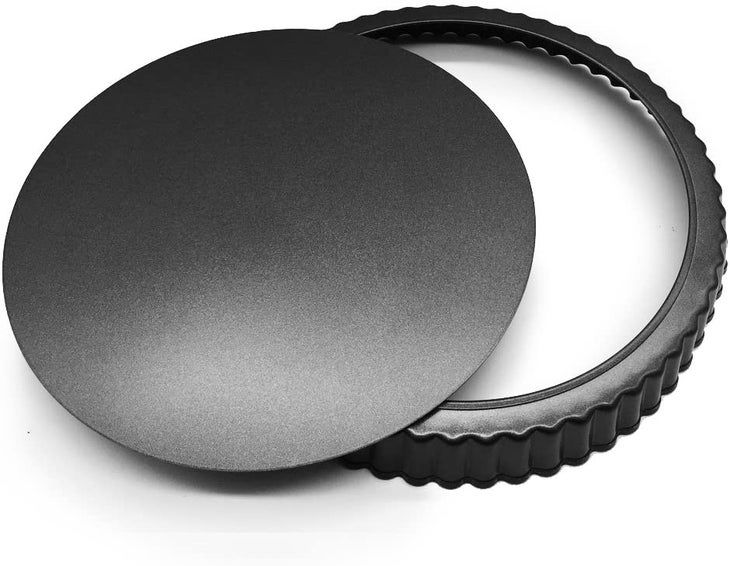 Big and Durable
This big pan is excellent for larger creations.
What We Liked
At 12 inches wide, this pan is much larger than the others on this list, and also more durable, with heavy-duty high carbon steel and a three-by-three platinum spraying technology to provide non-stick capability while still being non-toxic. It's also dishwasher safe, whereas other options on this list recommend cleaning by hand. Get It Here.
Best for Smaller Creations
MJ Kitchen 2 Pack 8.8 Inch Tart Pan with Removable Bottom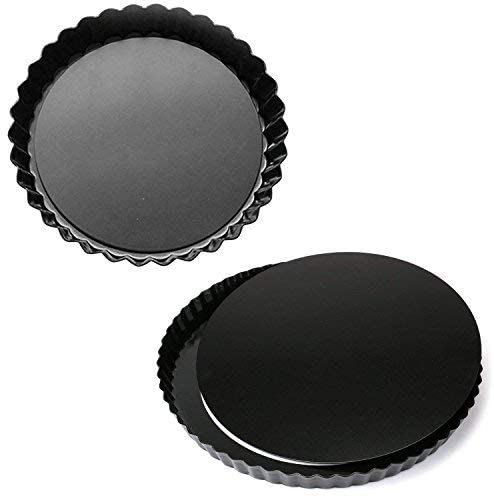 Small and Light Pan
This pan is less durable and wide, perfect for smaller quiches, but also tarts and other desserts.
What We Liked
This MJ pan pack comes with two pans, so you're getting more bang for your buck, although these are smaller pans. They're aluminum, unlike the carbon steel found in the others on this list, so they're less sturdy, but that's not a bad thing if you aren't going to be using your pan a lot. At 8.8 inches wide, these little pans are great for the occasional tart or dessert, as well as smaller quiches. Buy Now.