Best Salad Servers
The ubiquitous salad tongs, a staple in the utensil drawer of many a kitchen. Typically, they look like a large spoon and large fork that have been conjoined together at the center of the handle, making it easy to grip, scoop and serve both leafy greens and chunkier toppings from a serving bowl and onto individual plates. The invention made it a little more convenient than needing to use two separate utensils and both hands for serving. While the design hasn't changed much, other iterations have continued to evolve into more compact claw-like mechanisms and single handed scooping devices that both free up drawer space and make it even quicker and easier to individually portion out servings of salads and other shared foods. Whether you're a traditionalist or love innovative kitchen gadgets, the options are endless when it comes to salad servers. We sorted through a bunch of servers and compiled an overview of some of the best.
Heading out the door? Read this article on the new Outside+ app available now on iOS devices for members! Download the app.
Most Innovative
Snappy – The Single Handed Salad Server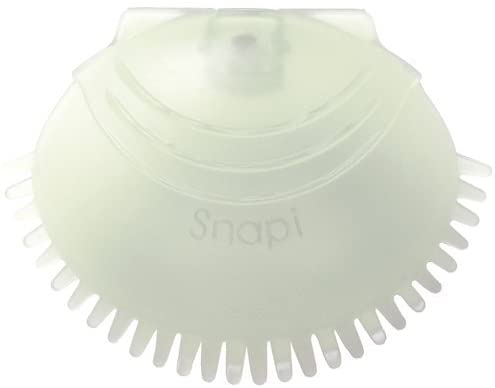 A Full Salad Serving in a Single Snap
This modern take on the classic salad server offers a one-handed way to grab a single portion of salads, fruit, pasta, veggies, and side dishes with a simple snap motion with your fingers.
What We Liked
Snapi is one of those inventions you wish you had thought of first. It's made of food-grade polymers with a bonded rubber grip surface that's ergonomic and easy to manage, even for kids and adults with weaker grips. From its open position, you simply reach into the bowl of whatever you're serving, apply light pressure from the thumb and tips of your fingers, and out comes a single serving with all the fixings. It's convenient, it's fun, its dishwasher safe, and available in a variety of colors. Order Online.
Most Eco-Friendly
Totally Bamboo Salad Hands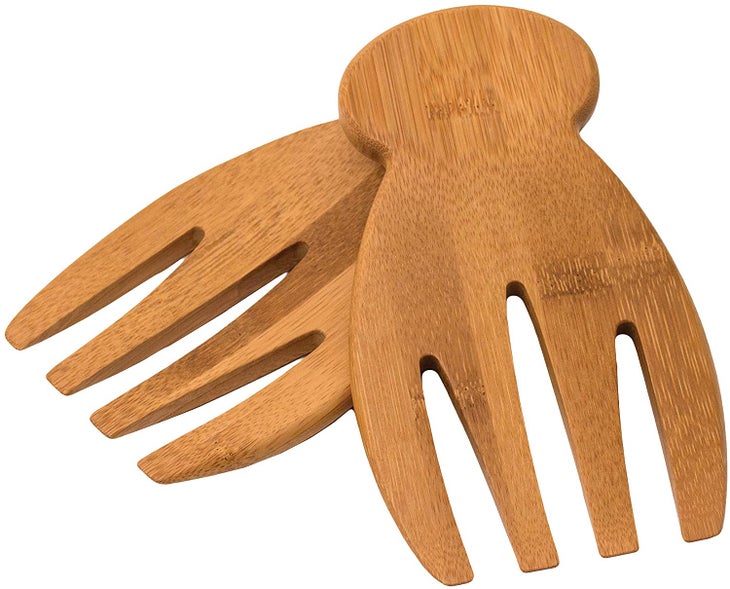 Toss & Serve With Bamboo Hands
Made of 100% eco-friendly bamboo, these salad 'hands' offer a rustic and aesthetically pleasing addition to classic wood, or bamboo salad serving bowls.
What We Liked
These Totally Bamboo Salad Hands are designed to slide down the rims of your serving bowl for gentle tossing of toppings and dressing. When not in use, small pegs on the back of each hand allow them to rest on the side of the bowl without slipping down. They measure approximately 7-inches long by 4-inches wide and retain their natural finish when washed by hand with soap and water. Buy It Here.
Most Functional
Oneida Raffia 11 1/2-Inch Stainless Steel Salad Tongs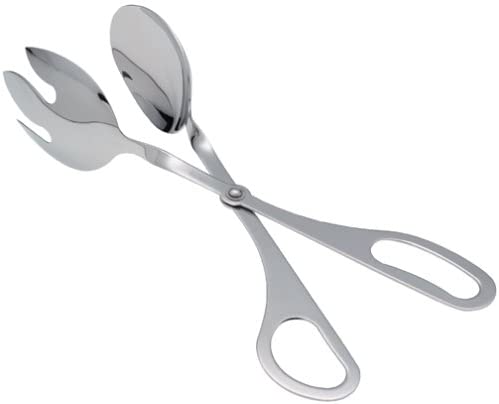 Sturdy, Classic Design
Made of food-grade, 18/8 stainless steel that won't rust or corrode, these classic scissor-style salad tongs are designed to last a lifetime of single-handed salad serving.
What We Liked
If you're looking for a classic pair of one-handed salad tongs, these Oneida Raffia 11.5-inch stainless steel tongs are backed by a lifetime guarantee of function. They feature a scissor-style design with a strong hinge that enables kids and adults–young and old–to serve themselves a perfectly tossed and balanced serving of salad, pasta, veggie sides, and more. The handles feature large, easy to grip openings that can also be used to hang them from a hook or peg from your kitchen cabinets. They're made of strong stainless steel that's corrosion resistant, dishwasher safe and far superior to similar utensils made from brittle plastic. Get It Here.
Most Elegant
Enwinner Buffet Serving Tongs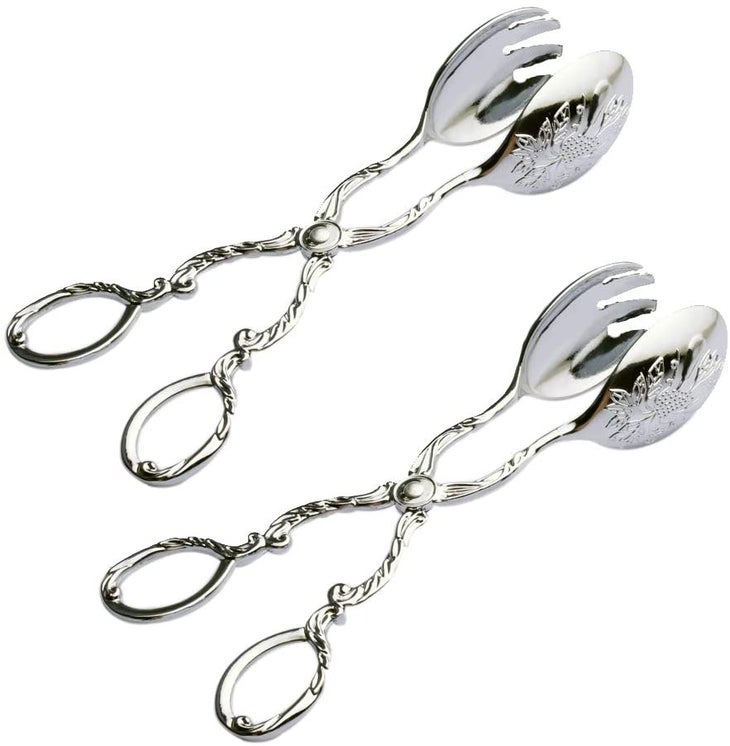 Set of Two
Perfect for formal gatherings and holiday parties, these elegant serving tongs are made of polished stainless steel with an embossed design on the backs of the scoops and textured handles that add a touch of class to any serving dish.
What We Liked
When you're feeling fancy and decide to bring out the 'nice' dishes and utensils for your next gathering, these buffet serving tongs make a nice addition that elevates your display. They're ornate, but not overly so, and functional enough to be used for more casual get-togethers. The mirror-finished stainless steel construction is dishwasher safe and corrosion resistant, but hand washing is recommended to retain their shiny luster. Order Now.