Best Seaweed Snacks
Seaweed snacks have been a part of Asian culture for thousands of years, but their popularity has spread to all corners of the world now. They are good for you, providing all sorts of minerals and vitamins. With the average seaweed-based snack, you get iodine, copper, iron, potassium, magnesium, and calcium. They are high in fiber. You also get Vitamins A, B, and E. Seaweed snacks are like a veritable multivitamin for you each time you enjoy them. Also, you can get them in lots of exciting flavors. Some companies make them so that they're sweet and salty, while others add a spicy kick that will clear your sinuses. They're highly portable, so you can pack them and take them along on long car trips or hikes, or they make great bar snacks if you're tired of the traditional pretzels and peanuts. Keep reading to discover our favorite seaweed snacks on the market.
Heading out the door? Read this article on the new Outside+ app available now on iOS devices for members! Download the app.
Best Flavor
Jayone Seaweed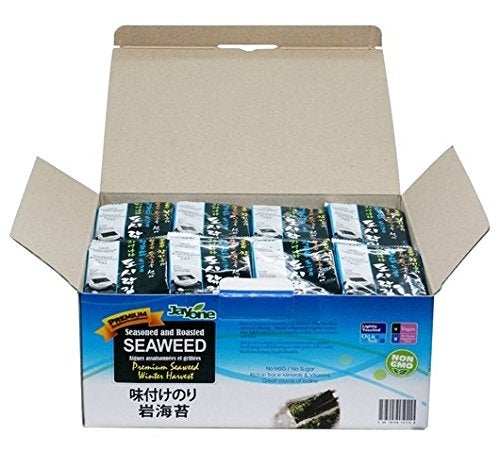 Flavorful Seaweed You'll Love. This is a seaweed snack that has a pleasant, nutty flavor, and it's high in vitamins and minerals, too.
What We Liked
This seaweed snack comes in a pack of 24. Each serving contains 0.17 ounces. This is Jayone's "nutty" flavor, which is a bit reminiscent of beer nuts. These are a huge staple in Korean culture, but they have a devoted following all over the world. They are rich in vitamins and trace minerals, and they are full of iodine, making them a favorite of athletes-in-training. They are naturally free of cholesterol, and they are also free of trans fats, sugars, and preservatives. The seaweed is freshly roasted with sea salt, corn oil, sesame oil, and perilla oil, for a complex, unique taste. Get Yours Today.
Spiciest
Daechun (Choi"s1) Wasabi Seaweed Snack 20 Pack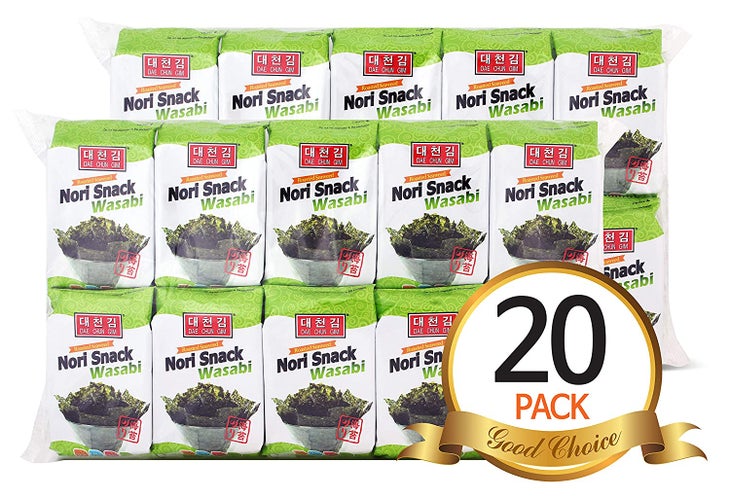 Bring on the Wasabi. If you like spicy foods, these lip-smacking seaweed snacks in individual packages are for you.
What We Liked
Daechun makes some different flavors of seaweed snacks, but the wasabi variety is one of their most popular. And it's certainly one of our favorites. It is harvested on the West Coast of Korea and made from the finest-quality seaweed. These snacks are rich in iodine, fiber, and protein. They are low in calories, and great for snacking at work, home, or school. You get 20 individual packages in each box, and there are approximately 9-10 sheets per pack. The flavor of this particular snack is hard to find anywhere else. They're spicy, but not overpoweringly so. They're nutty, with a taste that is not unlike a pistachio. This just might turn out to be your new favorite snack. Click Here to Order.
Best Organic
Annie Chun's Organic Seaweed Snacks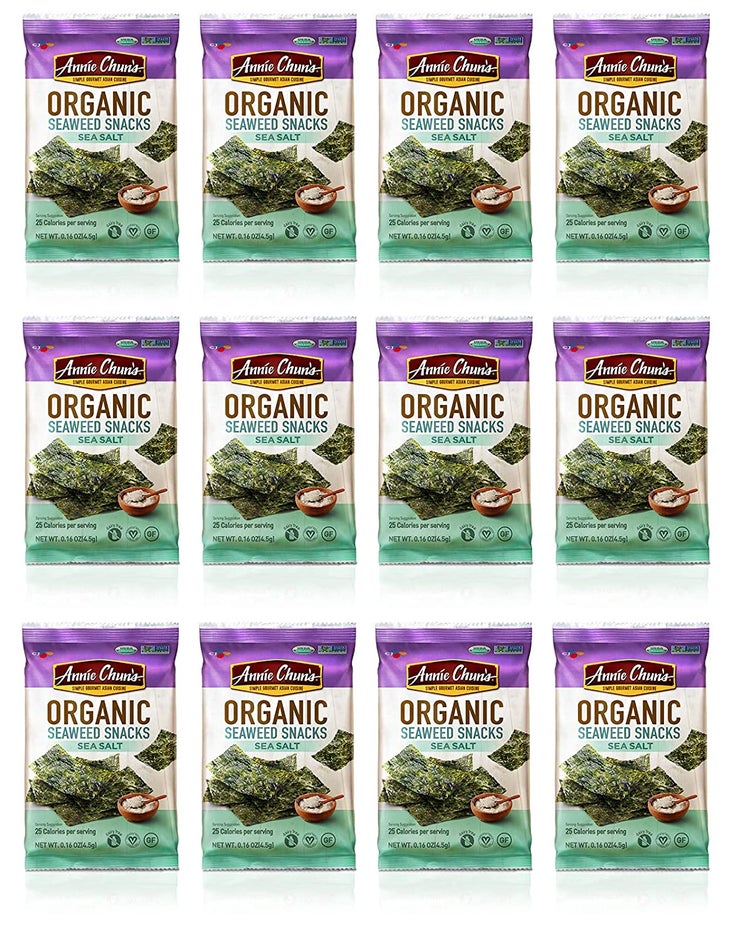 No-Guilt, Organic Seaweed. These seaweed snacks come in individual packages, and each one is healthy and certified-organic. What's not to love?
What We Liked
This is one of the most popular and best-selling seaweed snacks in America. And we know exactly why. They're delicious. Here, you get 12 individual portions of Annie Chun's popular sea salt flavor. They are simple, but oh so tasty. They are certified-organic by the USDA, and they're free of both GMOs and gluten. They have no dairy or trans fats. They are also free of cholesterol and harmful preservatives. Each serving has only 25 calories, so these are truly guilt-free. The real flavor comes from the combination of sunflower oil, sea salt, and the rosemary extract. These are perfect for hikes, to keep in your desk at work, or for you to snack on before or after workouts. Buy Here.
Best Combo Pack
Seaweed Love All Natural Roasted Seaweed Variety Pack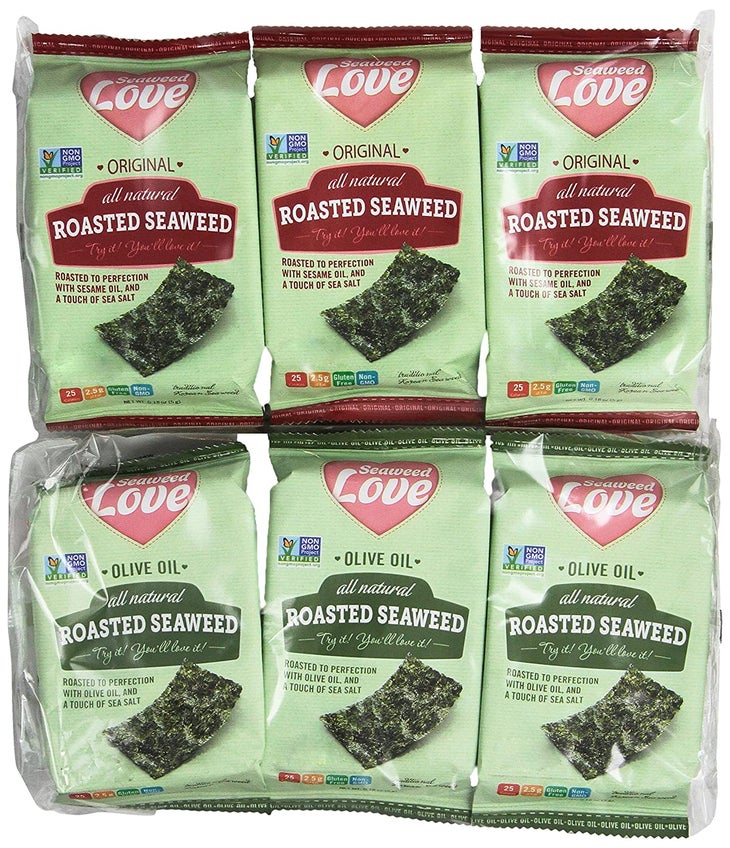 Get a Variety of Flavor. This seaweed snack pack comes in the original flavor, as well as one with olive oil that might prove to be your new favorite. Grab this box to change up your seaweed snacks day to day.
What We Liked
From Seaweed Love, this is a box of 24 individual portions, half of them original, the other half olive oil flavored. Each one has 25 calories, and only 2.5 grams of fat. They are free of GMOs and trans fats. They are a great source of minerals and vitamins, including iron, magnesium, and potassium. They contain no corn or soy. These are convenient grab-and-go snack packs. If you're taking the kids to the park, or you're going jogging, you can easily stick these in your pocket or purse. The seaweed sheets are pleasantly crisp and flaky. You can also crumble them over rice, soup, or noodles. Order Online.