Best Tart Pans
There's something whimsical about tarts. And delicious! Seeing them being served at a high tea or as a midday snack puts one in the mindset of Alice about to match wits with the Mad Hatter and the March Hare. If you're in search of some tart pans to add to your kitchen, you'll want them to be made of material that will stand up to both heat and cold. They should be nonporous so moisture won't ruin them. Further, they should be durable so they won't break if you drop one or bump into the countertop. It's helpful if they're dishwasher safe, though that's not always a requirement. And it never hurts if they're attractive and make you smile every time you pull them from the cabinet for a fun day of baking. Here are our top tart pans on the market. Find something you love below!
Heading out the door? Read this article on the new Outside+ app available now on iOS devices for members! Download the app.
Best for Beginners
CHEFMADE 9.5-Inch Round Tart Pan with Removable Loose Bottom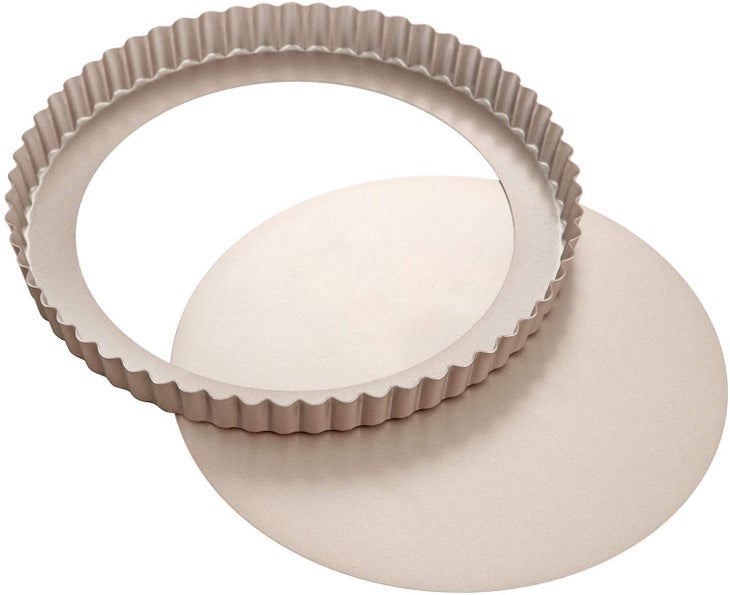 Easy Removable Bottom and More. This round tart pan can be broken down for easier storage, and its silicone-coating was approved by the FDA. Great as a first tart pan in your new home!
What We Liked
New to baking tarts? Here's a product for you that's easy to use and budget-friendly. This 9.5-inch tart pan from CHEFMADE boasts a removable bottom and is easily disassembled and reassembled for cleaning and storage purposes. It is covered in food-grade silicone coating, and it is free of both PTFE and PFOA. The strengthened edge will prevent warping, and it's also designed to promote even heating. This pan is suitable for quiches, tarts, flans, and other dessert items. The material is designed to cut back on baking time, so this would be the choice if you want to ease up on your energy consumption as well. Click Here to Purchase.
Runner Up
Fox Run 44513 Removable Bottom Non-Stick Tart and Quiche Pan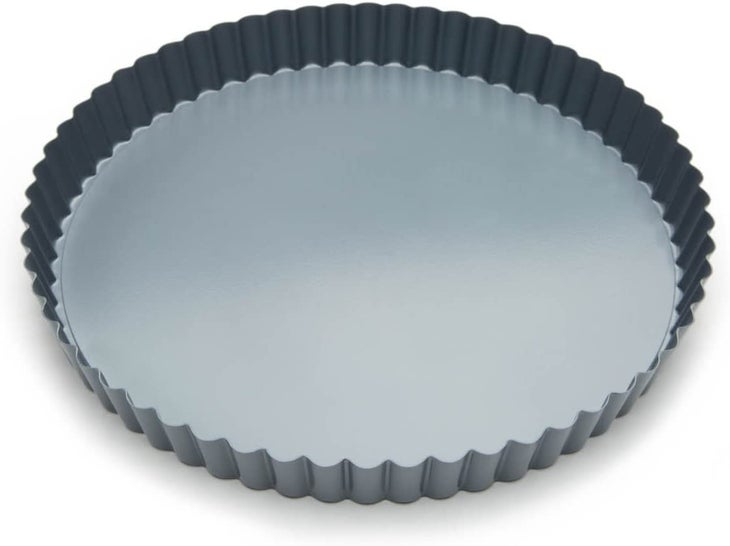 Bakes Desserts Evenly. This pan, perfect for tarts and other delicacies, is designed to bake whatever is inside it evenly and expediently.
What We Liked
This pan features a removable, drop-out bottom for quick assembly and disassembly. That means it cools quickly, and you can remove your favorite desserts and other concoctions from it with a minimum resting time. It is made of heavy-gauge steel, and the designers made sure that it would cook anything in it swiftly and evenly. Your tart crust or quiche will be perfectly browned but never burnt. The premium non-stick coating is a handy feature, as anything made in it will slide out with ease. It is dishwasher safe, but you'll get a longer usable life out of it by handwashing with mild soap and hot water. Order Here.
Editor's Choice
Wilton Excelle Elite Non-Stick Tart Pan and Quiche Pan with Removable Bottom
Premium Materials. This is a non-stick tart pan that is made of heavy-duty steel for a long life as part of your bakeware collection. You'll be able to see and feel the quality immediately.
What We Liked
Sometimes, all you need is one look at a product to see that it is made of superior materials. That is the case with the Elite Non-Stick Tart and Quiche Pan from Wilton Excelle. Measuring 11 inches across, you can pile ingredients high in this pan, as it is made of heavy-duty steel. It will never warp, even in the hottest and coldest conditions. It also comes with durable, non-stick coating inside that enables you to easily slide out your desserts and egg dishes when they're done. It's dishwasher safe, and the cleanup is easy, since it comes with a removable bottom. Buy Online.
Best Set
Webake 4 Inch Mini Tart Pan Set of 6
Set of Mini-Tart Pans. This adorable set of six mini-tart pans is great for party prep, and they're suitable for trying out dozens of different recipes.
What We Liked
Small, colorful tarts are conversation starters, and they're the ideal accompaniment for a formal tea, a book club gathering, or entertaining new neighbors or visiting relatives. You can certainly make tarts with these, but there's lots of other ways to get creative with them. They would be suitable for mini-quiches, mini-cheesecakes, or something savory rather than sweet. Each one has a diameter of 4 inches, and they are made of heavy carbon-steel. They have removable bottoms, which makes cleanup a breeze. They're also dishwasher safe, and the fluted edges are perfect for those tiny details that are sure to impress your guests. Get Yours Here.