Four of the Best Tea Makers
Some people love the feel of a warm mug of tea on a chilly winter's morning. Others prefer ice-cold brew on a hot summer's day. Many of us want it every day, while some folks are occasional sippers. With such a range of tea drinkers, it's no wonder there are so many choices for tea brewing. How we brew our favorite drink can influence how much we enjoy it. Finding the right tea maker can be a challenging task because even simple solutions come in a variety of shapes, sizes, features, and costs. We found the best ones for you to carry during travel, while at home, or in the office.
Photo: Getty Images/iStockphoto
Heading out the door? Read this article on the new Outside+ app available now on iOS devices for members! Download the app.
Most Practical
Hiware Glass Teapot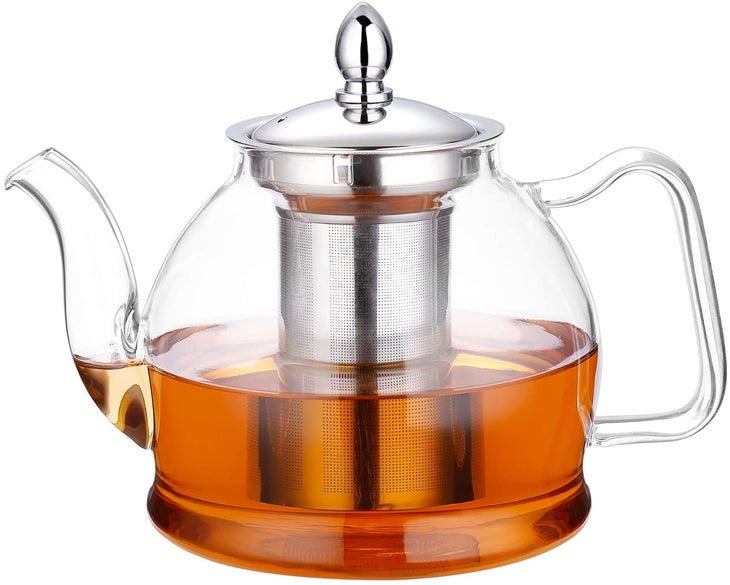 Tough and Attractive. Don't be fooled by the fine design of this elegant Borosilicate glass. It's designed thick and tough. Place it in the dishwasher, the microwave or on any stovetop. You can easily keep your favorite tea cool by placing the whole kettle in your fridge.
What We Liked
The Hiware teapot is made so you can take the metal parts off. In just a few seconds, you can pop it into the microwave for a quick warm-up. It's tough enough to trust leaving it out to make sun-fresh brewed tea as well. The ergonomic handle offers a sturdy grip, while the non-dripping spout makes drips a thing of the past. For easy cleanup, the high-grade 18/10 stainless steel mesh infuser is removable and is dishwasher safe. This kettle is lightweight at 1.21 pounds and has a one-liter capacity. Get it here.
Best Features
Breville BTM800XL One-Touch Tea Maker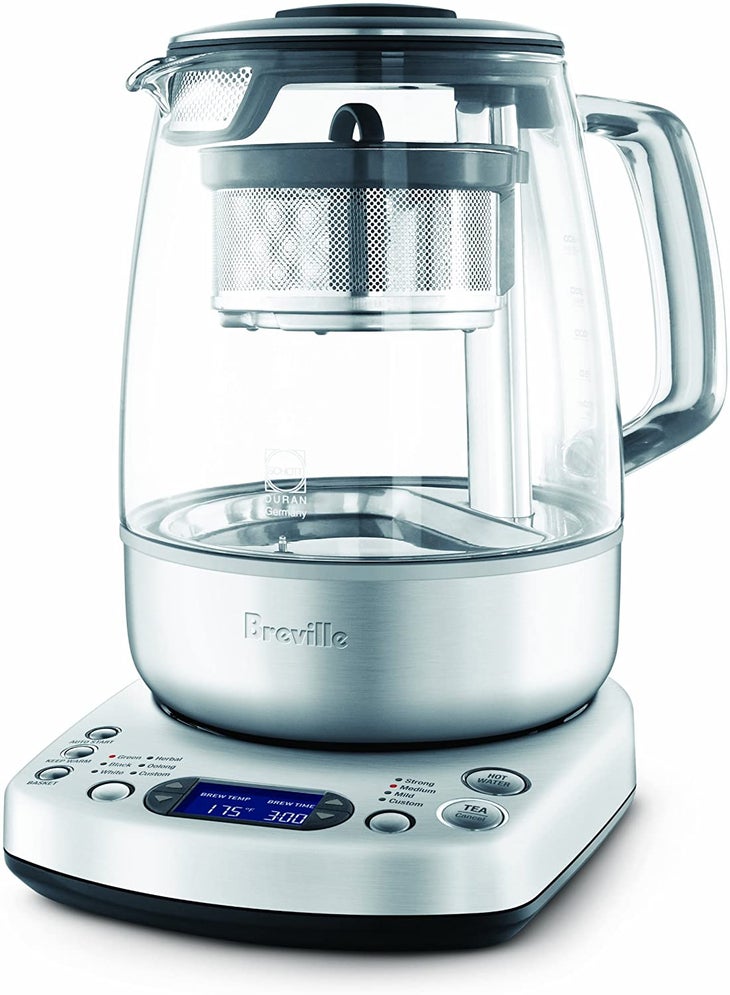 Set for Perfection. With so many varieties of teas you need to be able to change temperatures and steeping times to create the perfect cup of your favorite drink. The Breville One-Touch puts you in complete control. You choose the temperature, the strength, and the time you want your tea brewed. The perfect start to your day, every day.
What We Liked
Sophisticated engineering and elegant design come together to make fantastic tea easy every time. This automatic tea maker includes an auto-start so you can wake up with your favorite drink ready. It features variable temperature control, a temperature sensor, strength button, LCD timer, and a 60-minute keep warm feature. With the five pre-programmed settings you're sure to have the perfect cup of Black, Green, White, Herbal, and Oolong teas. All you have to do is push a button and watch the basket as it moves into the water. Buy it now.
Editor's Choice
COSORI Electric Gooseneck Kettle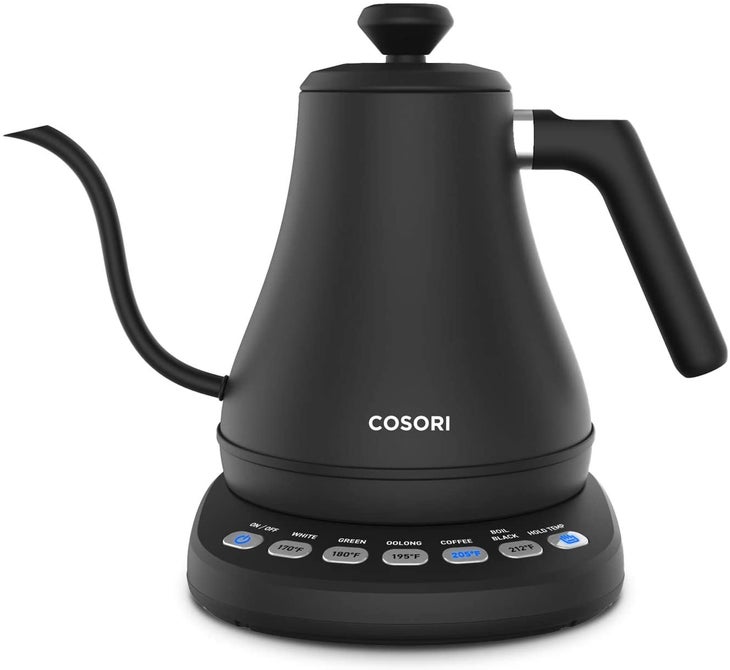 You're In Control. Five temperature presets and a keep warm function along with the Auto Shut Off features put you in control. You decide the temperature, you decide whether you want a beep alarm or not. You choose if you want to keep the water kept at the same temperature for the next 60 minutes or not. Cosori's Gooseneck Kettle brings you freedom and choice.
What We Liked
You won't burn your coffee or tea leaves with the keep warm function. Set it and forget it for up to an hour. Want to know when the water is at the right temp? Just listen for the tone. The counterbalanced handle and pour spout are smartly designed to give a slow, comfortable pour. But one of the best parts about this kettle is that it's made with food-grade stainless steel, no chemical or Teflon here. There's safety beyond the metal, the British STRIX thermostat technology provides temperature control while the Auto Shut Off and boil-dry safety features protect you and your kettle. Three and a half minutes is all it takes to reward yourself. The Gooseneck runs off of 1200 watts and has a capacity of 0.85 quarts. Buy it here.
Traveler's Choice
Adagio Teas ingenuiTEA Bottom-Dispensing Teapot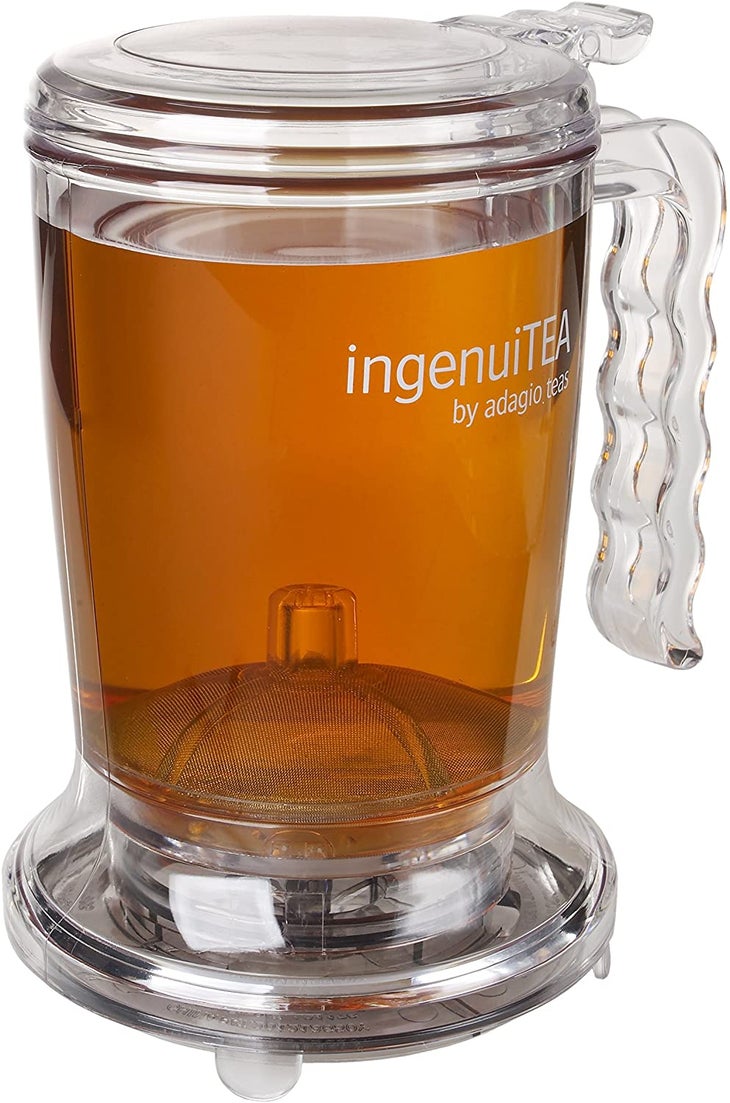 One Cup Simplicity. Now you never have to go without your favorite tea. The compact size and sturdy build of the food-grade Tritan plastic teapot make it safe and simple to carry. All you have to do is place the teapot over a mug or glass.
What We Liked
Allowing the tea leaves to open fully in the teapot body delivers a fuller, richer tea. After brewing, you infuse the tea directly from the pot into your cup by moving a lever. The BPA-free plastic is designed to handle heat without worry and the mesh is ultra-fine stainless steel so your cup stays free from debris. The easy-grip handle makes this 16-ounce teapot easy to manage and it's dishwasher safe. Get it now.