The Best Stainless Steel Mixing Bowls
A good set of mixing bowls is a staple in every kitchen. From salads to soups to cake batter, the list of things you can use mixing bowls for is essentially endless. The proof is in history, the concept of the bowl itself is over 18,000 years old. If humankind has been using them all those years, clearly there's something to it. If you're looking for a top-notch mixing bowl, stainless steel is a great material to look into. It's easy to clean, lightweight, and durable, the perfect trinity. Check out our listing of the best stainless steel mixing bowls on the market below to help you decide which sets are right for you.
Photo: Getty Images/iStockphoto
Heading out the door? Read this article on the new Outside+ app available now on iOS devices for members! Download the app.
Best for Storage
PriorityChef Stainless Steel Mixing Bowls With Lids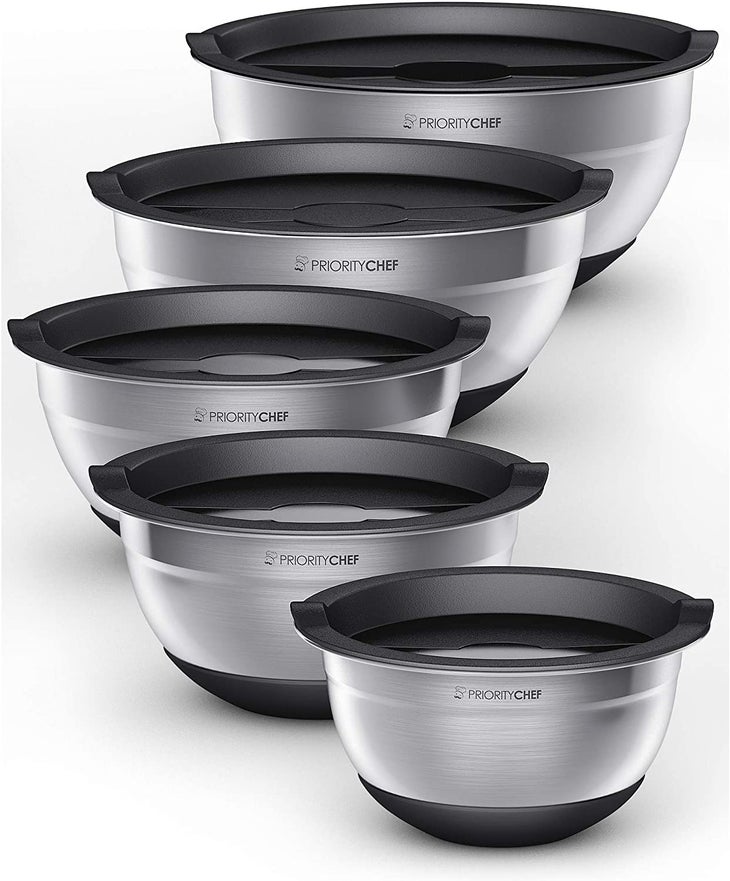 Seal in Freshness
These bowls are great for storing your food, with airtight seals on their lids.
What We Liked
This set of five bowls doesn't go as large as some on the list, with sizes from 1.2 to 4.7 quarts, but it makes up for that with precise interior markings, making cooking a cinch. The main draw here are the excellent BPA-free lids with easy-grip handles for sealing in freshness for long term storage. A non-slip silicone base makes sure these bowls aren't going to slide out of your hands or spill while mixing, and the sturdy steel build is durable and built-to-last. Get them here.
Most Colorful
Mixing Bowls with Airtight Lids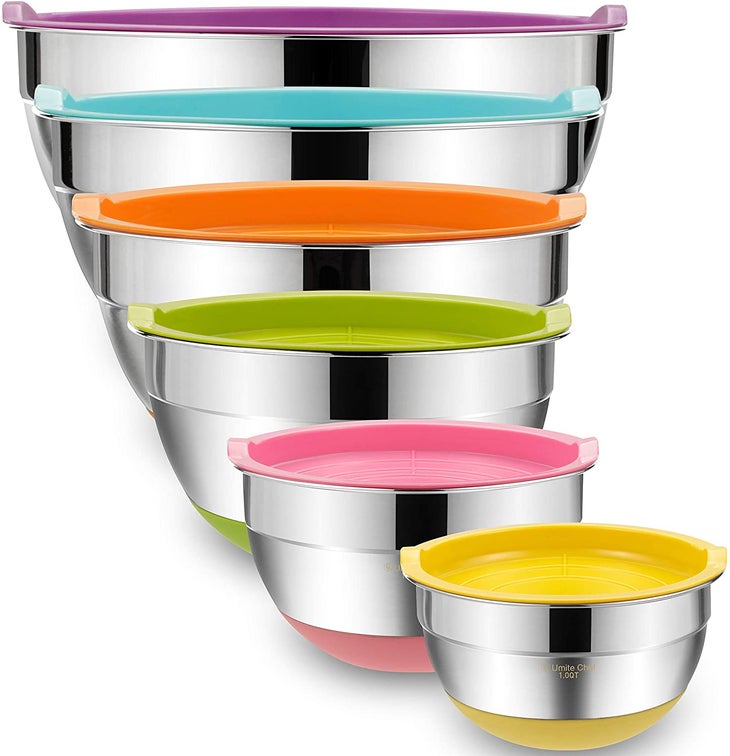 Bright and Vibrant
If you like keeping spirits high in your kitchen, these cute and colorful bowls will do the trick.
What We Liked
This set of six stainless steel mixing bowls offers the usual accessories, non-slip bottoms, stainless steel bases, and airtight, thick lids to ensure freshness when storing. They also have a wide grip for easy handling, but the main point of differentiation here are the colorful lids, which are great for jazzing up your cooking space but also for telling apart different dishes when storing them. Each lid is a different color, from yellow to purple to blue, and the bowls come in sizes ranging from 1 quart to 7 quarts. Buy them now.
Sturdiest Built
Stainless Steel Mixing Bowls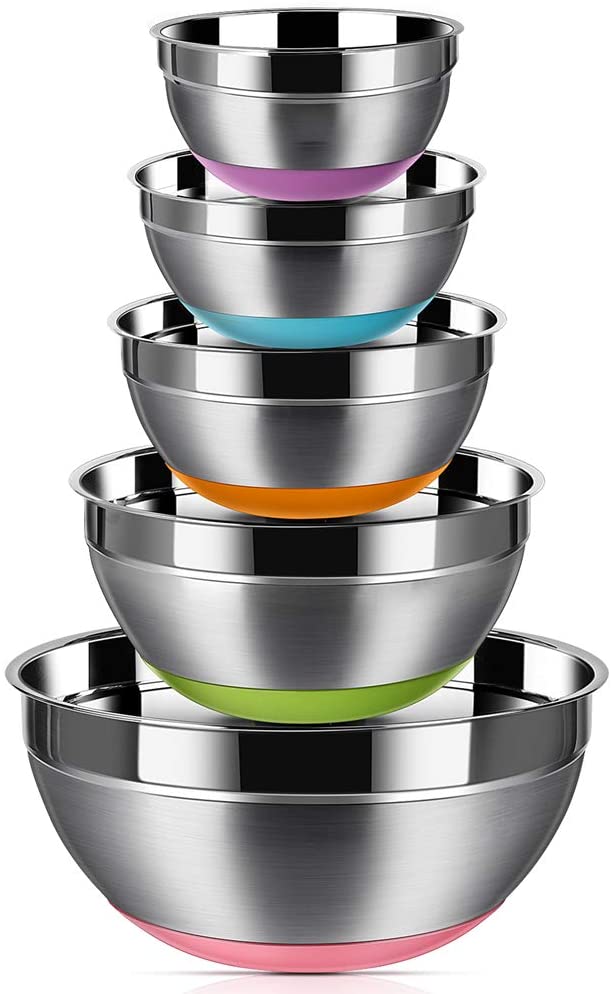 Durable and Tough
These bowls will resist rust and dents like no other, offering the best of stainless steel design.
What We Liked
From sizes of 1.5 quarts to 7 quarts, this set of five bowls offers a fair bit of variety, and colored bottoms, like the former set with the colored tops, can help identify these mixing bowls when using them for storage. They also serve to make cooking a bit more lively. The bottoms are also non-slip, made of silica gel, and these bowls are dishwasher safe and mixer safe, since they grip the counter so well. With a rust and dent resistant construction, you can be certain these bowls will hold up in the long haul. Buy them here.
Sleekest Design
Premium Stainless Steel Mixing Bowls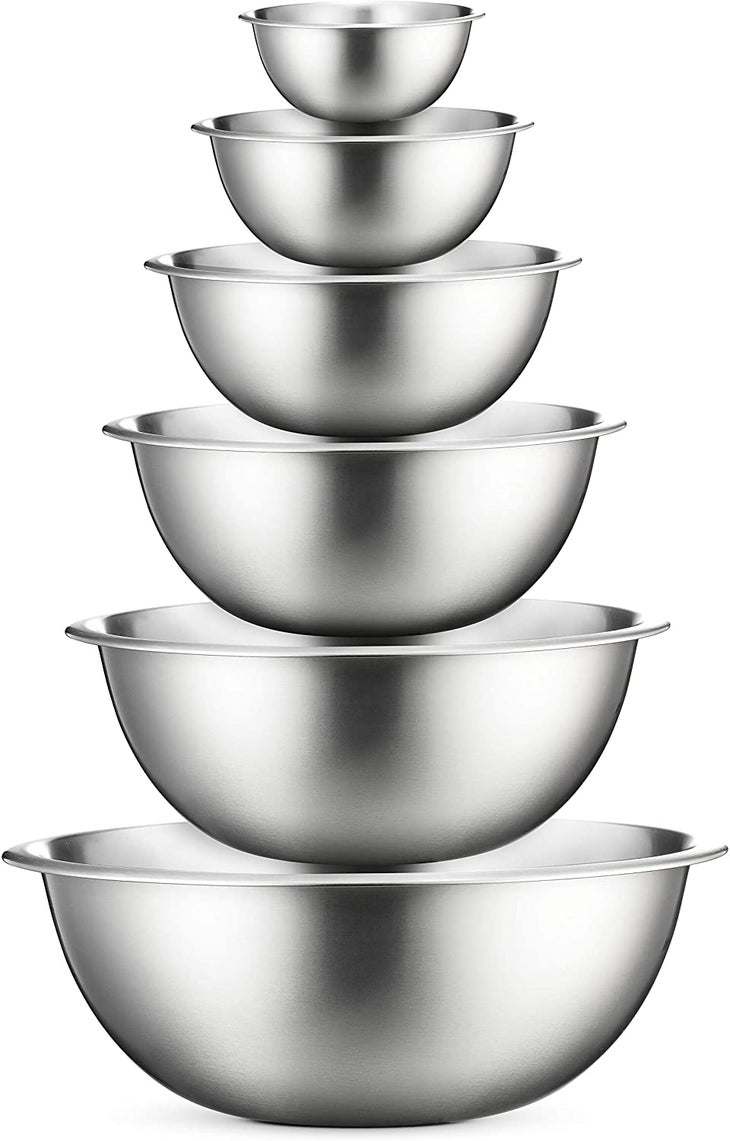 A Futuristic Bowl Set
A 6-set of quality bowls that look straight off a spaceship kitchen in Star Wars.
What We Liked
You might be laughing at us here, because these are just bowls, but these are still some of the slickest, most well-made bowls we've seen, with a reflective mirror finish. Their fingerprint proof, lightweight build makes us wonder if the product description is talking about a nesting bowl or Iron Man's suit. Sizes from 3/4 quart to 8 quarts ensure that no matter what you're making, you have a bowl on hand that's ready to step up to the task, and secure and extremely snug nesting capabilities means these six bowls really only take up as much space as a single bowl. Get them now.