Top Mixing Bowl Sets
Whether you're picking up cooking as a new hobby and looking to try out some recipes, or just attempting to extend your arsenal of kitchen supplies, having a good mixing bowl set is a necessity. What makes mixing bowl sets great is the versatility of their use — mixing waffle batter, tossing salads, marinating meats, beating eggs, or making cookies are just some of the ways these sets can be utilized. Most sets are made from either stainless steel or plastic and come in a variety of sizes designed to fit your everyday needs. Check out the mixing bowl set list we compiled to read more about our top picks.
Photo: Getty Images/iStockphoto
Heading out the door? Read this article on the new Outside+ app available now on iOS devices for members! Download the app.
Most Long Lasting
Priority Chef Premium Mixing Bowls With Lids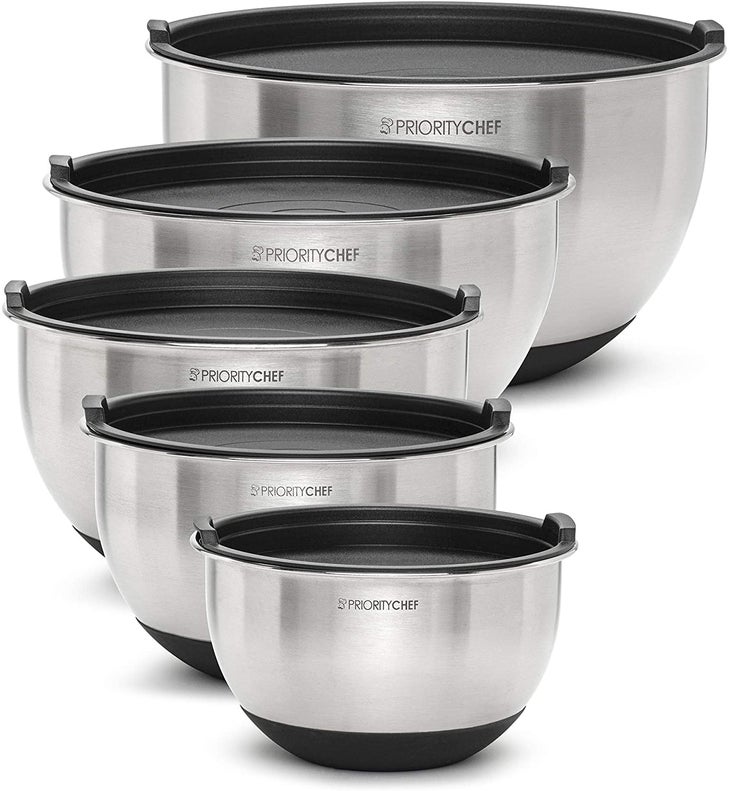 Durable and Sturdy
All of the bowls in this set are constructed with stainless steel, making it the perfect option for those looking to make a purchase that withstands countless uses over time.
What We Liked
The Priority Chef mixing bowls here are made with stainless steel that is thicker than the industry standard, so you won't have to worry about replacing this set anytime soon. The bottom of each of the five bowls contains a non-toxic, silicone covering, which will keep them from slipping as you're moving around the kitchen. One of the coolest things about this set is that all of the bowls were made with measurements etched into the interior, so they double as measuring cups. This element helps take some of the guesswork out of your preparation. The bowl sizes are: 1.5, 2, 3, 4, and 5 quarts. Get them here.
Most Variety
Vremi 13 Piece Mixing Bowl Set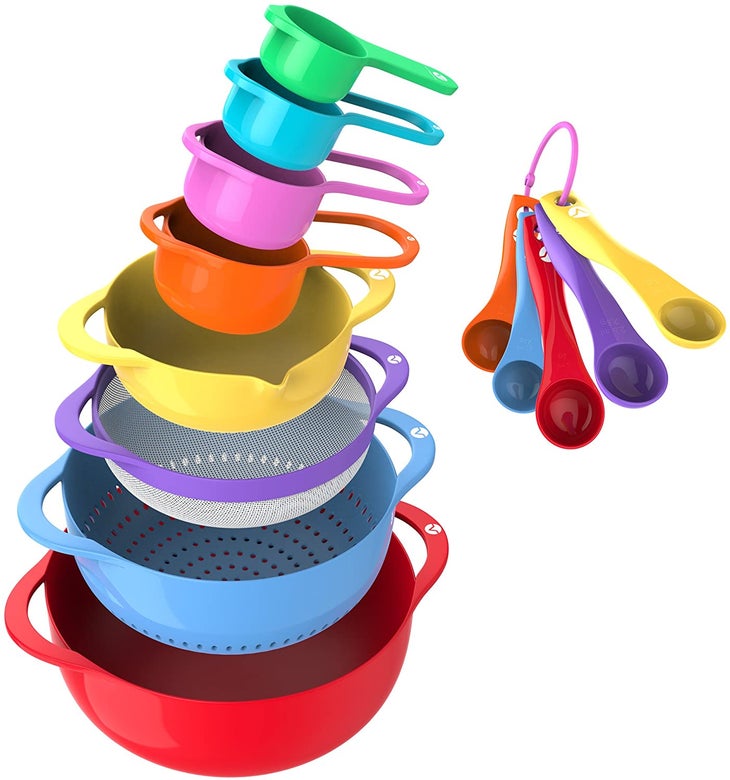 Fun and Effective
This rainbow-colored set is great for beginners and will cover all of your basic mixing needs.
What We Liked
The Vremi 13 Piece Mixing Bowl Set is a smart choice for those who are just starting out in the kitchen or moving into their first apartment or house. It comes with: two mixing bowls, one colander, one strainer, four stackable measuring cups, and five measuring spoons. This brightly-colored set is completely stackable, giving it hassle-free storage potential. All of the pieces in this set are made from BPA-free plastic and are dishwasher safe. Buy them now.
Easiest to Handle
OXO Good Grips 3-piece Mixing Set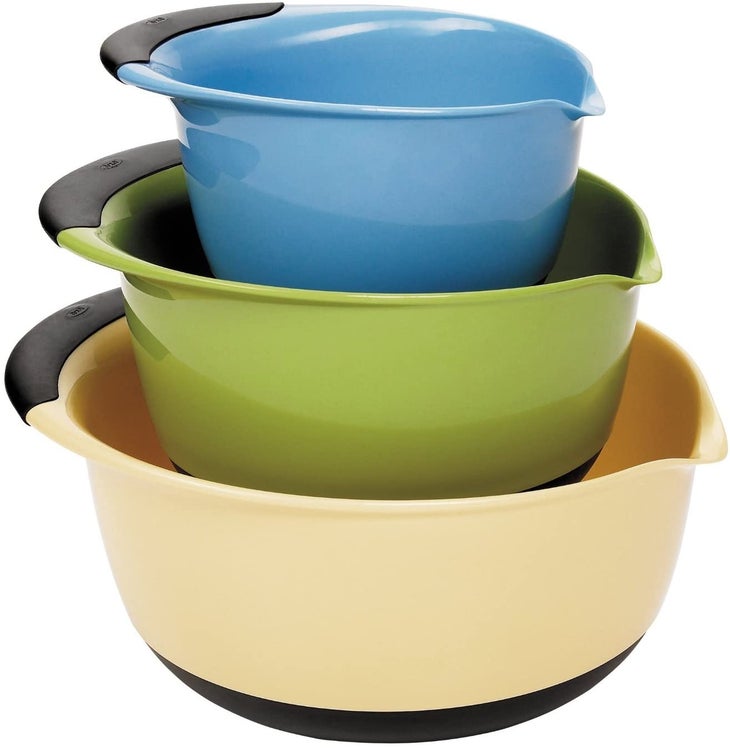 Secure and Slip-Resistant
A superb set for chefs who can be clumsy at times.
What We Liked
This OXO mixing bowl set has horizontal pieces of rubber on each bowl's handle, which allows you to maintain a firm grip on them, whether your hands are wet or dry. Each bowl also has a no-slip bottom, further adding to the set's stability. The sizes of the bowls in this set are 1.5, 3, and 5 quarts. Each bowl is also designed to have tall walls that help prevent splatter, whether manually mixing or using an electric mixer. This set is BPA-free, dishwasher safe, and compact due to the bowls being able to nest within one another. Buy them here.
Most Convenient for Pouring
Cuisinart Set of 3 BPA-Free Mixing Bowls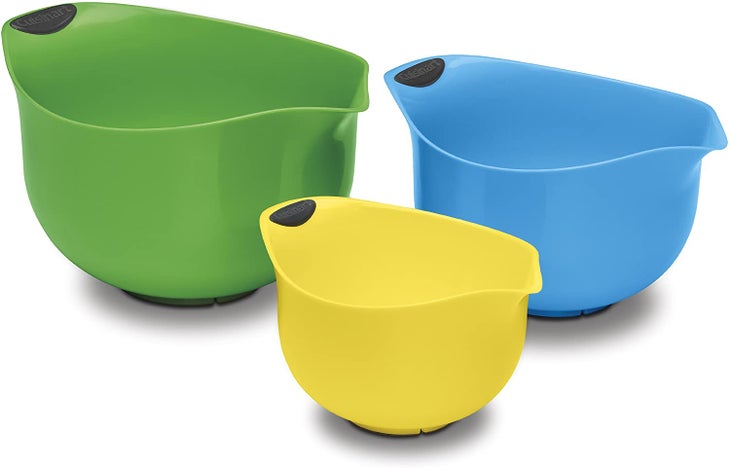 Easy-to-Use
This set works well when pouring from your bowl, thanks to integrated pouring spouts,.
What We Liked
This Cuisinart set of BPA-free mixing bowls features more prominent pour spouts than the other sets on our list, so it's an ideal choice for bakers or those that will be mixing batters. What's more, this set comes in three bright colors, blue, green, and yellow, in sizes of 1.5 quarts, 3 quarts, and 5 quarts. A non-slip bottom ensures stability, and the handles grip easily. This is a great bowl for kids to use, given the fun colors and durable plastic build. Get them now.