Top Nut Mixes for Healthy Snacking
Stop punishing yourself by only snacking on celery and carrots. Indulge in a healthy, delicious, and filling snack food for a change. Start eating nut mixes. For their small, snackable size, nuts pack a wallop of nutrition. Grab a handful and load up on heart-healthy fat, fiber, protein, vitamins, and minerals. For those days when you don't have time for all three meals, we've rounded up the best nut mixes for home, the office, or snacking on-the-go. Whether you're a honey-roasted devotee, dried fruit aficionado, or a fan of the essential nut blend, we've got an option that's sure to satisfy your next mid-afternoon craving. Keep reading to discover our favorite mixes on the market right now!
Heading out the door? Read this article on the new Outside+ app available now on iOS devices for members! Download the app.
Best for Happy Hour
Planters Deluxe Mixed Nuts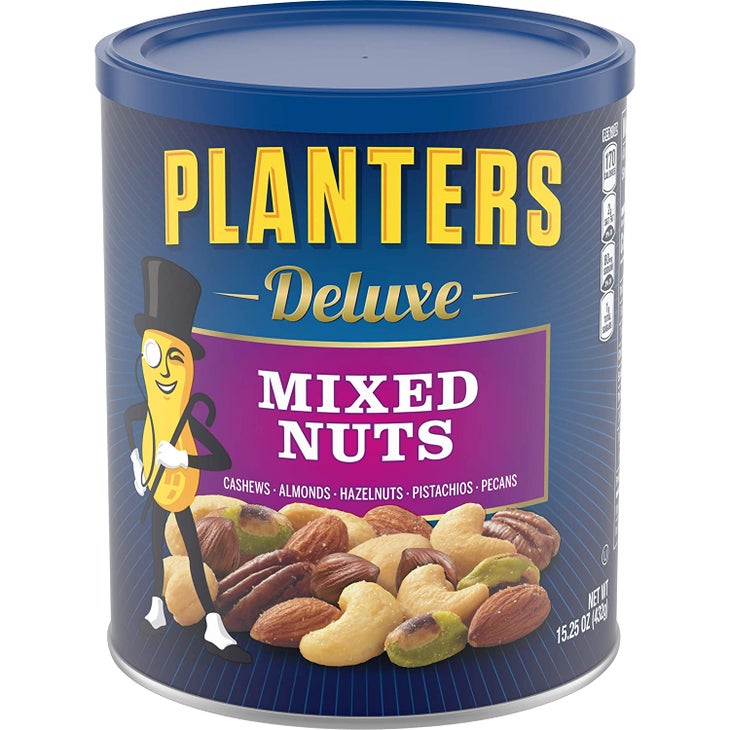 Eat by the Handful
A perfect blend of roasted and lightly salted cashews, almonds, hazelnuts, pecans, and pistachios in a 15.25 ounce can.
What We Liked
The classic nut brand, with the classy mascot, is a perennial favorite for small get-togethers and happy hours at home. We love putting out a few dishes of mixed nuts as part of a cheeseboard to tide hungry family members over until dinnertime. Order Online.
Best Office Snack
NUTrtion Heart Healthy Snack Nut Mix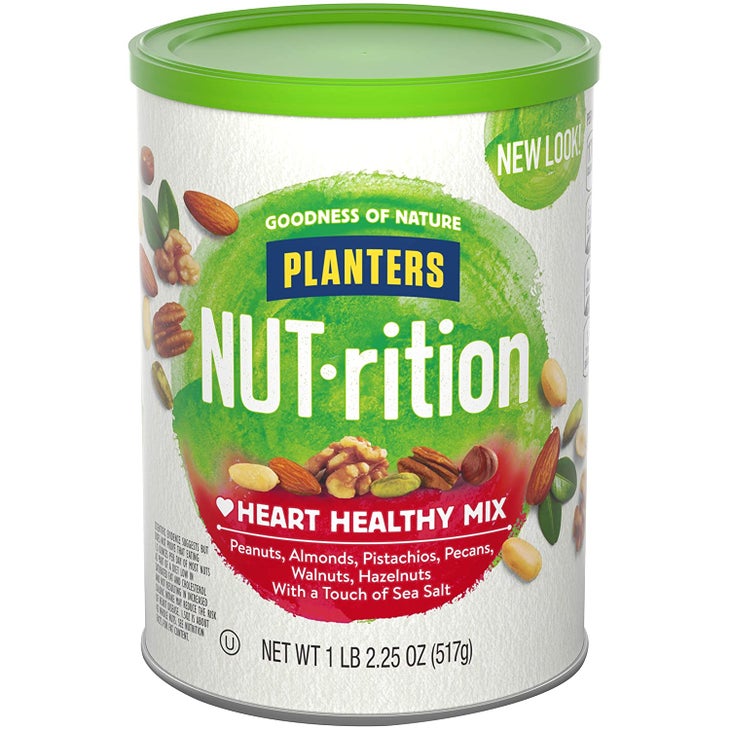 Good for You Snacking
Without trans fats, this healthy mix of nuts includes lightly roasted peanuts, almonds, pistachios, pecans, walnuts, and hazelnuts with a sprinkle of sea salt.
What We Liked
Navigating afternoons in the office without turning to stale donuts for a pick-me-up doesn't have to be a challenge. Just keep a can of this healthy nut mix at your desk for a guilt-free and filling snack. Plenty of textures and flavors you'll love! Purchase Yours Today.
Best Party Pack
Happy Belly Deluxe Mixed Nuts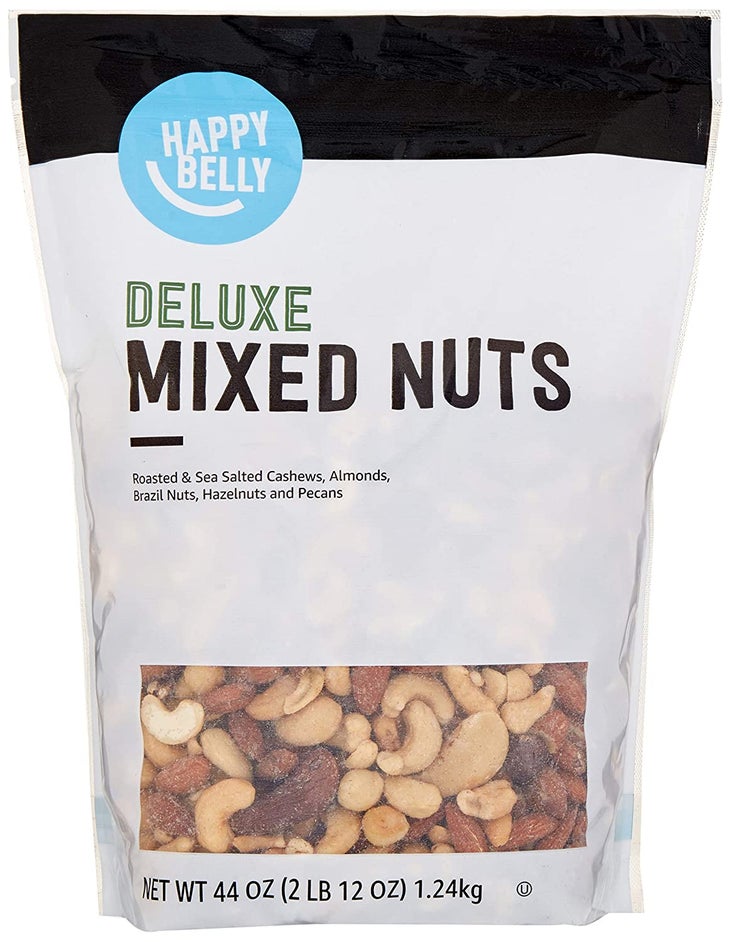 Roasted and Salted
A bulk 2-pound bag of roasted and salted cashews, almonds, Brazil nuts, hazelnuts, and pecans.
What We Liked
Mixed nuts are a party-must. They're easy to eat while carrying on a conversation and go perfectly with both adult and non-alcoholic beverages. This bulk bag of mixed nuts will be your new party-planning essential. As a bonus, you can always snack on the leftovers. Get It Here.
Best for Active Lifestyles
Nature's Garden Omega-3 Deluxe Nut Mix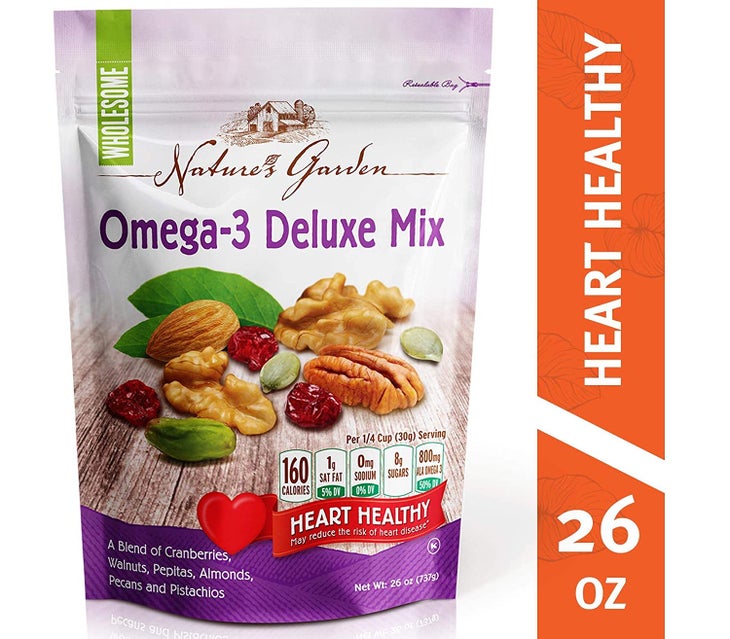 A Mindful, Healthy Snack
A 26-ounce blend of raw almonds, walnuts, pepitas, pecans, pistachios, and dried cranberries.
What We Liked
Whether you spend your weekends hiking the backcountry, cycling, or running 5Ks, throw a bag of these healthy raw nuts into your gym duffle. They're instant energy, without added salt, perfect for a pick-me-up on the trail or at the halfway point in your run or ride. Buy Now.