Cassava Flour Matzo Balls
Matzo balls are the base to matzo ball soup, the Jewish penicillin. And the best matzo balls require the best matzo. Enter: highly nutritious, delicious and allergy-friendly cassava root!
Heading out the door? Read this article on the new Outside+ app available now on iOS devices for members! Download the app.
From the authors: This nightshade-, nut-free matzo ball recipe is a hybrid between a "sinker" and a "floater" and is seasoned perfectly with onion, sea salt and garlic. If you are a dill fan, be sure to add in some fresh chopped dill to suit your fancy!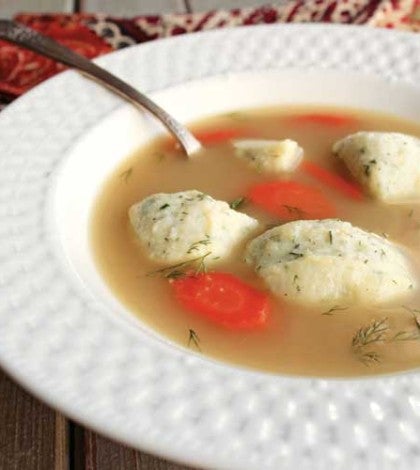 Novel matzo balls call for novel chicken soup. Serve with scrumptious, super clean Chicken Soup with Kale and Mushrooms. (Just replace the sweet potatoes with matzo balls!)
Reprinted from The New Yiddish Kitchen. Copyright © 2016 by Simone Miller and Jennifer Robins. Published by Page Street Publishing Co.
The New Yiddish Kitchen fills a void for modernized, delicious twists on traditional Jewish foods that will please everyone, from those with food sensitivities to traditionalists to those new to Jewish cuisine alike. Authors Simone Miller and Jennifer Robins' recipes are simple and easy to follow, as well as whimsical and entertaining, thanks to witty, sarcastic tips from the authors' grandmothers.
Ingredients
Water or Chicken Broth, for boiling
1/2 cup (60 g) cassava flour
3 eggs
1 tablespoon (15 ml) Schmaltz, avocado oil or olive oil
1/4 teaspoon sea salt (or more to taste)
1/4 teaspoon garlic powder (or more to taste)
1/4 teaspoon onion powder (or more to taste)
1 tablespoon (10 g) minced fresh dill, optional
Preparation
In a large pot, bring the water or broth to a boil over high heat. Mix together the cassava flour, eggs, schmaltz, sea salt, garlic powder, onion powder and dill, if using.
Drop the dough into the water or broth, about 1 tablespoon (15 g) at a time using a small cookie scoop.
Cook over high heat until they float to the surface, about 1 or 2 minutes, and then allow to simmer for another 5 minutes.
Serve in a piping hot chicken soup.
Nutrition Information
Calories

0

Carbohydrate Content

0 g

Cholesterol Content

0 mg

Fat Content

0 g

Fiber Content

0 g

Protein Content

0 g

Saturated Fat Content

0 g

Sodium Content

0 mg

Sugar Content

0 g

Monounsaturated Fat Content

0 g

Polyunsaturated Fat Content

0 g