Holistic Restaurateur Shares Her Philosophy, Plus A Gut-Healthy Recipe
Once upon a time, she was overweight, depressed and addicted to dieting. Today, Chef Amber has had a paradigm shift in her relationship with food. Check out her spiritually-led food philosophy, plus a nourishing gut-friendly snack from her Manhattan Beach cafe menu.
Heading out the door? Read this article on the new Outside+ app available now on iOS devices for members! Download the app.
Ordinarily speaking, high-end chefs specialize in putting together gorgeous platters of delicious, often gourmet eats. But Chef Amber Caudle, founder of The Source Cafe, adds a spiritual twist to her work.
Since only eight years old, Chef Amber had a tumultuous relationship with food, involving binging, purging, chronic restrictive dieting and an addiction to diet pills and exercise. Today, this chef has transformed her relationship with food, using intuition and intention to cook and eat and believing that nourishing food contains powerful healing properties. Notably, her cooking style relies on high quality ingredients, avoiding GMO and soy and staying away from excess gluten and sugar.
"My mission on earth is to make a paradigm shift in the world through food," says the chef. "I want to make a difference in the way people view food and how they eat." Chef Amber's philosophy is very similar to our belief at Clean Eating (CE): What we put into our bodies matters both now and later, in terms of our health.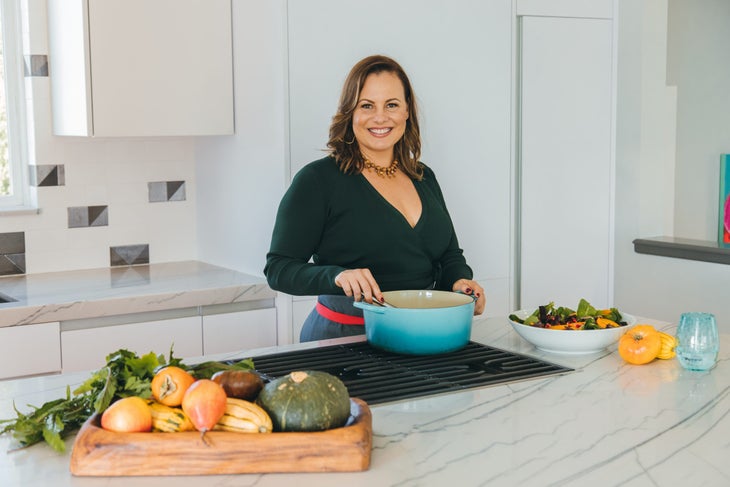 This outlook on food is reflected in Chef Amber's Southern California restaurant menus. The chef was determined to have a place where visitors could eat and relax, knowing that they're also nourishing and healing their bodies at the same time. After running one branch of The Source Cafe in Hermosa Beach for eight years, she took to Manhattan Beach to open a second branch in  July 2020. Here, the menu features a fusion of Mediterranean and Californian cuisine, crafted with clean, unprocessed ingredients. "I create food using no vegetable oils, mostly gluten-free, dairy-free and organic," the chef said of her menu. "We fry in avocado oil, which is very rare in the restaurant industry."
One popular recipe on The Source Cafe menu is Chef Amber's Fiber Detox Balls. These bite-sized beauties are high in fiber and healthy fats to keep you full and help with elimination, two qualities adored by the gastrointestinal system.
Chef Amber's Fiber Detox Balls
Ingredients
Ingredients
1 cup almond flour
2 scoops protein powder (TRY: nuzest Clean Lean Protein)
6 tbsp coconut milk
¼ cup green banana flour
¼ cup coconut butter (also known as coconut manna)
¼ cup water
1 ½ tbsp coconut oil
1 ½ tbsp psyllium husk
1 ½ tsp spirulina
1 ½ tsp cinnamon
1 ½ droppers liquid stevia
½ tsp dulse
6 dates, pitted
Pinch sea salt
Preparation
In a food processor, blend all of the ingredients until smooth. Dough will be thick and sticky.

After blending, put the dough in the fridge for 30 minutes to harden. Once hardened, roll the dough into firm balls.