Shortcut Cooking with Your Waffle Maker
That waffle iron can do lots more than make waffles, starting with this 5-minute egg dinner.
Heading out the door? Read this article on the new Outside+ app available now on iOS devices for members! Download the app.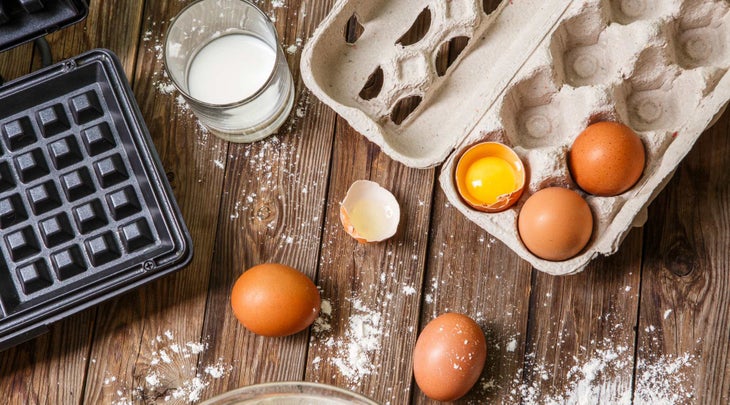 Did you know you've got a little-used, counter-top appliance that can help you make breakfast, lunch and even dinner in minutes? Yet this magic tool sits lonely on a shelf until a holiday weekend.
We're talking about your waffle iron!
Think about it like this: a waffle iron is just a counter-top grill. Since the iron heats from the top and bottom, it can cook fast without a lot of mess.
A waffle iron can make perfect omelets and savory veggie pancakes. You can even cook bacon strips right in the waffle iron on high with the lid closed. It takes about 4 minutes. Done.
Do that, then make an omelet. An omelet? Okay, uncle, uncle. We confess. When you shut the waffle-iron lid on a beaten-egg mixture, you'll be making a cross between an omelet and a frittata. But the texture is a little flatter and more compact, making it omelet like.
Never again sacrifice a healthy meal because you don't have time. Cookbook authors Bruce Weinstein and Mark Scarbrough make easy work out of dinnertime in this seven-week course which covers time-saving essentials and make-ahead meals (with only 15 minutes of prep per recipe!). Ready to revolutionize the way you cook? Sign up here.
Even with nonstick plates, it requires a quick spray of coconut or olive oil. But then you're good to go. Beat a couple of eggs in a small bowl with a fork until well blended, season it with a little sea salt, some ground black pepper, and/or fresh herbs of your choice. Heat the iron on high. Pour in the beaten egg mixture, close the lid, and in less than 1 minute you'll have a light and fluffy omelet. You can even add veggies and cheese—the whole range of omelet goodies.
In this video, Bruce shows you just how easy it is to make a waffle-iron omelet. This is just one example of the innovative (and fun!) techniques you'll learn in our class.
In our seven weeks together, you'll get great ideas, learn solid techniques, get some exclusive recipes, and develop cooking strategies that you can adapt and adopt into your everyday life to help you cook faster and cleaner.
Become a Shortcut Cooking pro with Bruce and Mark by signing up here.