Cooking With Love: Q & A with Ziggy Marley
Musician Ziggy Marley released his first cookbook featuring nutritious recipes straight from his family's kitchen this October. CE had a chance to chat with him about everything from his love of food to his philosophy on "die"eting.
Heading out the door? Read this article on the new Outside+ app available now on iOS devices for members! Download the app.
Rest, mon. And step inside the Marley kitchen where Ziggy Marley gathers with his family around the table. A self-taught cook, Marley shares some of his family's favorite recipes in his new book Ziggy Marley and Family Cookbook: Delicious Meals made with Whole, Organic Ingredients from the Marley Kitchen, coming out in October 2016. The book features 54 dishes that nourish the body and soul, inspired by both Jamaican and Rastafari culture. Clean Eating had the opportunity to chat with Marley about his cookbook, the importance of food and family and some tips for staying healthy while on the go.
Why was it important for you to write a cookbook at this time?
Why not write a cookbook? I cook. I love food. I got these ideas and we have some friends and family that we cook and eat with together…it's a fun thing to do for me.
Do you have any stories about cooking with your family? While growing up, or even now with your wife, children, and sister? Do you have any favorite memories with them?
I think some of my favorite memories are from when I was a kid with my great aunt. When all the kids used to have birthdays, she used to do all the cooking. We used to be in the kitchen doing the taste testing and the batter tasting of the cake that she making and then put everything together. Those were my first experiences of being in the kitchen, just watching her prepare in Jamaica. She would make all the cakes for Christmas and whatever else was happening. I'll never forget those days.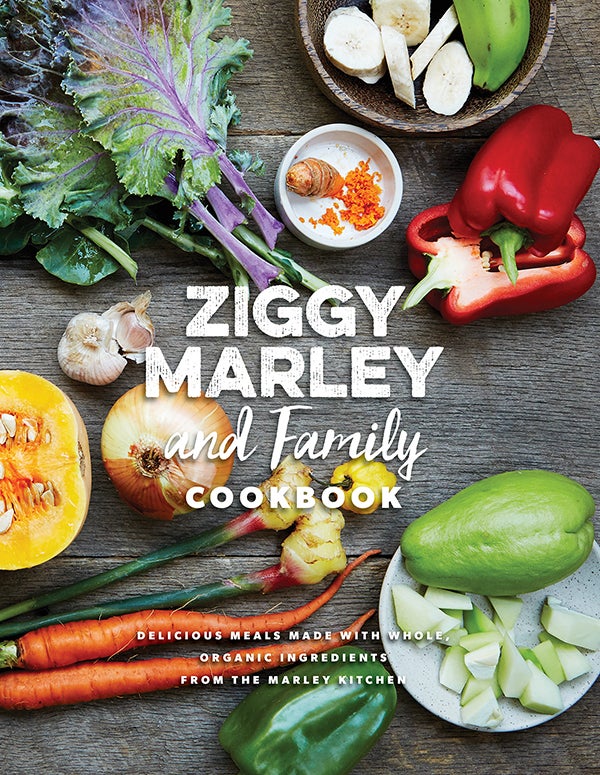 Why was it important for you to include vegan, vegetarian and gluten-free recipes in your cookbook?
I eat vegan and vegetarian because it's just a part of my life. It's part of who we are.
browse more gluten-free recipes here. 
What is your philosophy on food and cooking?
My philosophy is cooking with our culture is just introducing people to – not just my culture – but how I interpret my culture with food. My culture is what it is, but my interpretation of what it is in food is not exact in any sort of stereotypical Jamaican thing. It has my own independent feel and ingredients to it…. So, it's a hybrid of Jamaican, but with how I like it. It was fun for the family and the kids to be involved in all of this. This is life, we enjoy it and this book was an enjoyable thing to make.
Do you struggle to maintain the same diet while you're on the road?
Well you know, I don't even like to call it die-t. In our culture, we always find that somewhat insulting because it has the word "die" in it. So we're not eating to die it, we're eating to live it! (laughs) My livet on the road, it's pretty easy nowadays. Back then, it wasn't. [I didn't have] much access to organic and healthy food. But now, everywhere I go, you can find something. And I can always carry some nuts with me. I can work with that. Back in the day, we stop at truck stops, and I used to get food from the truck stops. And now we never do that.
What is your all time favorite meal?
My favorite meal is the thing I make in the morning most of the time. It's oatmeal, done my way. I use oatmeal, add some almond milk, sometimes it's water. And then when I cook I just add some fresh berries and walnuts, some almond butter, flaxseed, pumpkin seeds and maybe some coconut. Breakfast is my favorite meal of the day actually.
See also breakfast recipes.
What are some classic Jamaican dishes in your cookbook?
Escabeche fish, which is a style of fish from Jamaica. We'll fry the fish and then we'll pickle it and season it with onion and stuff like peppers, pimento seeds. We'll pickle that in vinegar, and then we'll use that. Also fish soup, which typically in Jamaica we grow up drinking a lot of fish–we call it fish tea actually. It's fresh fish with some vegetables from Jamaica, like okra, and usually we'll get it right from the ocean and it goes straight into the pot. Then, jerk chicken – my sister gave us this recipe for Jerk Chicken.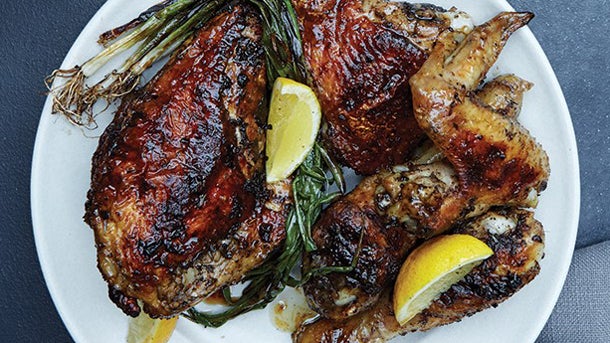 What are your tips for quick and easy preparation during the week?
So just before you called, I worked out this morning and I came back, and I was kinda hungry. But I didn't really feel like making anything, so I [went] to my blender. The juice that I blended today is not just a drink, it's actually like a meal. I add kale, spinach, blueberries, I put some whey protein, some coconut bits, pumpkin seeds and almond butter, so it's like a liquid meal.
See also smoothie recipes.
Anything else you would like to share with our CE readers?
Food is part of the love that we share with each other…so cook with love! Yeah, cook with love.
—
Interview edited and condensed for brevity and clarity.