How to Make Your Own Ceviche
Fresh raw fish is cured in citrus juice and combined with flavorful fruits, veggies and herbs for a most spectacular summer seafood dish.
Heading out the door? Read this article on the new Outside+ app available now on iOS devices for members! Download the app.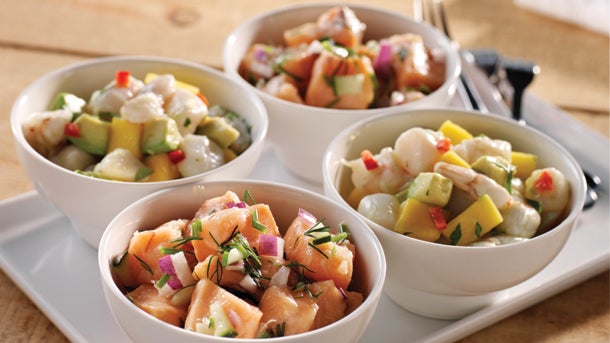 Light yet boldly flavored, ceviche is the perfect way to kick off summer. This fresh fish dish makes for a palate-pleasing appetizer or a vibrant entrée salad.

If you've ever let shrimp or other tender proteins sit in an acidic marinade for too long – resulting in overcooked seafood once they have been grilled or sautéed – you've been halfway to making ceviche. A popular dish in South America, ceviche is fish or seafood "cooked" only by the acid of citrus juice and then mixed with bite-size chopped vegetables and fruits and served chilled. The acid in the citrus juice denatures the proteins and makes them firm and white, producing an effect that is similar to cooking over heat. The result is perfectly tender, clean-tasting fish that has all the punch and crunch of fresh-made salsa but with more substance.
One note of caution, however, is that ceviche does present a higher risk for foodborne illness since heat (which is lacking here) is a great way to kill bacteria. But you can avoid the risk and serve ceviche with confidence by purchasing fresh (not frozen) fish and seafood from a reputable seller, buying sushi-grade options whenever possible, making and serving ceviche the same day you buy the ingredients, and keeping everything chilled from purchase until presentation. Traditional Peruvian ceviche is made with white fish, lime juice, chiles, cilantro and a topping of thinly sliced onions next to sides of sweet potatoes and roasted corn. Ecuadorian ceviche, served with popcorn, often calls for shrimp and onions and is more soup-like, as the citrus juice is not drained away before serving. Here in North America, chefs have added their own flair to ceviche by mixing in everything from berries and avocados to mussels and squid. Try our fresh takes on ceviche or try your very own creation. Because of its lightness and cool temperature, ceviche has become standard fare at beachside restaurants. The ease and speed at which it can be prepared makes ceviche an equally appropriate dish for a casual summer get-together in your own kitchen or patio. We're looking forward to many ceviche nights this summer. Are you?
See also Tomato Jalapeño Ceviche.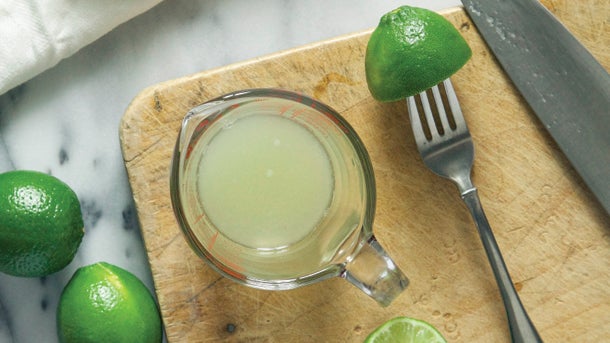 Step 1:
With a citrus squeezer or the tines of a fork, squeeze juice from citrus to yield 3/4 cup.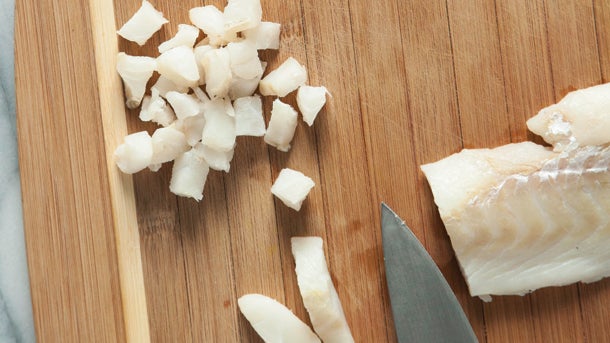 Step 2:
Cut 1 pound fresh boneless, skinless fish or seafood into 1/2-inch cubes. Cutting small, uniform cubes ensures the fish is "cooked" evenly by the citrus acid.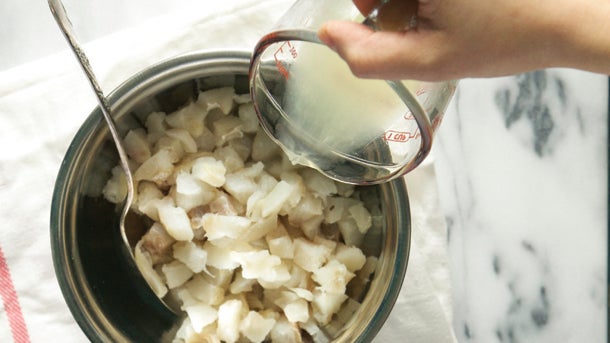 Step 3:
Place fish in a nonreactive bowl, such as stainless steel, glass or ceramic. (NOTE: Reactive bowls made of copper or aluminum will react with the citrus acid, causing a metallic taste.) Add citrus juice and salt and toss gently to coat. Cover and refrigerate for 20 to 30 minutes.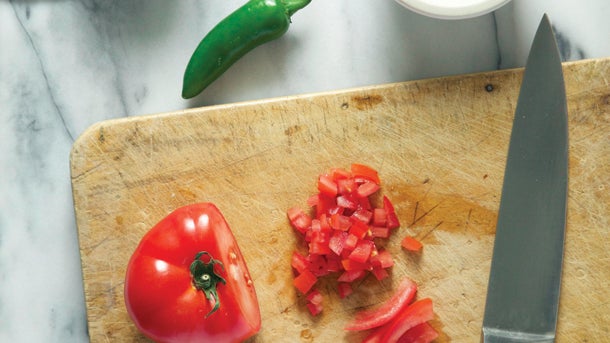 Step 4:
While the fish is being "cooked" by the acidic citrus juice, dice and mince the remaining ingredients into uniform pieces.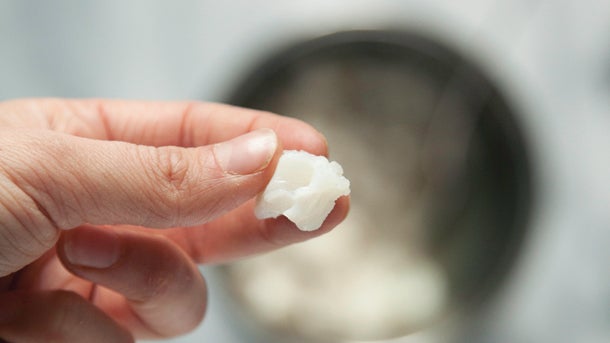 Step 5:
The fish is ready when it turns from translucent to opaque in color. It should feel springy to the touch, like a medium-cooked steak.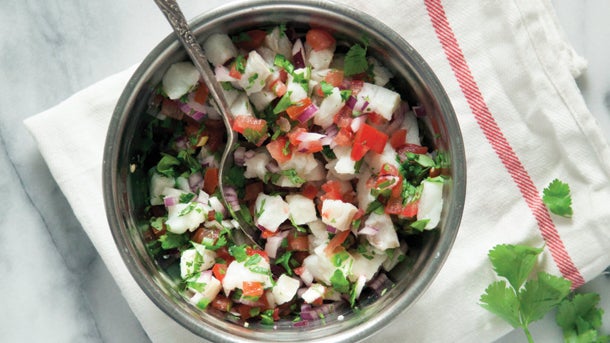 Step 6:
Drain fish and discard citrus juice. Return fish to bowl; add remaining ingredients. Season with additional salt and toss gently to combine. Divide among chilled serving bowls and serve immediately.
See also Salmon Dill Ceviche.