Is Plant Diversity The Ultimate Gut-Health Fix?
In a word: Yes. Diversify the variety of plants you eat weekly and dramatically improve your gut health, says The Gut Health Doctor Megan Rossi. Here's how.
Heading out the door? Read this article on the new Outside+ app available now on iOS devices for members! Download the app.
According to the United Nations, 75 percent of plant diversity has been lost since the 1900s, resulting in today's comparatively limited range of plant-based foods. This alarming loss is the consequence of farmers having been forced to ditch their local varieties for genetically uniform, high-yield crops to keep up with society's demand for "perfect" food. Think about the way you shop. Do you always reach for those shiny, red, extra- sweet apples, or do you go for the odd-shaped ones with color imperfections? I was certainly a shiny-red-apple kind of shopper—until I found out that often the types that were exposed to more stressful growing conditions (resulting in imperfections) contain more polyphenols. I now hunt for and celebrate those imperfections. Perhaps the same principle applies to our own life, too. Now there's some food for thought.
In terms of our overall diet diversity, it gets worse, with 75 percent of the world's food being generated from only twelve plant and five animal species. Essentially, this means that both our taste buds and our gut microbiota are missing out on so many foods. The consequence? This restricted diet is thought to starve microbes that require a diverse nutrient supply, and may very well explain why, compared to our ancestors, our gut microbiota diversity as a population has taken quite the hit. I think we can do better, don't you?
Here's the take-home message
The more diversity in your plant-based diet, the more diverse the nutrient supply for your gut microbiota (think dietary fibers, prebiotics, and polyphenols). All in all, this equates to a well-fed and diverse range of happy gut microbes, each with their own unique skill set to complement ours.
So where do you start? It's very much up to you. If you're still working on getting in your minimum daily portion of plant-based foods (two pieces of fruit; five portions of vegetables; three portions of whole grains; and one or two portions of nuts, seeds, or legumes), don't get overwhelmed by the thought of adding diversity into the mix—stick with the foods you're comfortable with. Once you're feeling confident, or if you've already got those portions down and want that extra boost, this is where diversity comes into play. My motto: Aim for 30 plant points a week across all plant-based food groups (that's thirty different fruits, vegetables, whole grains, legumes, nuts and seeds, herbs, and spices). It quickly adds up and is easier than you may think!
9 Ways to Diversify Your Diet
Buy premixed combinations of salad and vegetables. (Instead of buying one type of salad leaf, buy a bag with grated carrot, cabbage, and sprouts, too.)
Experiment with grains outside your comfort zone. (Have you ever tried freekeh? If your local shop doesn't stock it, try online; it travels well.)
Make a grocery list before you hit the shops to avoid reverting to the same habit buys.
Empty a package of mixed seeds into a glass bottle and leave it on your dining table. It's a great way to remind you to sprinkle them on your meals, as you would pepper.
Motivation is a big part of changing habits. If competition gets you going, why not turn this into an office or family challenge?
Get the kids involved: Allow them to choose, buy, and even help prepare their "new" plant-based food for the week. Taking ownership is a great way to get the family on board.
Sometimes, inspiration is half the battle; check out the list below for a range of plant-based foods worth trying.
Drinks: Filtered coffee, black tea, red wine, green tea, cocoa

Fruit: Blueberry, black currant, plum, cherry, blackberry, strawberry, raspberry, prune, apple

Nuts and Seeds: Flaxseed, chestnuts, hazelnuts, pecans, almonds

Vegetables and Legumes: Black olives, green olives, globe artichoke heads, roasted soybeans, chicories, red onion, spinach, black beans, white beans, broccoli, asparagus

Fats: Extra virgin olive oil, avocado oil

Top 15 herbs and spices: Capers, Celery seeds, cloves, sage, thyme, oregano, peppermint, rosemary, spearmint, star anise, basil, curry powder, ginger, cinnamon, caraway seeds
Mix up your preparation methods. If you steamed your vegetables last night, why not add some olive oil and bake them tonight?
Experiment with different combinations of herbs and spices using the tips below:
Keep a range of dried herbs and spices on your kitchen counter as a daily reminder.

Start by adding a small amount to your frying pan (two shakes) and taste as you go.

If you're just starting out in the kitchen, opt for the premixed herb and spice combinations, and just start with one per dish.

If you're only adding small amounts and tasting as you go, it's hard to go wrong, but here are some basic combos to build your confidence.

Legumes: cayenne, cumin, parsley, red pepper flakes, sage, thyme
Stir-Fry: basil, bay leaves, celery seed, cinnamon, curry, dill, fennel, garlic, ginger, oregano, parsley, red pepper flakes, rosemary, smoked paprika, thyme
Salad Dressings: basil, celery seed, chives, dill, fennel, horseradish, mint, mustard, oregano, paprika, parsley, pepper, saffron
Breads & Crackers: basil, caraway, cardamom, coriander, cumin, dill, orange peel, oregano, poppy seeds, rosemary, saffron, sage, thyme
Fruits: allspice, anise, cardamom, cinnamon, cloves, coriander, ginger, mint
Desserts: allspice, anise, cardamom, cinnamon, cloves, fennel, ginger, lemon peel, mace, nutmeg, mint, orange peel, rosemary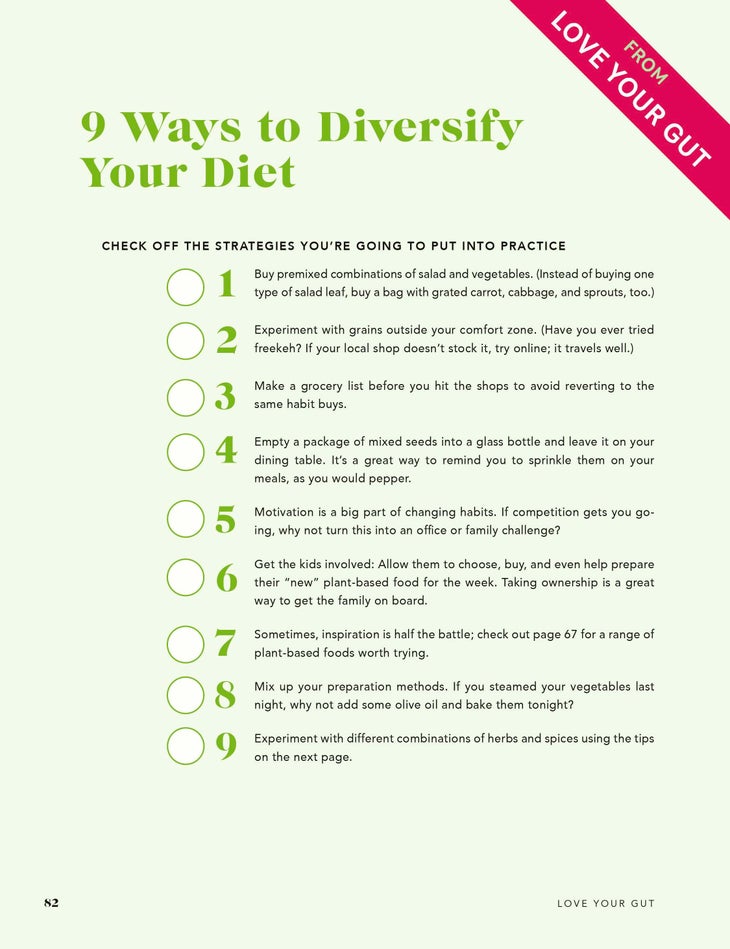 Working up to 30 plants a week is easier than it sounds. Use this downloadable planner until you get the hang of it.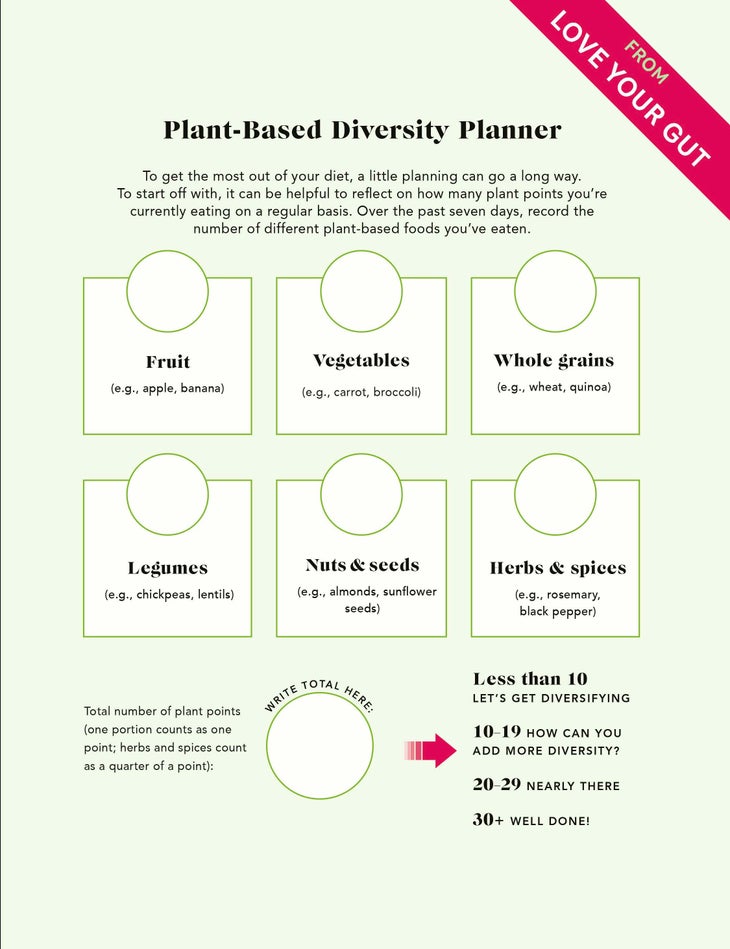 Download this handy diversity planner here.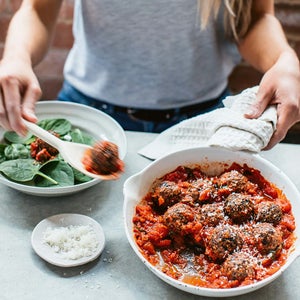 Excerpted from Love Your Gut: Supercharge Your Digestive Health and Transform Your Well-Being from the Inside Out © Megan Rossi, 2019, 2021. Reprinted by permission of the publisher, The Experiment. Available everywhere books are sold. experimentpublishing.com