Breaking the Sugar Habit
For a self-proclaimed sweets junkie, would our contributing editor's moratorium on sugar spark a new, healthier way of living – or send her running back to the refinery faster than you can say "glucose-fructose"?
Heading out the door? Read this article on the new Outside+ app available now on iOS devices for members! Download the app.
"You know there's sugar in alcohol." My boyfriend's non-question, delivered without prompt over an early-afternoon diner "breakfast," dripped with irony as thick as the Nutella pouring over the edges of our massive shared pancake.
In his attempt to lighten the mood leading up to my self-sanctioned sugar fast, he had inadvertently shed light on the hypocrisy of this endeavor. From the outside, I come across as a fairly healthy person – I write for fitness and health publications and teach exercise classes at my local gym, for instance. But those who know me best also know the only thing I love more than wine is candy (unless wine happens to be closer to my reach). Having recently adopted a comfortable "que sera sera" attitude toward my body and how I treat it – a great place to be, mentally – I had to admit it had been years since I last tried to curtail the amount of sugar in my life. Since then, I had filled my days with pliable gummies, generous glasses of Merlot and coffees as sweet (and sometimes as expensive) as dessert.
I knew an excess of sugar in the diet can lead to weight gain, high blood sugar and even heart disease. I knew that it is estimated the average American eats over 150 pounds of sugar each year, with around 60 of those pounds coming from added sugars. I was even aware of the short-term effects of too much sugar, namely stomach aches and regret, because I felt them almost every day. And the by-products of such excess are not just internal: Some dermatologists warn too much dietary sugar can speed up the aging of your skin, and research has shown that foods high on the glycemic index, like refined sugar, can spur acne in some sufferers — two things my late-thirties skin did not need but experienced nonetheless.
With all these things in mind, I finished my last sugar-laden meal and fastened in for what at the time I believed was going to be one of the most insurmountable challenges I had faced in recent memory: 15 long days without the white stuff.
Give Yourself a Break
Let's get one thing straight: I wasn't planning on removing all sources of sugar from my plate. I, as do many reputable nutritionists and doctors who can claim a much higher level of expertise on the subject, recognize the value of foods rich in natural sugars, fruit being a prime example.
My parameters for this sugar fast were as follows:
No packaged foods with added sugars
No adding honey, maple syrup or any other sweeteners to recipes or meals
No artificial sweeteners
No alcohol
As an active spin instructor, and since weight loss wasn't one of my goals for this experiment, I didn't want to go too hard on the low-carb angle, so I instead decided to keep the focus on whole-food sources with less- processed swaps of some staples, like Ezekiel bread for standard English muffins. In the very least, I rationalized, my palate would be opened up again to the wonders of natural sugars – and perhaps my love affair with ketchup would run its due course.
Related: Girl Seeking Om
Expect The Unexpected
I've weaned myself off sugar before, but I've never quit with a hard stop like this, so when diving into these unfamiliar waters, I wanted to know what I was getting myself into. I reached out to Diane Sanfilippo, the author of The 21-Day Sugar Detox (Victory Belt Publishing, 2013) and Keto Quick Start (Victory Belt Publishing, 2019), to ask what I could expect over the coming weeks. I had read that sugar withdrawal is a real condition, with side effects ranging from migraines to muscle pain and fatigue, all the way down to nausea and diarrhea. Truthfully, I was mildly anxious as to what symptoms my body would display over the first few days; I pictured myself sweaty and thrashing about at the dinner table like a mid-exorcism Linda Blair.
THE FIX: It turns out no-sugar hangovers are a real thing. "Yes, it's true that sometimes you can feel worse before you feel better when you cut sugar," Sanfilippo admitted. "This typically kicks in around days three through seven and subsides for most people by day 10."
Though she noted fatigue, thirst, and an enhanced appetite can occur during the initial stages of a sugar fast, I was pleasantly surprised to find that nothing of the sort transpired – perhaps some differences in my restroom performance and frequency, but I chalked that up to the copious amounts of fiber-rich fruit I was reaching for in lieu of the candy bowl.
In fact, the short-term benefits that Sanfilippo mentioned were what I felt most acutely: My sleep was deeper and more restful, I found myself reaching for snacks less frequently and my boyfriend even quipped that I seemed happier, a comment I decided to take as the compliment I suspect it was intended to be. With the first few days behind me, I pressed on.
Get a Move On Meal Timing
Sporadically timed meals were my forte up until this challenge. Some days I would have breakfast and a large dinner, on others I would consume nothing but coffee until 2 in the afternoon, and sometimes I would graze constantly throughout the day.
THE FIX: With my body trying to adjust to an altered palate, I figured my best plan of attack would be to even out the spread of my daily food intake to improve satiety — and Sanfilippo agreed. "I highly recommend starting your day with a protein-rich breakfast, preferably one that also includes healthy fats," she suggested, since eating more protein and fats early in the day can help regulate blood sugar and prevent cravings for sweets in the afternoon and evening. Hard-boiled eggs and peanut butter, oats and unsweetened protein-powder bars with a black coffee – which surprisingly took only one day for me to get used to – opened most of my days on this journey.
Prep, Prep & More Prep
I planned for my first day of the fast to land on what many would consider one of the worst: Easter Sunday, during which time I would face two large meals and copious amounts of chocolate, cakes and candies at every turn. My rationale was that if I could survive an onslaught of this magnitude, I could survive anything.
THE FIX: The day before the launch of the experiment, I used my beloved Instant Pot, already well-put through its paces since I received it at Christmas, to whip up some hard-boiled eggs. I also created a batch of Clean Eating's No-Pressure Butter Chicken and an easy, sugar-free salsa chicken dish – enough to get me through a week's worth of work lunches. For snacks, I kept dried seaweed on hand and some dried-fruit-and-nut mixes to nosh on. All these steps encouraged me to keep on track, day in and day out.
Find Substitutes For Your Faves
Packaged pizzas and most bottled sauces were strictly forbidden on this fast – even the frozen cauliflower crusts sold at my local natural-food store listed sugar as an ingredient! I discovered other surprising hiding places for sweeteners too: dill kale chips, flavored canned tuna, premade pie crusts and every single veggie dog I could find all had sugar listed on the package.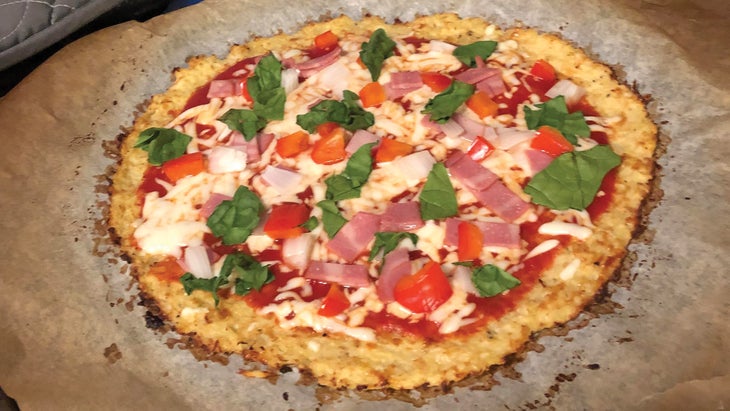 THE FIX: Luckily, I found a no-sugar-added canned pizza sauce and took it as the perfect opportunity to tackle something I had wanted to try for some time: whipping up a low-carb crust from scratch. A package of frozen riced cauliflower, a half-cup of Parmesan cheese, one egg and some spices later (plus 35 minutes at 450 degrees) and I had the perfect base for a satisfying, no-sugar dinner – even my veggie-hating significant other caved to the crust's awesome, cheesy power.
After 15 days of staying the course, I marked the finish line of my no-sugar experiment simply, selecting a salad with a sweet dressing and a glass of red, which, much to my surprise, took me a few tries to finish. Stripping my diet of added sugars taught me many things. One, that with enough planning, I can stick to anything I put my mind to, and two, that even the most healthy among us can improve. The most important takeaway for me, however, was that I can enjoy life just as much, if not more so, if I am conscientious about what I am putting into my body – and that when I do decide to pour myself a glass of vino, I should (and can) savor it as it is meant to be.
Related: Our Editor's Journey to De-Plasticize Her Life
Sneaky Sugar
Sugar by any other name tastes just as sweet. "A few key things to look out for [on ingredients lists] are words ending in -ose or -in, as in dextrose and maltodextrin," cautioned Sanfilippo. Here are some of the more-common aliases the white stuff goes by.
Coconut sugar or coconut nectar
Cane sugar or cane juice
Agave nectar
Corn, glucose, date or malt syrup
Molasses
Fruit juice concentrate
Turbinado
Tools Of The Trade
These items made it that much easier to withstand the everpresent allure of added sugars.
LACROIX SPARKLING WATERS
I used to think sparkling, no-sugar, vaguely French drinks were for celebrities in Getty Images; little did I know that well-hydrated gal-on-the-go would one day be me. (And I love it!)
INSTANT POT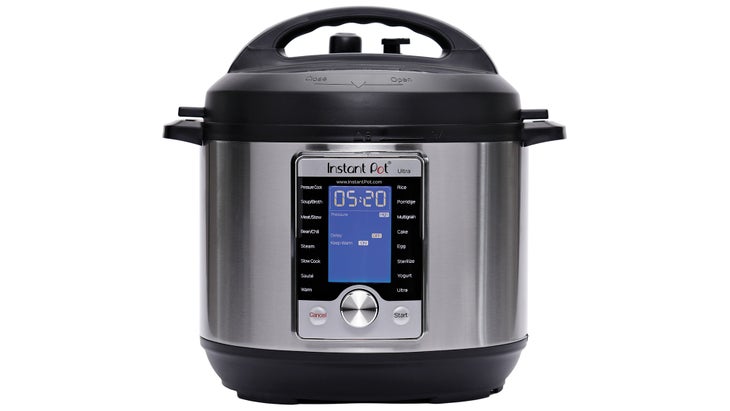 Did you know you can make perfect hard-boiled eggs painlessly in this multipurpose wonder? Well, now you know.
SUNNY FRUIT ORGANIC FIGS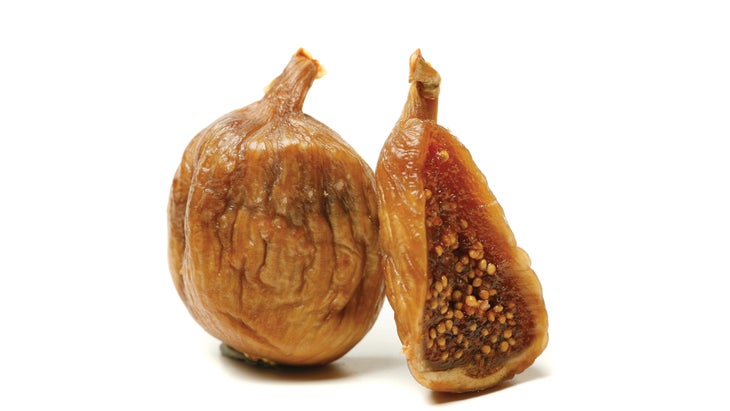 Sadly, I only discovered these 120-calorie packs of dried figs on day 11 of the challenge – they could have saved me from a lot of unsatisfied sweets cravings.
FITBIT
Tracking my steps kept me motivated – every time I'd feel a hankering for the sweet stuff, I'd take a walk to go get some tea.