Kimchi: Centuries-Old Delicacy Optimizes Overall Health
Probiotic-rich kimchi is a superfood thanks to the gut-supporting lactobacilli created during the fermentation process. Try making your own Korean-inspired kimchi at home for pennies on the dollar.
Heading out the door? Read this article on the new Outside+ app available now on iOS devices for members! Download the app.
Virtually every culture has a recipe for fermented foods that has been passed down for generations. And for good reason — fermented foods contain friendly microbes that are instrumental to the body's overall health. One such fermented treat is kimchi, the iconic Korean condiment packed with probiotics, essential vitamins and unmatched flavor.
Traditionally, kimchi is a fermented blend of cabbage, chili peppers, garlic, ginger and scallions with a trademark effervescence. A staggering number of variations exists, swapping in different fruits, vegetables and spice blends. As is usually the case with fermented vegetables, no two batches ever taste the same. There are endless possibilities of how to eat it: scrambled with eggs, mixed in with soups, spread over a burger, or scooped over a simple bed of rice.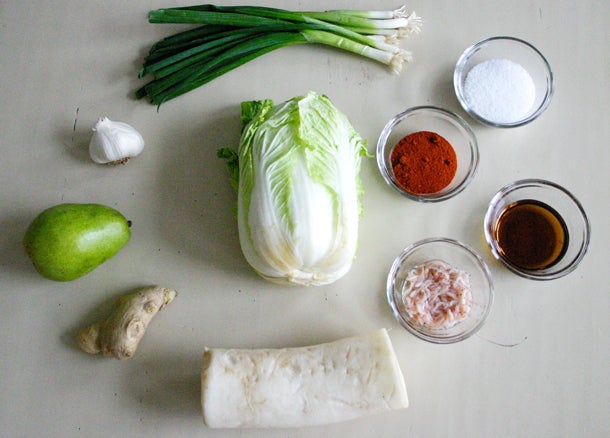 Kimchi requires just a few key ingredients.
The tangy condiment boasts health benefits as unique as its flavors. Since kimchi is fermented, it is teeming with healthy bacteria — lactobacilli — that are lacking in many American diets. The gastrointestinal tract houses about 70 percent of the immune system, making a healthy balance of gut flora is key to overall health. The same enzyme activity that gives kimchi its intense flavor also aids in the breakdown of food, helping to absorb the vital nutrients.
See alsoDiversify Your Diet for Better Gut Health.
Kimchi is loaded with vitamins A and C, and minerals like magnesium, calcium and selenium. Vitamin A helps in the maintenance of healthy eyesight and body development, while vitamin C boosts the immune system and promotes skin health. As an added bonus, fermented foods, including kimchi, have also been shown to counteract inflammation.
Families have been making and storing kimchi at home for centuries, and its easy to do the same in your own kitchen. The temperature, length of fermentation and unique blend of ingredients all contribute to the finished product. The longer you ferment your kimchi, the flavors will deepen and the contents will become floppier. Taste your ferment throughout the process, noting the flavors to discover your preferences.
Easy Homemade Kimchi
Makes: Several jars of kimchi
INGREDIENTS:
2 large napa cabbages
2 heads of garlic
2 carrots
2 pears,
1 daikon radish
1 bunch scallions
1/2 ginger root
1/4 cup fish sauce
1 cup red pepper powder
1 cup salt
INSTRUCTIONS:
Chop the cabbage into one inch squares. Mix with the cup of salt in a large bowl and stir every 20 minutes for one to two hours. If that seems like a lot of salt, don't worry—most of it will be rinsed off later. The dry brining process extracts excess water from the cabbage, making it more pliable and aiding in the fermentation process.
While the cabbage is salting, puree the fish sauce, garlic cloves, ginger and the pear. Add in the pepper powder and mix well. Julienne the carrots and daikon radish, and chop the scallions into one inch pieces.
Place the cabbage in a colander and rinse thoroughly. Squeeze out the excess water.
Mix the cabbage, carrot, radish and sauce with your hands. Add green onion and continue to mix.
It's time to ferment! Separate the mix into jars and pack down firmly. Let them sit at room temperature (68 degrees F) for three days. Be sure to "burp" the jars at least once a day to release the pressure. After three days, transfer to the refrigerator to slow the fermentation process.
Nutrients per serving (28g): Calories: 10, total fat: 0g, sat. fat: 0g, polyunsaturated fat: 0g, carbs: 2g, fiber: 1g, sugars: 1g, protein: 0g, sodium: 215mg, cholesterol: 0mg

—
Samara Napolitan is a writer based in Grand Rapids, Michigan. Her writing has appeared in Relix, The Post & Courier and The Collective Quarterly, among other places.