How About Them Apples
Come fall, sweet, crunchy apples abound in markets everywhere. From smoothies to salads and sides and mains, try these clean takes on classic recipes featuring apples.
Heading out the door? Read this article on the new Outside+ app available now on iOS devices for members! Download the app.
Apple Cinnamon Smoothie
Crisp apples paired with spinach and spices make an energy-boosting smoothie that will keep you full and satisfied.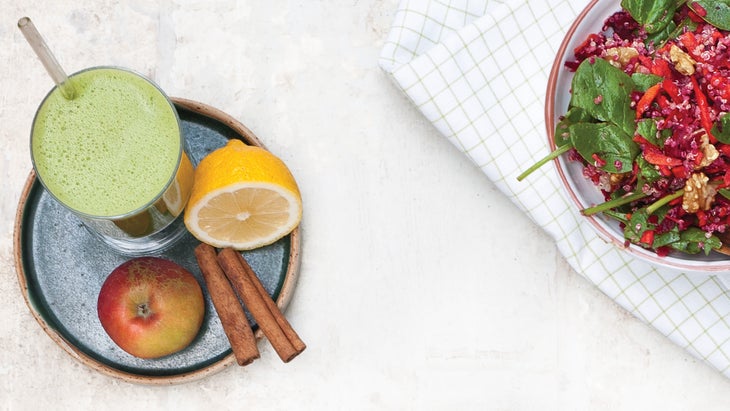 Get the recipe here.
Watercress, Radicchio & Apple Salad with Mustard Seed Vinaigrette
This salad is bright, slightly sweet, pleasantly bitter and even a touch spicy – all in all, a great accompaniment to the rich flavors of roasted turkey.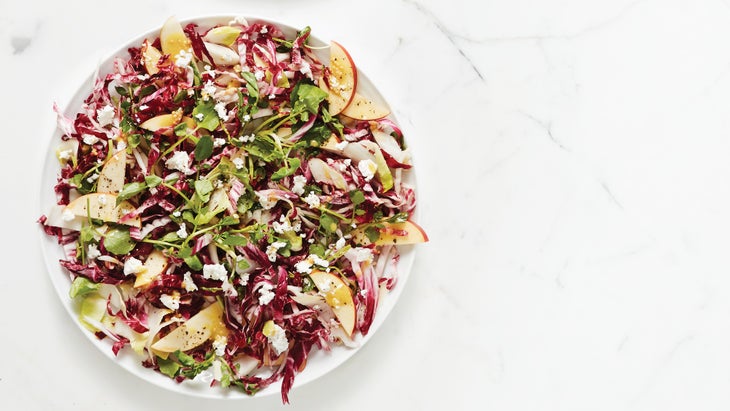 Get the recipe here.
Maple Sausage Potato Salad with Apples and Sage
Maple syrup vinaigrette and sausage provide a delicious twist on potato salad.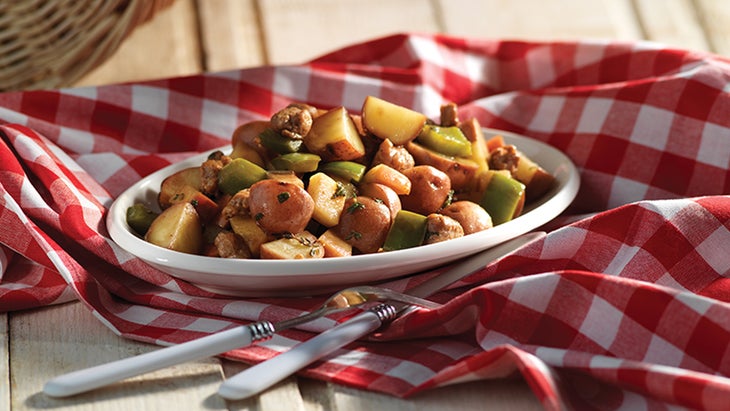 Get the recipe here.
Chicken and Red Apple Curry with Almond Couscous
A double dose of apple flavor – in the form of fresh fruit and juice – adds sweetness to this quick weeknight curry. For added color, stir in chopped cilantro to the couscous.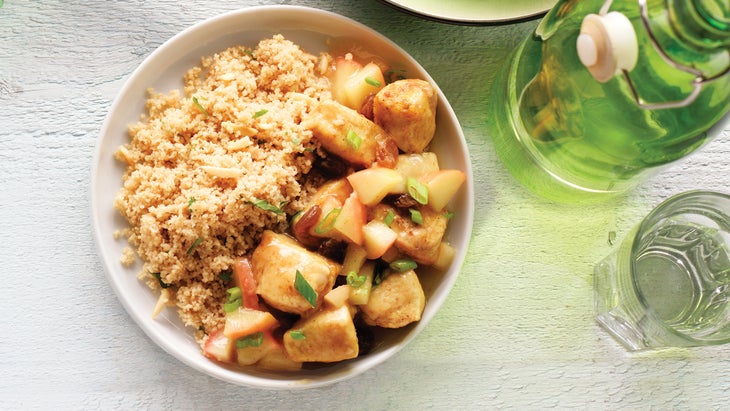 Get the recipe here.
Spice-Rubbed Pork Chops with Escarole & Apple Sauté
Toasting the whole spices and grinding them yourself is the key to this dish's amazingly fragrant flavor. Choose a crisp, firm apple such as Braeburn or Fuji that will hold its shape when cooked with the slightly bitter greens.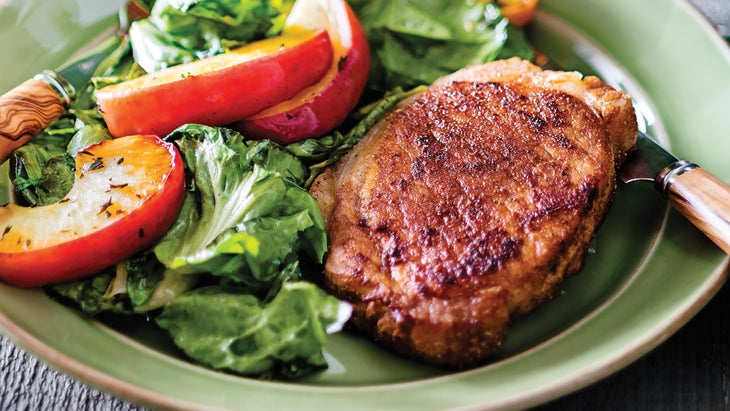 Get the recipe here.
Roasted Apples & Brussels Sprouts with Shiitake Bacon
Brussels sprouts are often paired with smoky bacon, but here we've created an amazing bacon-like flavor using a sneaky seasoning mix and shiitake mushrooms. Served over roasted Brussels sprouts and apples, this makes a memorable dish at the holiday table.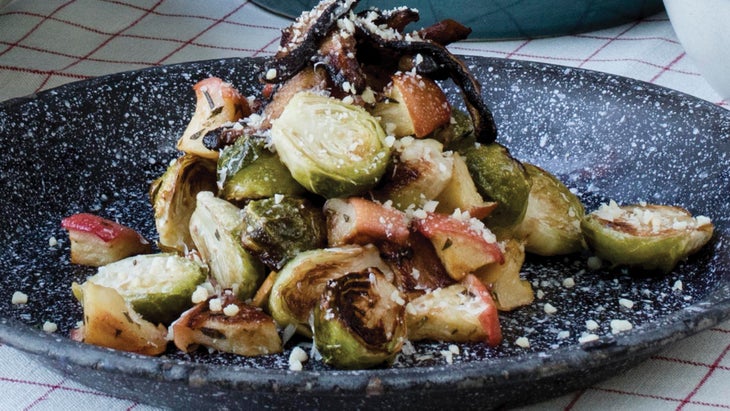 Get the recipe here.
Roasted Chicken with Creamy Celeriac Apple Slaw
This Roasted Chicken with Creamy Celeriac Apple Slaw recipe only costs your family $10 to make and is delicious.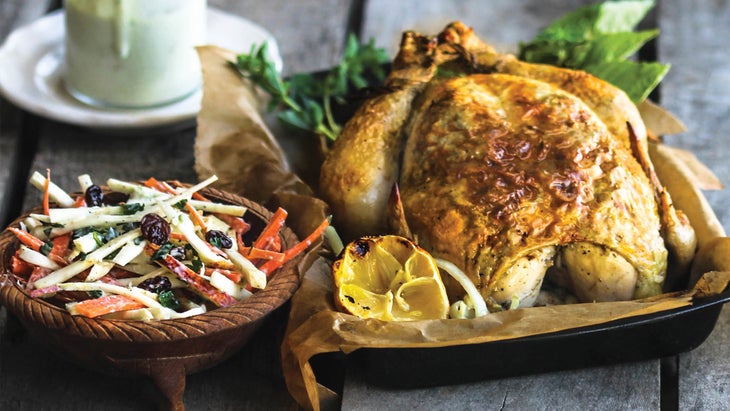 Get the recipe here.
Roasted Squash & Apple Ravioli
Treat guests to a restaurant-worthy pasta dinner without the butter usually found in this type of ravioli dish. We opt instead for flavorful leeks and broth (plus a sprinkle of pumpkin seeds!).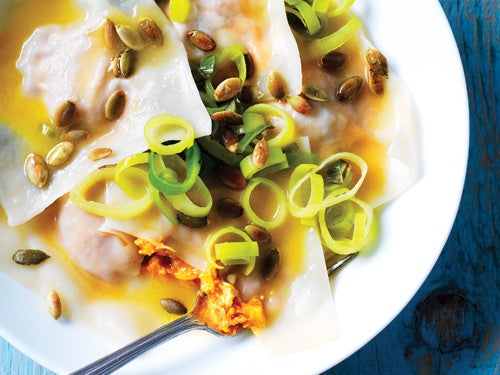 Get the recipe here.
Apple Cobbler With Golden Raisins and Nuts
Hazelnut milk and almond flour add sweet, rich, nutty flavor to this fall dessert. Try solo or topped with whipped coconut cream.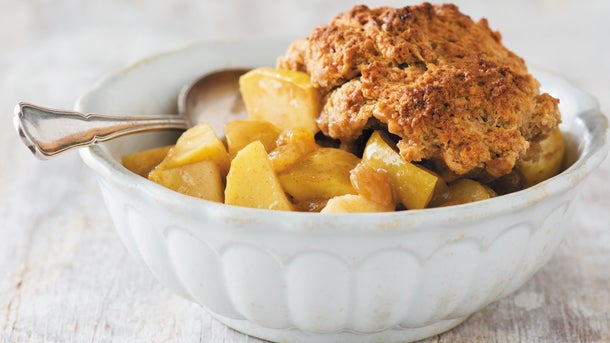 Get the recipe here.
Chocolate-Drizzled Apple Strings
Spirals of apple are drizzled with dark chocolate and sprinkled with an array of toppings – nuts, dried fruit, coconut and sea salt are our favorites. This dessert is best eaten right out of the freezer.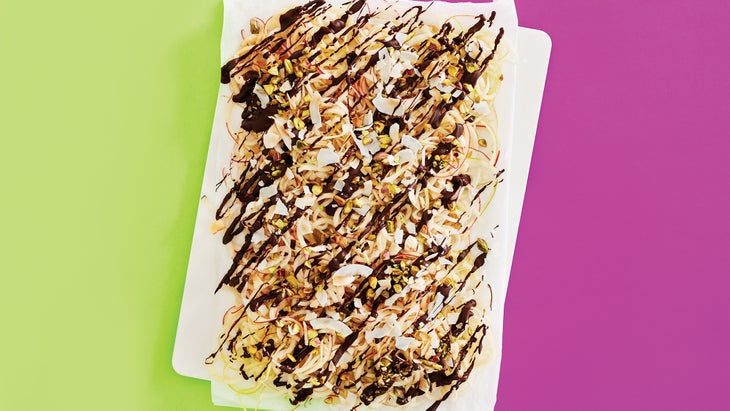 Get the recipe here.
Chewy Apple Pie Bars
Make your own snack bars to pop in your purse or gym bag with this 10-minute recipe that uses mostly pantry staples.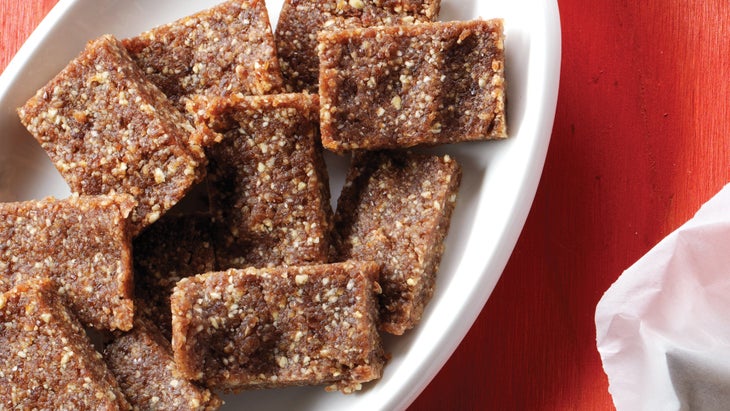 Get the recipe here.
To learn more about which apples to use in which recipe, peruse our comprehensive guide to apple varieties and discover which ones are the best for your stuffing, bread, pie or even chopped salad.