3 Ways with Chard and Kale
Is your fridge filled with kale and chard from your CSA share or a trip to the farmer's market? Never fear. Here are three simple ways to enjoy your nutritious greens.
Heading out the door? Read this article on the new Outside+ app available now on iOS devices for members! Download the app.
Interested in joining a CSA (community shared agriculture) program? Here's what you need to know.
If you're not already a regular at local farmers markets — and even sometimes if you are — it can be a challenge to identify some of the more unusual vegetables in a CSA share, let alone create a whole meal around them. If you're at all unsure about using kohlrabi or fennel or kale, ask your farmer what type of support they offer. Many farms do things like hand out recipe cards, send weekly newsletters, teach cooking demonstrations, or at least recommend the titles of some good cookbooks.
At my farm, we make a point of offering lots of support to our members. Most often, we find our summer CSA members want help making the most of braising greens like chard and kale, which can be particularly overwhelming because they are both bulky and unfamiliar. Here are three tricks we perform at our house to shoehorn bulky greens into vitamin-rich meals — and just as importantly, a bursting fridge — like a pro.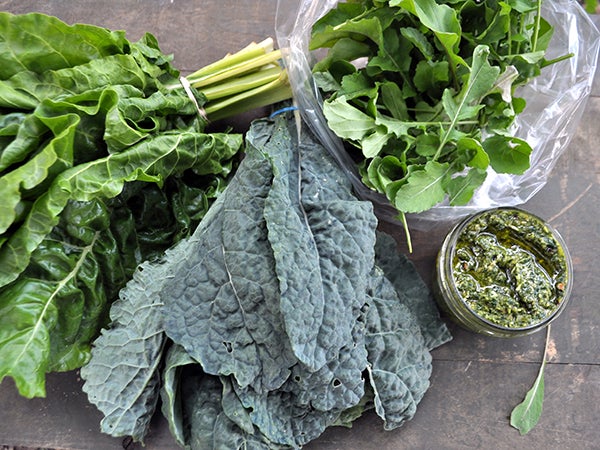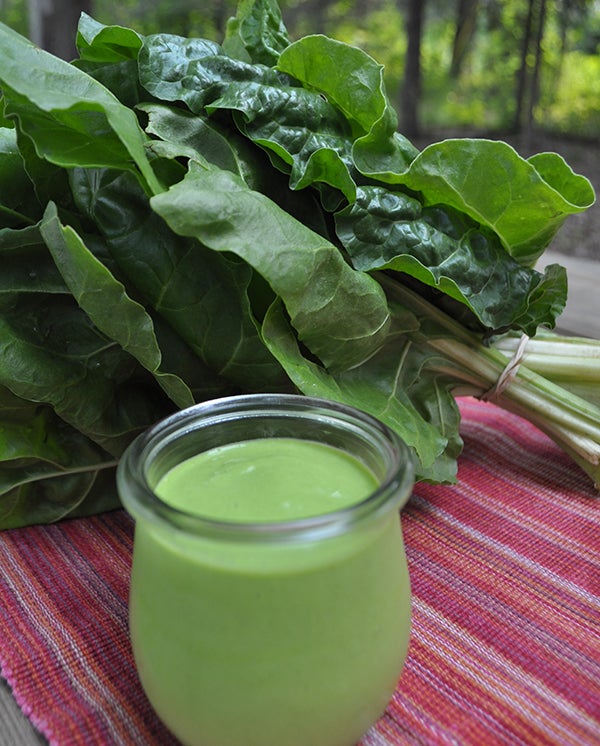 Green Smoothies – A whole meal in a glass, green smoothies are an excellent way to get nutritious greens into the bellies of the reluctant. When you use dark berries like blueberries, you can hardly tell green smoothies are full of vegetables. There's really no need for a recipe. You stuff as many greens as you can into your blender along with as much juice as you need to make the whole thing whiz. Add enough sweetener or fruit (some people like frozen fruit) to cut any bitterness from the greens. Some people add ice, dairy, nut butters, or nuts.
Blanching – Add a tablespoon of salt to a large pot of boiling water. Plunge in the greens and set a timer. Kale and chard take two minutes. Arugula and spinach take one minute. Drain the greens into a colander, then dump them right away into a pot of cold water. When the greens are cool enough to handle, grab a big double handful and squeeze out all the water you can. Blanched greens are delicious chopped and added to pizzas, egg dishes, and crostini. Blanching is also an excellent way to freeze and preserve leafy greens if you need to take a little break from summer abundance.
Gremolata – Gremolata is essentially pesto made from greens that are not basil. You blanch the greens first (see above). A mix of textures can be nice, so we like to blend arugula, kale, and chard. Take a blanched, squeezed ball of each type of greens and toss them into the bowl of a food processor. Some people add garlic, anchovies, lemon, capers, Parmesan, and olives. Omit anything you don't have around or that you don't like. A good quantity of olive oil is always nice. Like pesto, gremolata can be served with pasta, on pizza, alongside meat, as a coating for vegetables, and in slaws and pancakes that are made primarily of other vegetables.
—
Mary Brower and her husband, Aaron, own Bluestem Farm, an organic farm in northern Michigan that offers year-round build your own CSA shares, engaging community events & food outreach initiatives. More at www.bluestemfarm.net.