Cooking in the Wild: Recipes to Make Over a Campfire
Cooking along the 500-mile Colorado Trail taught Clean Eating editor Amanda M. Faison how to transform the campfire into a kitchen.
Heading out the door? Read this article on the new Outside+ app available now on iOS devices for members! Download the app.
Growing up in Colorado, I learned the connection with Mother Nature that comes from spending time under a star-filled sky, cooking over the campfire and basking in the silence of the woods. I was—and am—hooked.
A few summers ago, when my husband, Heath Kirschner, embarked on running the nearly 500-mile Colorado Trail, I saw it as a dual challenge: He and his buddy, Paul Landry, would run the monster distance and I would fuel their monster appetites. Neither challenge would be easy, but that was the appeal.
For this journey—one that topped out at 13,334 feet above sea level, crossed six national forests, six wilderness areas, five river systems and eight mountain ranges—I didn't want to rely on the idea that everything tastes better outside. Instead, I wanted to nourish and replenish. I wanted to make real food in the forest and transform the campfire into a kitchen.
Just as Heath and Paul prepped for months prior to setting foot on the Trail, I did too. Amid the stacks of maps and books, the yellow satellite phones, the portable water filter small enough to fit into one of their lightweight packs and too many bags of Skratch Labs hydration mix to count, I had my own piles: cookbooks, printed recipes and "camping pantry" lists. I took apart and restocked our camping bins stuffed with everything from matches to a French press. I started a Pinterest board to help organize my thoughts. I began looking at food and cooking through a different lens. What could be rejiggered and prepared on the Trail?
As a food journalist and an avid cook, there are few things that make me happier than studying food, cooking it and, of course, eating it. This journey, though, was a unique riddle: Meals needed to be jammed with calories and healthy nutrients and there needed to be a meatless option for Paul, who is a pescatarian. Plus, I wanted the creative challenge of cooking gourmet, you-can't-make-that-in-the-wild dishes.
We had the benefit of car camping and thus, giant Yeti coolers and Dutch ovens and cast-iron skillets. Heath and Paul would run multiple legs in a day—often 40 miles—to the next car-accessible campsite. (Sometimes "car-accessible" meant Lisa, Paul's wife, and I drove barely passable roads for hours on end, crawling into the campsite with a sigh of relief before jumping out to set up tents, make a fire and get rolling on dinner.) By the time the guys arrived, we'd have a feast in process with kids chopping ingredients at picnic tables and ice-cold beer at the ready.
We also had the benefit of time. Heath and Paul weren't running the Trail in one fell swoop. Because of life, jobs and kids' schedules, this trek took place over a series of long weekends, stretching from early May to Labor Day. If that seems like a cheat way to make your way across 500 miles, well, it turned out to be a gift. It gave Heath and Paul's bodies the chance to recover, it presented us time to reflect on a once-in-a-lifetime exploration of our state and it provided me time to plan and prep the next round of meals.
Some spreads were as simple as pasta tossed with fresh herbs, hunks of feta and sun-dried tomatoes, but I also made tortilla Española, apple dumplings with caramel sauce, bahn mi sandwiches with pickled cherries, porchetta (salmon en papillote for Paul) and orange-scented birthday cakes over an open fire. There was also breakfast and lunch (usually simple, and usually just for Lisa, the kids and me as the guys were en route), but dinner was the main event. Each night, the evening meal became a party—cooked, served and enjoyed under a wide-open sky.
The recipes and dishes that follow were inspired, in part, by our trek and they marry the principles of the home kitchen with the focal point of any campsite: the fire.
The best-laid plans
It takes a lot of effort to plan for outdoor cooking—even more so if you're backpacking—but do it a few times and you'll begin modifying recipes in your head. Can I prep this ahead? Can I simplify this? Can this be cooked over a fire? Yes, yes and yes.
The key to cooking outdoors is organization. Pre-measure, peel and prep anything you can. If you only need a cup of flour, only pack a cup of flour. (But always bring extra salt, pepper and lemons.) Make sauces, marinades, pancake batter, whatever you can, ahead of time. When you think about dinner, also consider breakfast and lunch because many dishes work as simplified seconds.
Don't overlook the logistics. Think about things like dirty dishes (do you have tubs for washing? Do you have enough water? How about biodegradable soap and towels?). Think about food storage (use the most perishable items first, and store those at the bottom of the cooler). Think about trash and bear proofing. Think about picnic tables—will there be one? Think about fire restrictions and be proactive. Think about bad weather because it will rain or snow or both. A folding table, tarps and extra stakes are your friends, as is a propane-fueled cooking stove.
Section divider
Your outdoor cooking packing list
The key to cooking outdoors is organization. You'll find your blueprint over time, but in the
meantime, here's a outdoor kitchen checklist, obviously this will be modified if you're
backpacking:
Water jugs
Small fold-down table (unless you know there will be a picnic table)
Cooking grate
Camping stove and propane (for backup)
Matches or lighter
Newspaper
Dish tubs (one for clean, one for dirty), plus dish soap and sponge
Dish towels
Heavy duty aluminum foil
Parchment paper
Dutch oven
Cast iron skillet
Fireproof glove (for pulling hot pots and pans off the fire or moving logs)
Spatula
Knives in sheafs or a knife roll
Cutting board (at least one)
Stirring spoons
Metal tongs
Vegetable peeler
Microplane
Cheese grater
Mixing bowls
Measuring cups and spoons
Wine and beer openers
Citrus squeezer
Paper towel
Plates and bowls
Utensils
Cups and coffee mugs
French press or percolator
Section divider
How to start a cooking fire
A good cooking fire begins with building a classic campfire. Learn how to build a cooking fire step-by-step here.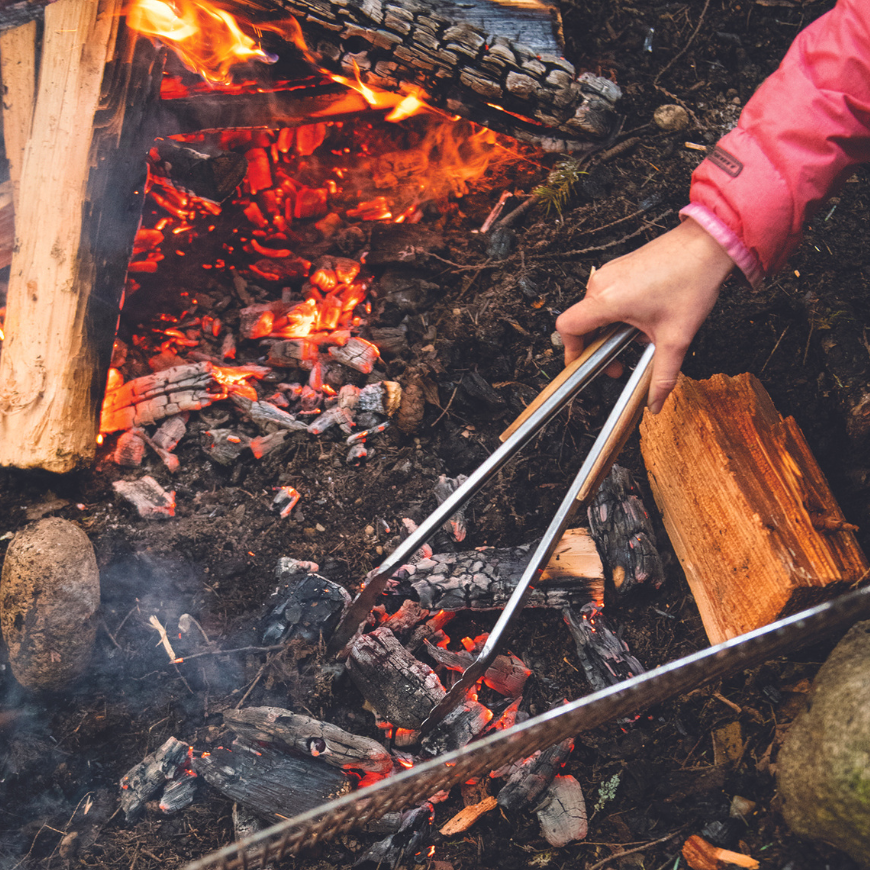 Section divider
The recipes
Lemony Barley and Mushroom Salad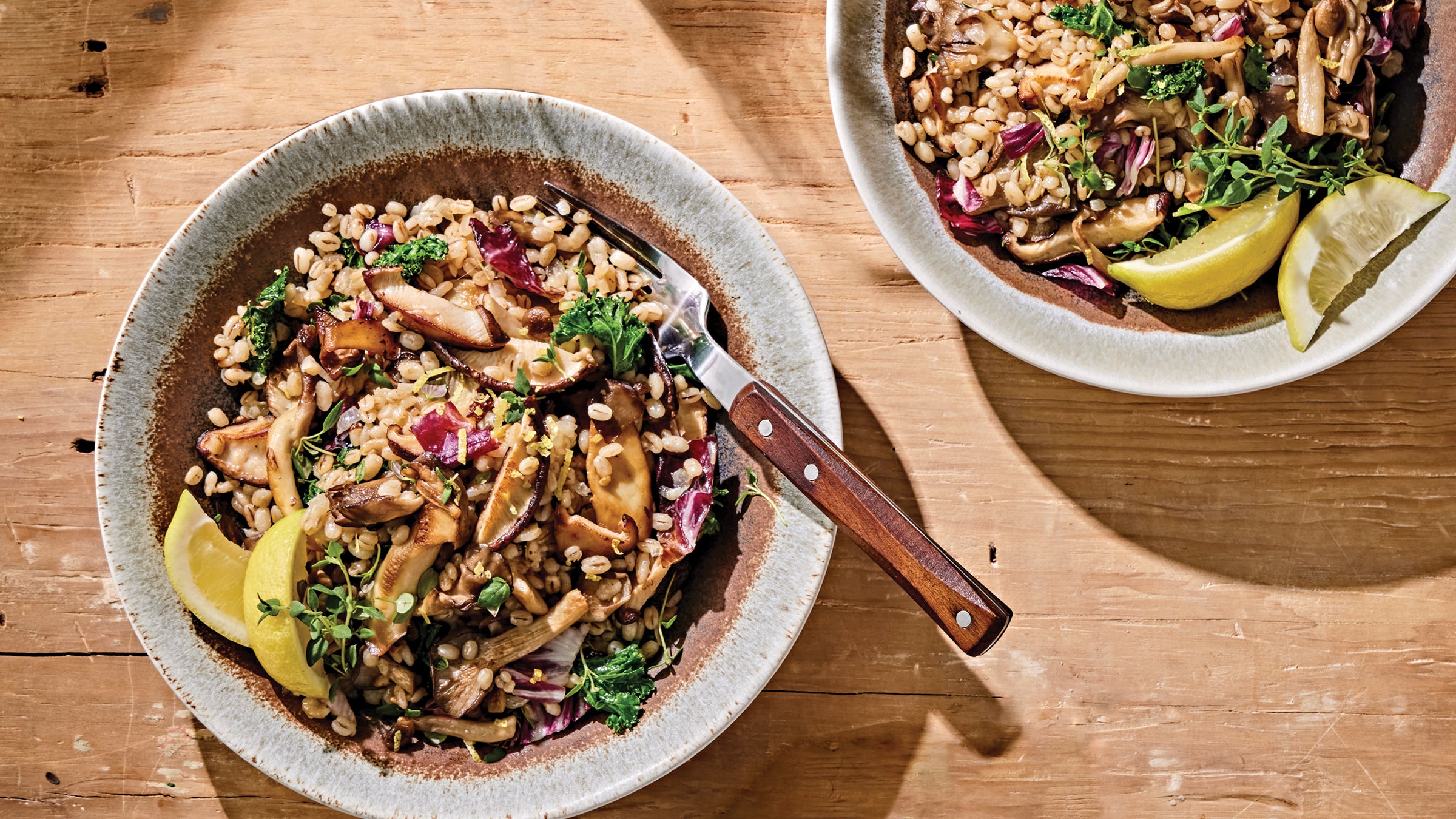 What's not to love about barley? It's already a superstar grain for its potassium and iron content (good for sore muscles), but when cooked over the fire, its nutty chew intensifies and takes on a smoky freekeh quality. Get the recipe here.
Skirt Steak with Salsa Verde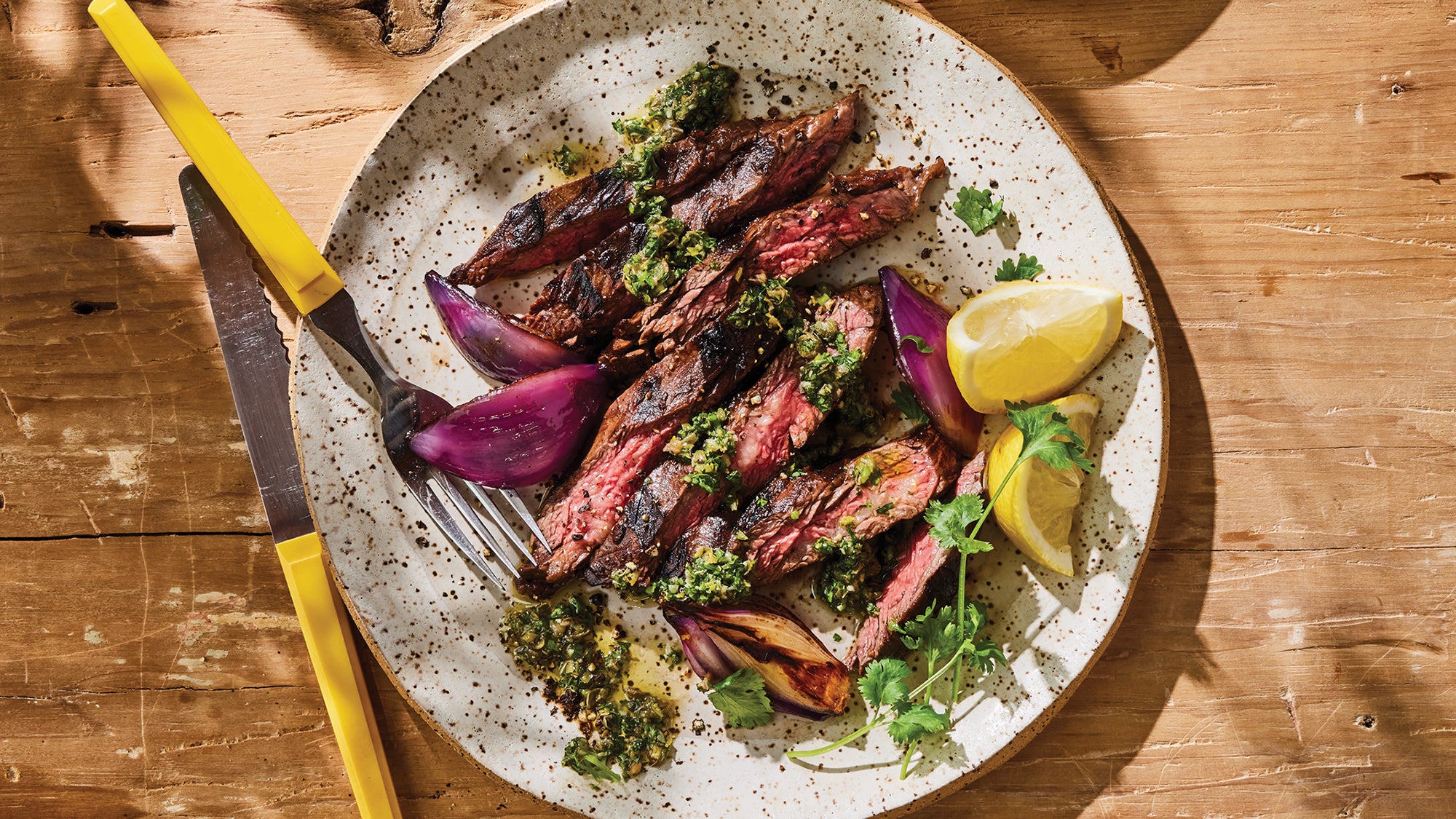 Being outside makes us crave red meat—it must have something to do with needing iron or fat or… just something hearty and delicious. Steak is also easy: marinate it beforehand (even overnight) and pop it right on the grate or in a cast-iron skillet. Let the fire's searing flames do the rest of the work. Get the recipe here.
Foil-Pack Veggies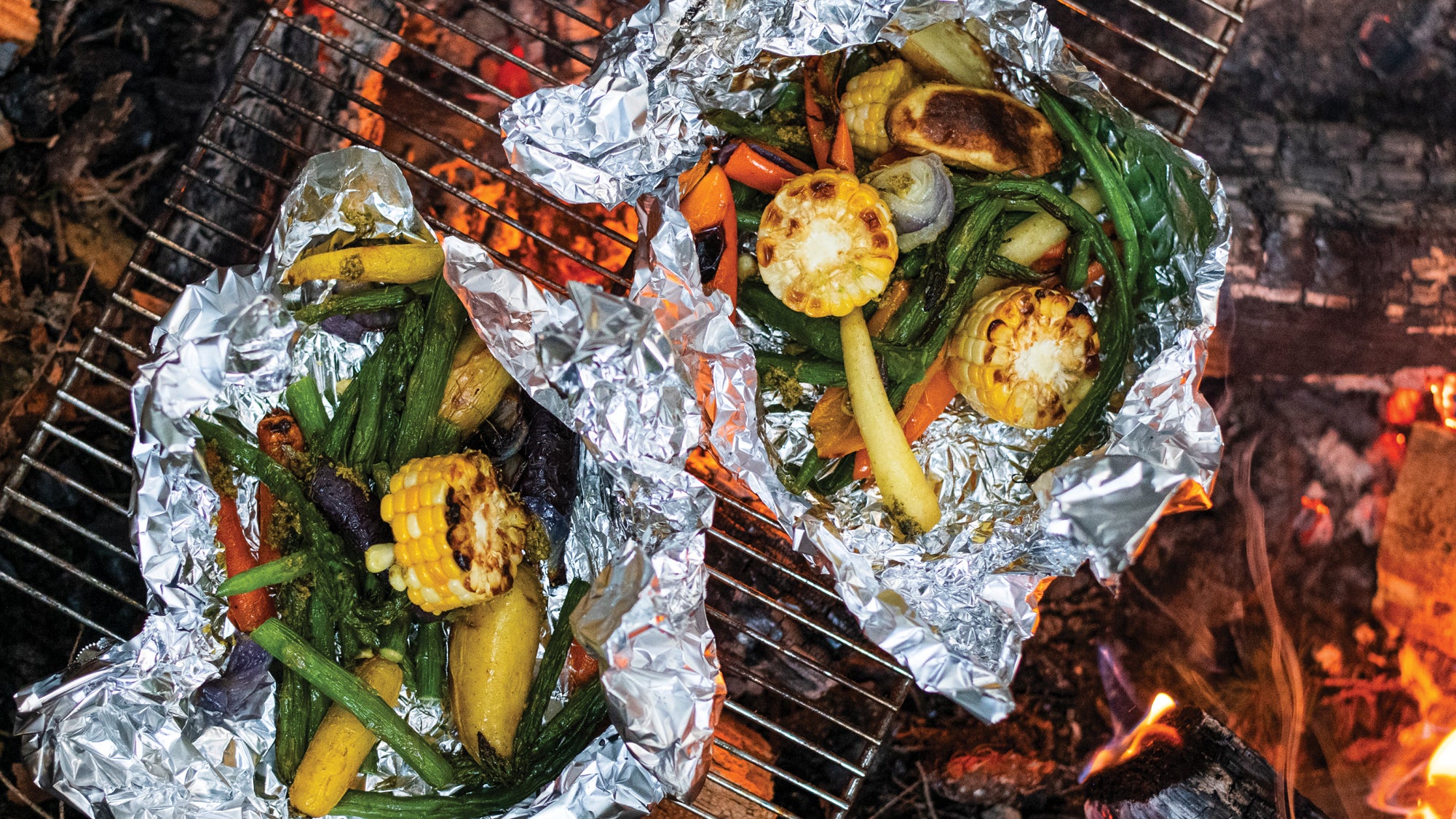 Just because you're camping, doesn't mean you can skip the veggies. In fact, you probably need their energy-providing nutrients more than ever. Get the recipe here.
Tortilla Española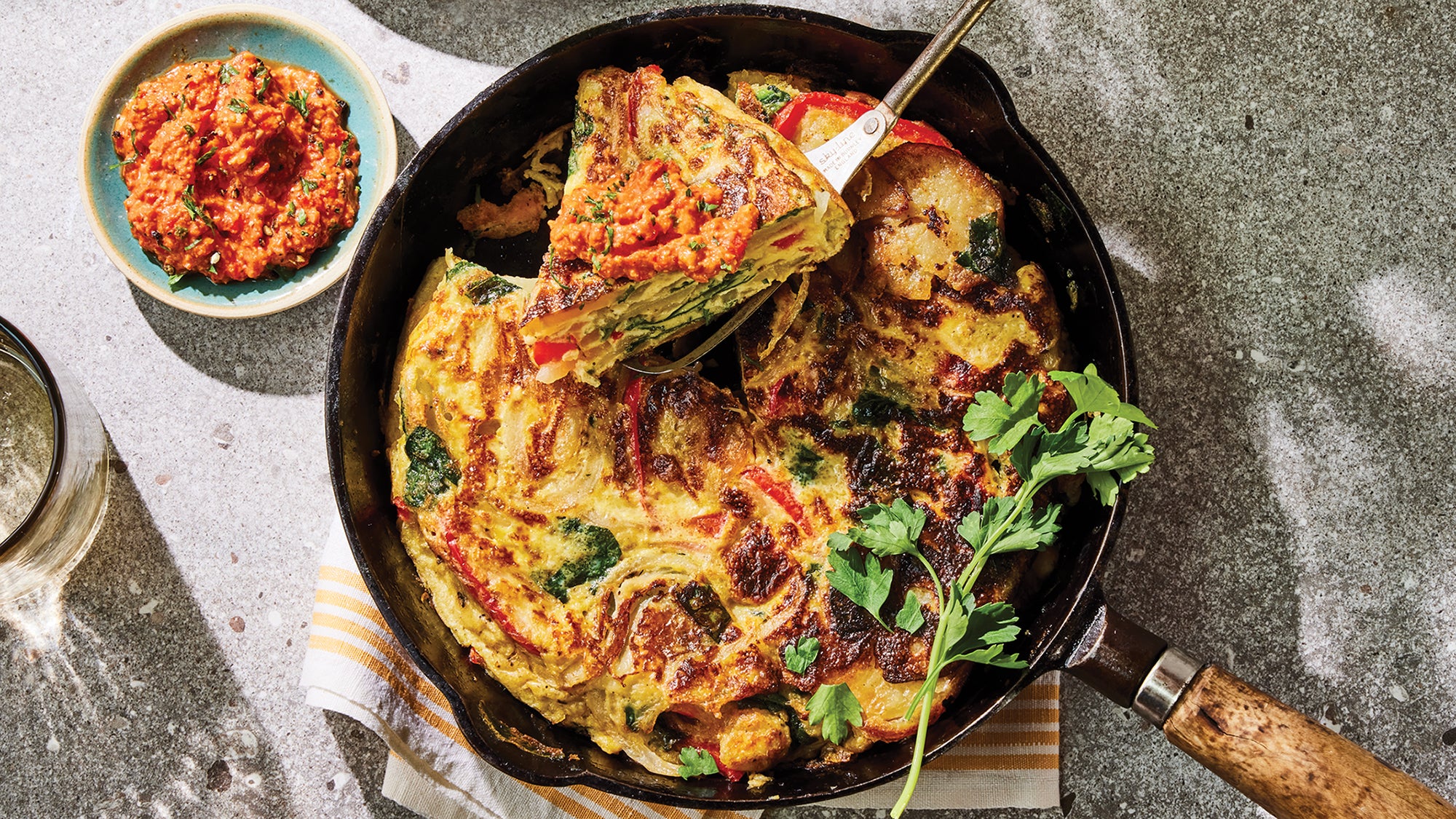 Think frittata but better. This potato and egg omelette (of sorts) is a classic in Spain, where small squares or slivers are often served as part of a tapas course. Here, it's the main event. Get the recipe here.
Sweet & Spicy Chicken and Pineapple Skewers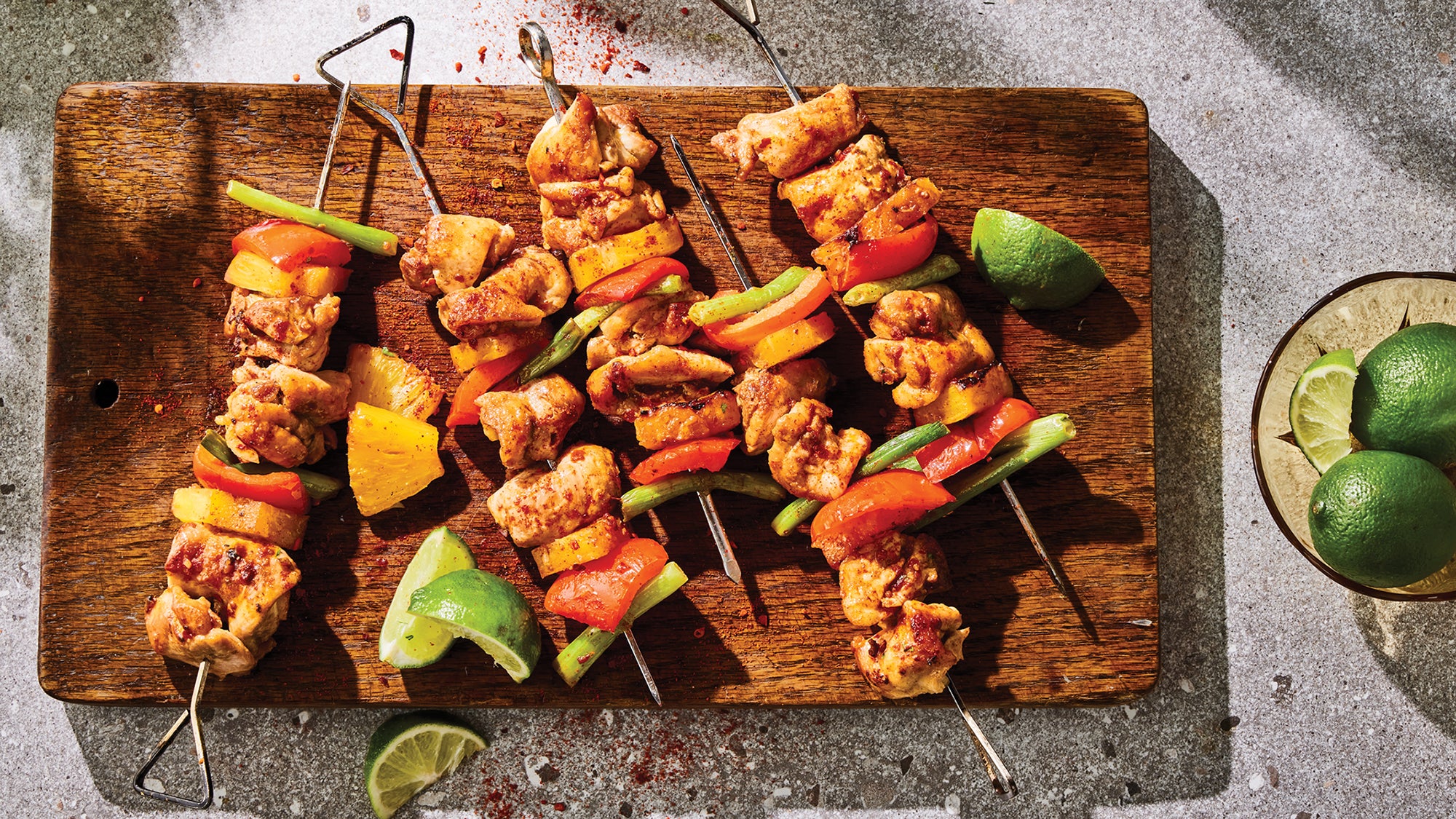 Marinated chicken and pineapple are already a perfect match: stick them on skewers with red bell pepper and green onion, and they're suddenly an occasion. Get the recipe here.