Tour Guide: Recipes Inspired By the Mediterranean Region
Take a delicious spin through the Mediterranean with flavors as diverse as the region itself.
Heading out the door? Read this article on the new Outside+ app available now on iOS devices for members! Download the app.
The Mediterranean evokes imagery – warm breezes, the fragrance of tomatoes and olives perfuming the air, the sparkling blue waters of the sea – that's easy to bask in, even if you've never been there. In addition to the honeymoon-esque, romantic undertones, the region is also prized for its lifestyle. In fact, US News & World Report recently rated the Mediterranean diet the healthiest eating plan for the fifth year in a row.
But what, really, is the Mediterranean way of eating – and does it warrant the perennial praise? When referring to the cuisine, most people think of the foods from the southern European countries, but the region itself extends to North Africa and the Levant – with each country and microregion celebrating a unique culinary signature.
The cuisine can hardly be considered singular when you're mashing countries as diverse as Syria and France under one label. But here's the thing, healthy diets are less about origin and more about focusing on wholesome ingredients like fresh fruits and vegetables, minimally processed grains and legumes, heart-healthy fats, moderate amounts of fish and limited amounts of meat. And that can be achieved anywhere, not just in the Mediterranean.
Himi Hunaidi, the Jordanian-born chef-owner of Madame Levant in Toronto, Canada, adheres to the axiom grow where you're planted. "I don't feel there's a one-size-fits-all way of eating." she says. "I find that a diet is healthy for you depending on your enzymes and where you live. I grew up with olive oil, but someone who grew up in Sri Lanka with coconut oil, that's going to better for them [than olive oil]."
Whether you're dreaming about the sunny Mediterranean or not, take a tour through these dishes, and then apply their cooking principles – simplicity, clean ingredients and big flavors generated from spices and pantry items – to the rest of your cooking. Because, in the end, health isn't a diet, it's a mindset.
Section divider
What's in a name?
"Mediterranean is a broaderway of saying basil, olive oil, olives, pasta, tomatoes," says Hunaidi – but that doesn't mean every country that touches the sea is the same. "There are a lot of different cuisines and geographies," she notes. Her restaurant focuses on dishes from the region referred to as the Levant, a large swath of countries that includes Israel, Jordan, Lebanon, Cyprus and Syria. A quick sail around the Med would also take you past parts of Spain, France, Italy, Greece and Malta. Along the southern coastline sit Egypt, Libya, Tunisia, Algeria and Morocco.
The idea of a unified Mediterranean cuisine emphasizing common elements from across the region is often attributed to author Elizabeth David and her influential work, A Book of Mediterranean Food, published in 1950. But, of course, geography, history and economic factors mean that, just as there are commonalities across the region's food traditions, there are differences, too. "If you look at Moroccan cuisine, it has nothing to do with Levantine cuisine," Hunaidi says. So how best to get a grasp of this vast region? Find flavors and ingredients you love and then delve into the nuances of each individual country.
Section divider
Mediterranean must-haves
Pomegranate molasses
With a concentrated, syrupy consistency, this sweet and tangy condiment is an all-purpose flavor enhancer. Try it drizzled over baba ghanoush. (Buy a baba without added sugar or make your own.)
Tahini
Made from ground sesame seeds and commonly used in hummus, you can also use it in sweets like brownies.
Canned chickpeas
Use these protein-rich legumes in salads, pasta dishes and soups.
Pimeton
Also known as Spanish paprika, this is the star of the spice cabinet. Make a simple soup with nothing more than pimenton, water, garlic and stale bread.
Capers
These flavorful gems deliver a salty, briny pop to soups, pastas and salads.
Whole cumin and coriander
These two spices are at the heart of Mediterranean cooking. Buy the seeds whole, lightly toast them in a skillet and then grind fresh right before use.
Sumac
Try sprinkling this tart, citrusy spice over a dip or mixing it into a lemony salad dressing.
Za'atar
Named after the earthy herb, za'atar is also a spice blend commonly used in Levantine cuisine. Consider it a must-have for everything from morning eggs to chicken.
Section divider
Recipes inspired by the countries of the Mediterranean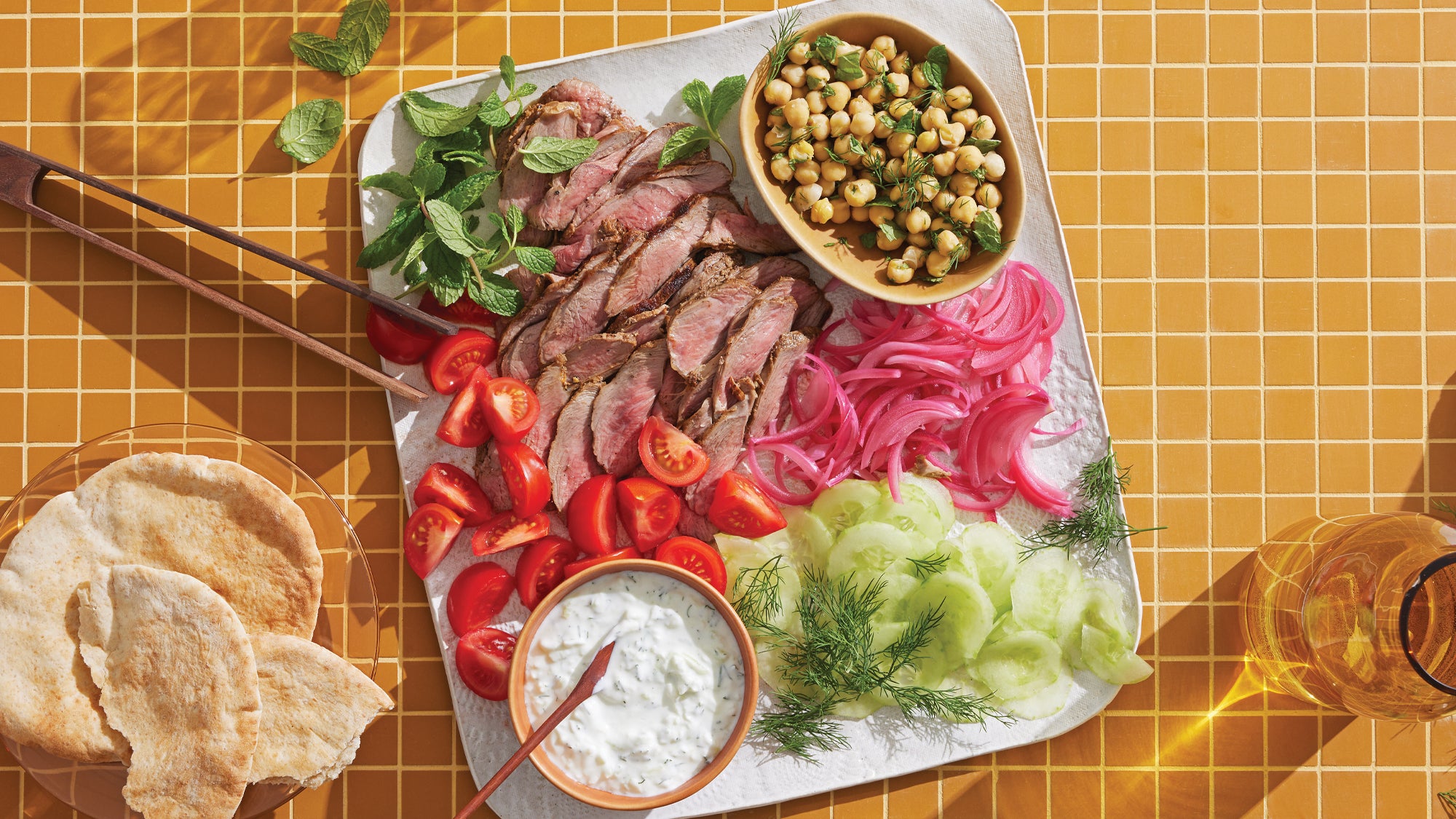 You've likely enjoyed a gyro or two, maybe even in Greece, where the dish hails from. Gyro means "round" in Greek, and the name was inspired by the vertical rotisserie on which the meat is typically cooked. This recipe turns the sandwich into a plate, but it still has all the gyro feels – seasoned meat, garlicky tzatziki, tomato, onion – plus chickpeas and fresh herbs. Serve with whole-wheat pita (or pita chips) and hot sauce on the side. Get the recipe here.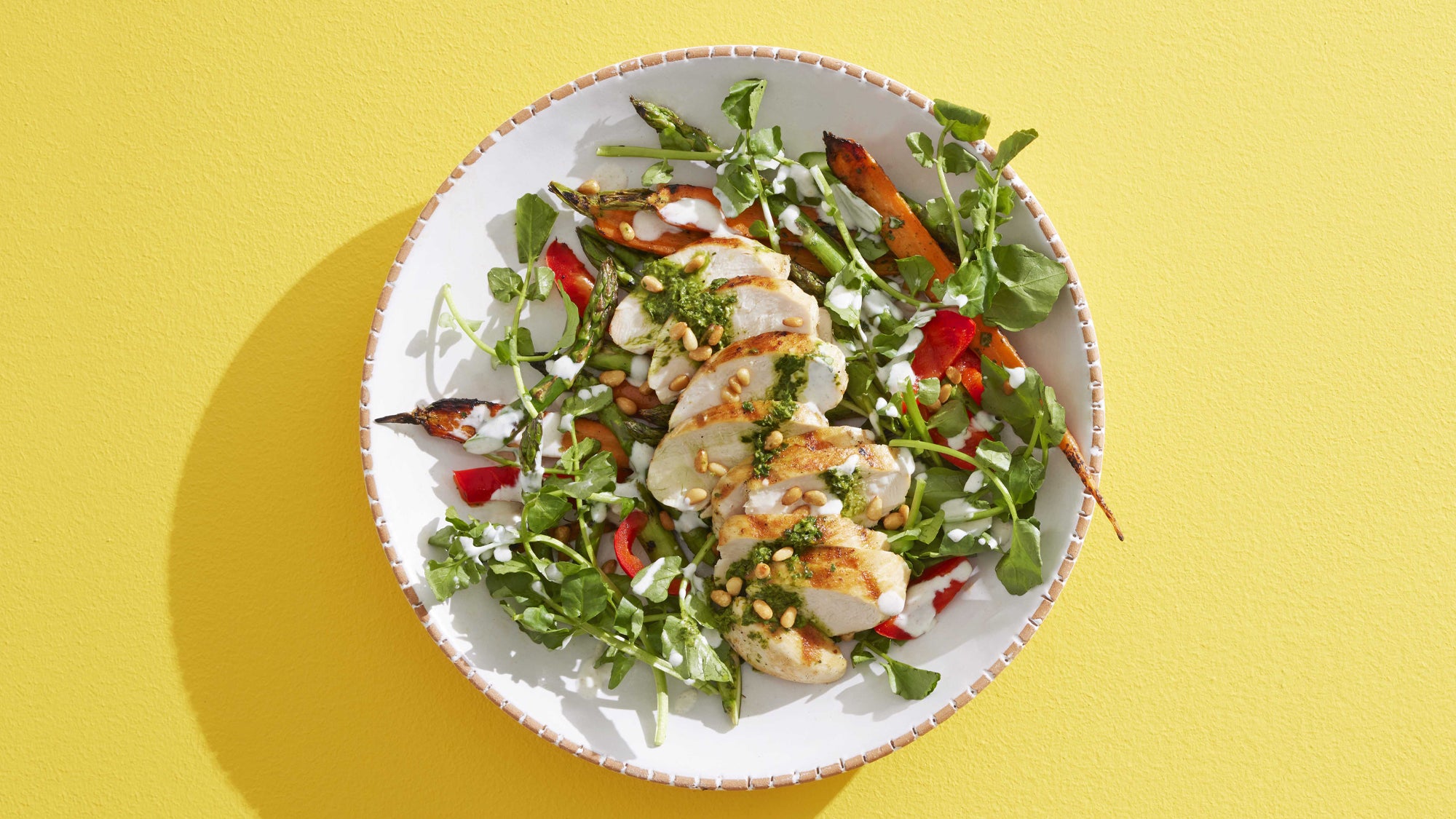 Chermoula is an amazingly flavorful fresh herb sauce, along the lines of pesto or chimichurri, from Morocco. Typically served with grilled fish, it's also wonderful alongside meats and other kinds of seafood and even makes a delicious dressing for salads and grains. This springy recipe dribbles chermoula on top of grilled chicken, asparagus and carrots, but you can switch up the ingredients with the seasons. Get the recipe here.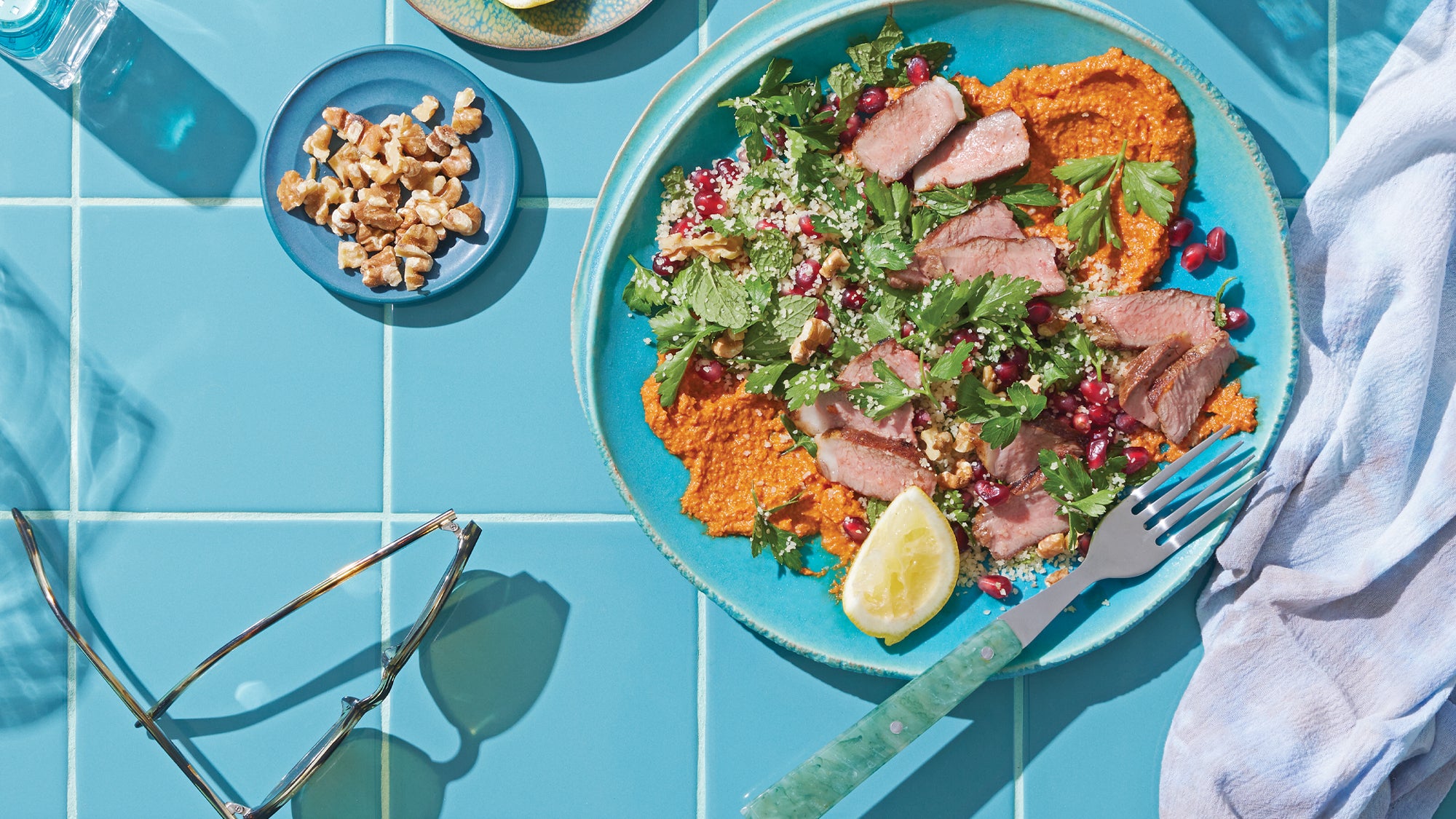 Take your taste buds to Syria with this salad featuring lamb, bulgur, pomegranate and muhammara, which is a dip or spread made with roasted red peppers, pomegranate molasses and walnuts. Pomegranate molasses has a tart, fruity flavor that's only slightly sweet. Look for it at specialty food stores and Middle Eastern grocery stores. Better yet, make your own. Get the recipe here.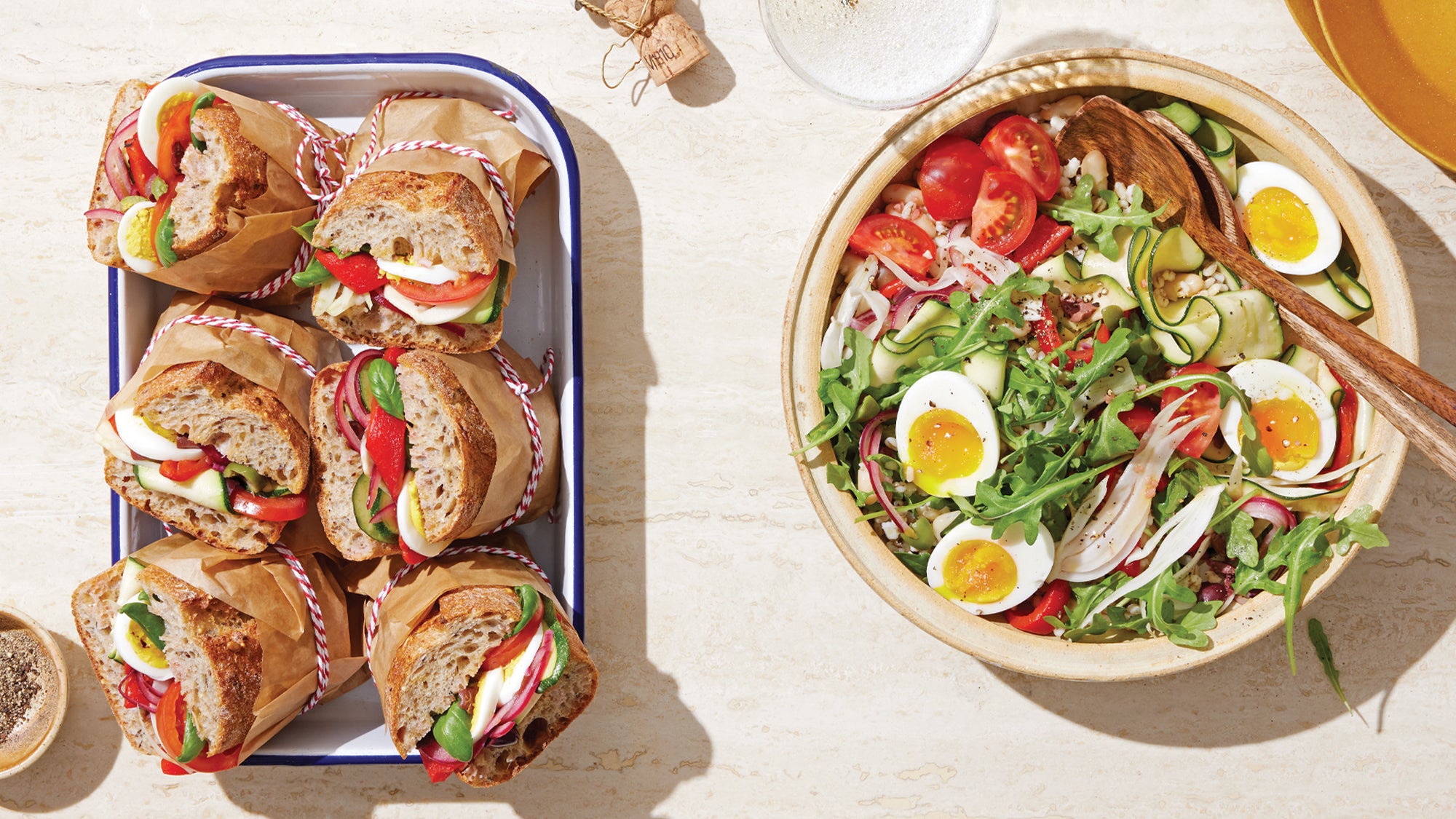 A popular picnic sandwich in southern France, the pan bagnat typically features vinaigrette-dressed vegetables along with hard-boiled eggs and tuna—think salade Niçoise between two slices of bread. The name literally means "bathed," referring to the dressing that soaks into the baguette, ensuring flavor in each bite. We swapped out the fish for more veggies and show you how to transform it into a salad if you prefer to skip the bread. Get both recipes here.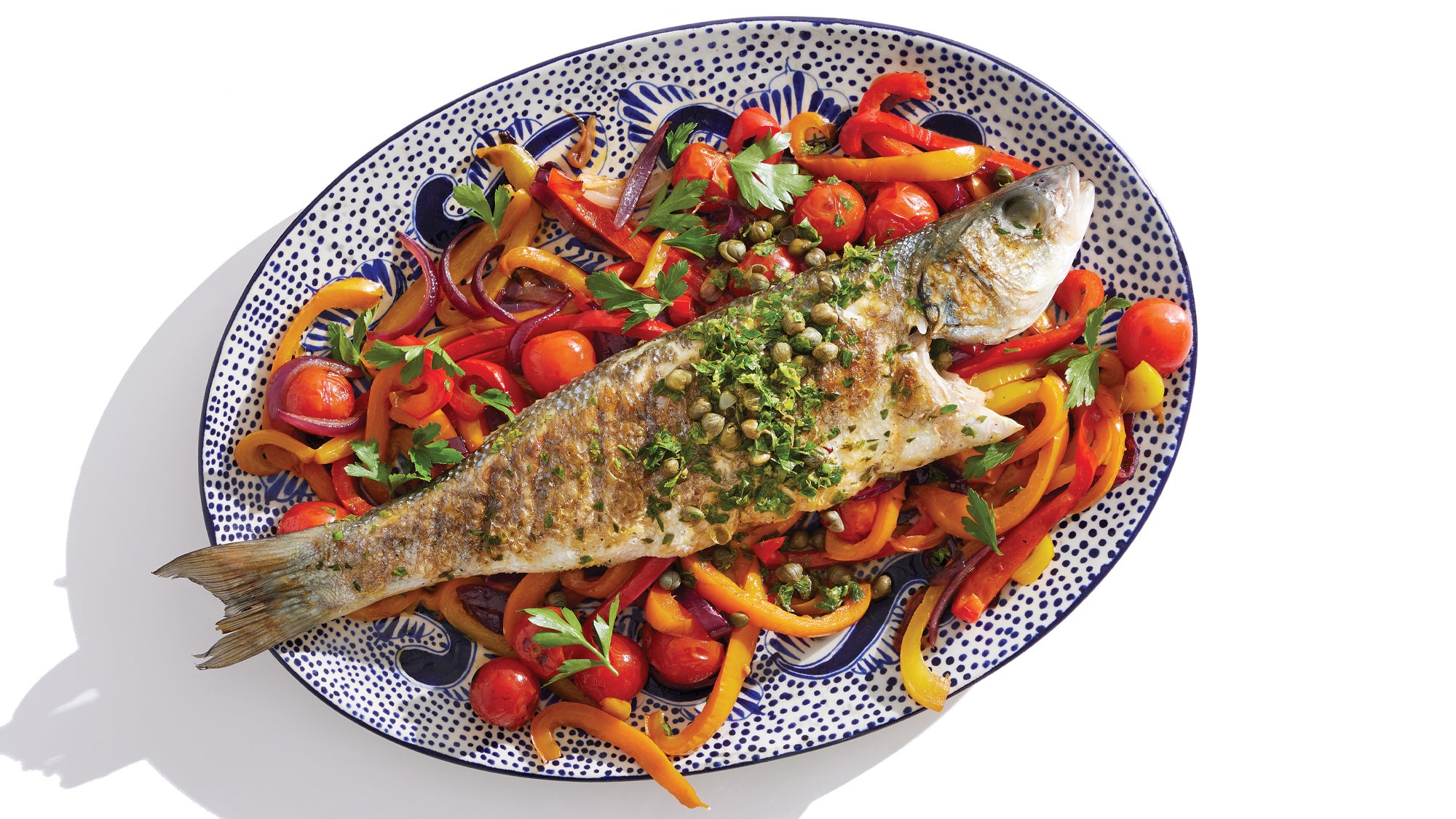 Also known as European sea bass, branzino is a Mediterranean white fish with flaky, mild flesh. It's popular throughout the region but especially in Italy, where it's typically served simply roasted or grilled. The Italian connection inspires pairing the fish with peperonata, a silky, succulent mixture of peppers, onions, olive oil and garlic that's frequently served alongside meats or as a condiment. (Note that the most sustainable sea bass is farmed.) Get the recipe here.